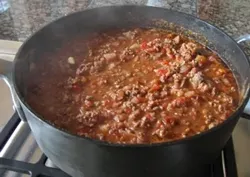 I'm not sure who decides these things, but Thursday, February 27, 2014 is National Chili Day. And, as far as I'm concerned, any excuse to cook up a big pot of chili is a good one. --- I've tried dozens of different chili con carne recipes, but this one is my favorite.
I suppose this should really be called chile con carne y frijoles (chile with meat and beans), since I put beans in my chili. I know that's an outrage to some, especially Texans, but the earliest historical iterations of chili did incorporate beans. If you don't like beans in your chili, just leave 'em out.
Also, I like to use a combination of ground beef and pork in my chili -- I think the pork gives an interesting added flavor dimension. Of course, you could use 100% beef, too. I grind my own meat using a combination of beef chuck and boneless country-style pork ribs.
Ingredients:
2 lbs. ground beef or a combination of beef and pork -- I like a 70/30 beef/pork ratio
2 small or 1 large onion, diced
3 garlic cloves, peeled and minced
2 Tbs. prepared chili powder, such as Gebhardt
1 Tbs. paprika (if you have Spanish smoked paprika, use it; it provides a nice smoky flavor)
1 Tbs. ground cumin
1 tsp. New Mexico chili powder
1/2 tsp. cayenne pepper (or more, if you like your chili spicier)
1 oz. unsweetened dark chocolate
1 green bell pepper, diced
2 jalapeno peppers, stemmed, seeded and minced
1 28-oz. can crushed tomatoes
1 8-oz. can tomato sauce
1 1-oz. can beef broth or boullon
1/2 lb. dried kidney beans, rinsed and soaked overnight
2 cups water
salt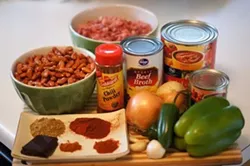 Method:
Soak the kidney beans in water overnight. Before cooking the chili, drain and rinse the beans.
Cook the ground beef and pork in a large stock pot or dutch oven over medium heat until lightly browned.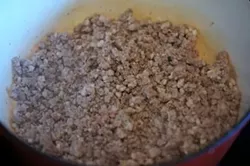 Add the onions and garlic to the pot and cook, stirring occasionally, until softened -- about 5 minutes.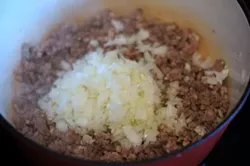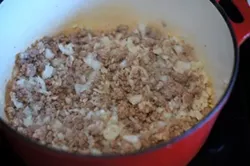 Put all of the spices and the chocolate into the pot and stir well.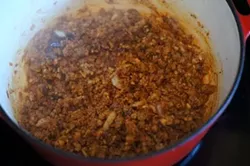 Next, add all the remaining ingredients except the salt: peppers, tomatoes, beef broth, water and kidney beans. Don't add salt until near the end of cooking or it will toughen the beans.
Stir well and cook at a simmer, uncovered, stirring occasionally, for about 3 hours, or until the beans are tender.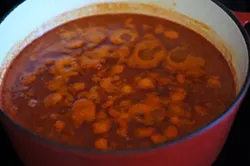 After 3 hours, the chili will have thickened considerably.
When the beans are tender and the chili is ready to serve, add salt to taste.
Serve with optional garnishes, like minced onion, shredded cheddar cheese, sour cream, etc.
Photos by Ted Scheffler