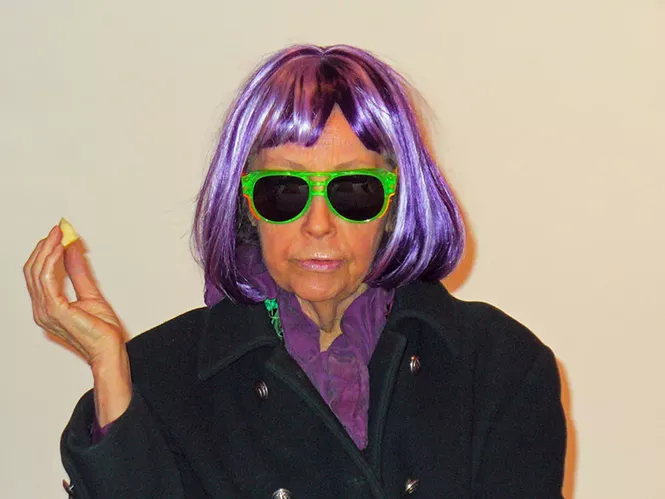 A personal souvenir from the land of Zion
A friend called, said: there's an artist visiting at BYU from New York, wanted to meet some interesting local folks, I thought of you. What d'you say?...I say: alright… Well then, come tonight at 6 pm to the Comfort Inn in Provo. She gave me the room number and I hung up already regretting being so agreeable. What I dislike more than interesting people is being considered an interesting person.
I headed for the Comfort Inn and, as is my custom I'm right on time. Up one flight of stairs and I'm at the door. Knock. A woman answers. It was she. But she's nothing like I expected. There's something oldworldly about her, aristocratic and refined. She is wearing a purple gown and a rather long scarf wrapped around her neck and down her body. We shake hands and that's when it hit me, like a revelation: I'm astonished by the flow of something half magnetic, half erotic that flows from her hand into mine. She welcomed me in with a heavy French accent. This is Isabelle Dufresne. And I asked myself what's with me? She's old enuf to be my mother or my aunt. I'm uneasy and not a little disturbed by the stimulation—I'm turned on and I donno why.
My friend formally introduced us and we sit and chat about nothing in particular, until Ms. Dufresne starts in about art, her art. Her recent work involving apocalyptic angels. She sees herself as on a mission to save the world from male-dominated violence. You see, she declared, the angels will soon come and end all wars. They will fly down from the heavens and straddle the guided missiles and ride them out of harms way. After all, weapons of destruction are phallic in nature and appearance: guns, swords, missiles and such. The angels will render every one of them impotent and ineffectual. These are the apocalyptic angels: angelic cowgirls in the holy rodeo war of the last days.
She then showed me some of her works expressive of this theme. She came to Provo as a visiting artist at Brigham Young University where she is using the art department's computers and printers to produce these spectacular images of the end of times. My friend explained that Isabelle was kept under wraps during her five-day visit, and given access to the equipment but not to the students, and met with only a chosen few of the faculty. Very mysterious lady, I think.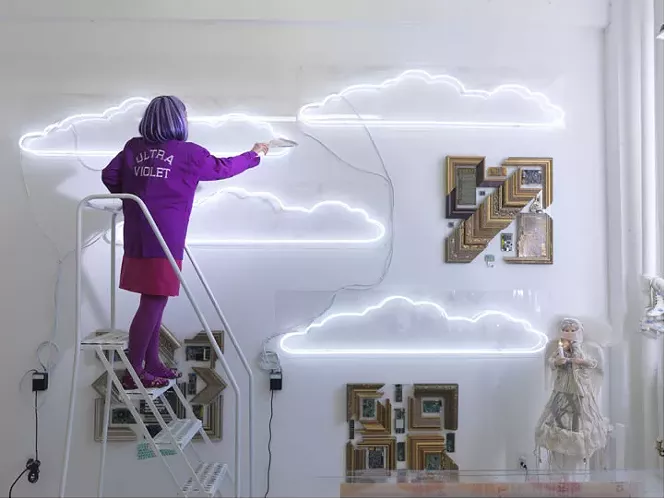 At a certain point in Ms. Dufresne's presentation, my friend made a random comment: Alex, you may have heard of Isabelle by another name…Ultra Violet…and the very moment the words "Ultra Violet" are pronounced, I catch a glimpse of a broach which no doubt had been in plain view all along, but until that instant was invisible, a broach with rhinestones spelling out the name ULTRA VIOLET! That explains everything, I said to myself: the phallic nature of her art, my perception of her erotic aura…it explained everything and much more, but it didnt explain what in heaven's name she was doing in Provo and why BYU.
As I gazed at Ultra Violet with her new name, in a manner of speaking, I began to see her in a new light…I flashed back to certain images, now recollected almost subliminally, from certain films, risqué in the best sense of that word…one in particular,
I, A Man
(1967), involved Ultra in a long, prolonged kiss that gave the concept of copulation a deep and more focused meaning…and so I flashed back to the '60s and to New York and Andy Warhol and the factory and the clique of folks that hung around and revolved about Warhol as planets round a sun…a star. And everybody was transformed into a star basking in his divine light.
She told me of how after a near-death experience due to illness, she began to seek for a higher truth and a higher power than that promised by the impresario of fame and glamor…and how in her search she encountered two Mormon missionaries who changed her life. She received a burning testimony of the truthfulness of the restored Gospel and Joseph Smith as true prophet of God and the instrument thru which the truth was restored upon the earth in these latter days. She told me of how the Holy Ghost came upon her and revealed the error of her ways and how the light of truth shined upon her and so she underwent a spiritual transformation. She saw the error of her ways, and she was born again. Thus she left behind the life of sex and drugs and partying and debauchery and sin. Through her conversion Ultra emerged a latter-day saint. And from that day on, she was an active and upstanding member of the LDS Church, humbled by her calling as the Homemaking Leader in the Relief Society of the Manhattan ward.
At that point, the last thing I wanted to talk about was the apocalypse or her re-born self. I wanted to know about her past; the art scene of the '60s; the people she knew and what she thought of them. But my every overture was met with curt and abrupt replies and she'd head back to the angels and the gospel message.
During this back and forth from Warhol to Jesus Christ, she let slip something Dali said of her. For a while, Ultra or Isabelle had been Salvador Dali's studio assistant and his lover…she interjected, not with a little delight, "Dali said I was surreal." And I wholeheartedly agree. After all, he was one of the big daddies of surrealist truth, and truth by any other name is truth.
Then she went on to describe her work for the dead. This is a Mormon temple practice by which living people get themselves baptized by proxy for some dead individual. She says that it gave her no little joy knowing that Andy, that is Warhol, had accepted the gospel. She had a testimony and an assurance that he accepted the baptism and is now blissfully painting a plethora of heavenly soup cans in the celestial kingdom. For me, this image of Andy Warhol in Mormon heaven is completely believable as uttered out of the mouth of Ultra Violet, a mouth that in former days indulged in orgiastic play, but which now exuded words of wisdom and spirituality. (I'm thinking of Ultra's book
Famous For 15 Minutes: My Years With Andy Warhol
and the chapter titled "Blow Job"). And so it was with those associated with Warhol, one after another, each had their 15 minutes of fame and then departed, except for Andy himself, who I believe will be remembered way past 15 minutes, as a major American artist of the 20th century.
When I pressed her again to tell me about the people she knew, such as Duchamp, her only response was: "Too much homosexuality." And with that, she'd digress back to the impending apocalypse and bring out more images from her apocalyptic angels series. She wanted to stay on track, for straight is the way and narrow the path that leads to salvation…salvation from debauchery and drugs and sin.
The evening drew to a close and we said good night, arranging to meet next day for breakfast. As I drove home, I moved thru a surreal landscape, that is, not unreal or unbelievable, but super real and sharp and miraculous, a landscape wherein the least likely events happen together and form an alternate reality…as Lautreamont described it long ago: "A Chance meeting on a dissecting table of a sewing machine and an umbrella." Such a meeting had just occurred and I was filled with wonderment.
In the morning, the three of us sat together for breakfast at the Provo Comfort Inn. Ultra took out a typescript she was working on and asked me if I would read and edit it. I'd be happy to, I said. (Later, I wrote her to say how much I enjoyed the writing and that I would not change a thing. She writes as she speaks, with an accent that is part of her persona…and so I wouldn't change a thing. However, I was certain from all I saw the night before that my recommendation would fall on deaf ears. She wanted to be politically-grammatically correct. Who knows? Maybe her conservatism was activated by being in Zion, in the shadows of the everlasting hills.)
Then, breakfast over, and after another bout on the nature and role of celestial art, we exchanged gifts: I gave her a book of my poems, she gave me an image of one of her apocalyptic angels. We parted with a hug and a traditional kiss on both cheeks. As I walked to my car, I could clearly taste and feel on my lips the subtle residue of a blend of flesh, makeup, and sweat.
And so, as happens to everyone, sooner or later, this past June, Isabelle Dufresne, aka Ultra Violet, shed her mortal coil. In the days following her passing, I got one e-mail after another telling me that Ultra Violet was no more. My friends gave me their condolences, as if I were a member of her family…and so it is that I realize how in the kingdom of the saints there are those who do not sing to the choir, but yearn nevertheless for song. And I want to believe that sister Violet has flown off, escorted by her angels, back into the arms of Jesus, Joseph Smith and Andy Warhol. And in that august company, she is ever singing with her newfound ultra violet tongue…
ne plus ultra
.