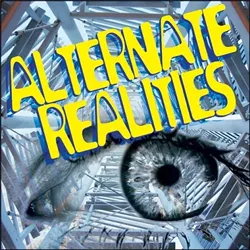 The NSA are so persistent they will keep tracking you even after you're dead.
Top of the Alty World
"Why the NSA Keeps Tracking People Even After They're Dead"—
The National Journal
A popular alternative medicine site compares journalists critical of GMO activists to "Nazi collaborators."—
Mother Jones
ProPublica looks at USA Discounters, a retail that sues servicemen and women worldwide.—
ProPublica
A new government report shows thousands could avoid cancer by getting an HPV vaccination but most children still do not receive it.—
The Atlantic
Top of Alty Utah
The legislative campaign of Democrat Alain Balmanno against Republican incumbent Rep. Lavar Christensen, R-Draper could be a competitive race.—
Utah Political Capitol
Lieutenant Governor Spencer Cox has formed a committee to look at expanding electronic voting throughout the state.-
-Utah Policy
New development plans in downtown Salt Lake City could force out downtown institutions such as Ken Sanders Rare Books.—
Salt Lake City Weekly
Labor unions are overwhelmingly supporting Republican lawmaker Craig Hall over his Democratic challenger Liz Muniz in a West Valley City legislative race.—
Utah Policy
Rantosphere
Utah Politico Hub looks at why Democrat Doug Owens plans on defeat against the uber-popular Mia Love in Utah's Fourth Congressional District race.
"In an effort to prove his "American as Apple Pie"-ness, Doug Owens released the video below, in which he awkwardly demonstrates how to make an apple pie. It's not the most bizarre campaign idea, but it sure is odd. If his culinary skills were going to get him attention, he should have made a "Better than Sex" cake. That, at least, would have garnered some attention.
On the other hand, Bryan Schott thinks it might have been a way to "humanize" Owens, show he was a stay-at-home dad of four while his wife finished her medical residency. Because, you know, nothing says middle class like a lawyer and a doctor raising a family of four…"—
Utah Politico Hub
The Long View
A meeting of some of the country's top minds met at the Santa Fe Institute to tackle climate change and attempt to understand the prospects for avoiding extinction.
"One week in October, a year to the day of Hurricane Sandy, a dream team of scientists — prize-winning ecologists, physicists, biologists and others from Harvard to Vienna — convened here to explore the Biggest Question of all: the sustainability of life on Earth. "This is the big issue of our time," West tells them. Despite the efforts of experts and researchers like those gathered here today, he continues, "it's sort of remarkable that we have been unable to galvanize the politicians and general community to recognize that there's a degree of extraordinary urgency involved."—
Weather