For the past four years the
Rooftop Concert Series
has been giving downtown Provo a monthly showcase during the summer, featuring some of the best music Utah County and other parts of Utah has to offer, all complete free to the public which has given them sellout shows almost every time they hold one. The most recent showcase happened this past Friday, a monumental one for the fact that it was their first hip-hop show since its inception, and the crowd loved it. The evening started with the glorious voice of
Mimi Knowles
playing up to the ladies in the audience, followed by the
House Of Lewis
who went through a medley of tunes complete with silly string fights and crowd-surfing, and then closing up shop with the now L.A.-based Can't Stop Won't Stop. We chatted with the headlining act before they took the stage, complete with photos you can check out in the slideshow below.
Can't Stop Won't Stop
(David Eff & Davey Hawkins)
CSWS on Facebook
Gavin: Hey David, first thing, tell us a little bit about yourselves.
David:
Davey and I are from Reno and Bethesda Maryland, respectively. We both grew up playing music in bands and being involved in the arts to some extent. I did some (very limited) acting, and Davey was a painter.
Gavin: How did each of you take an interest in music and what were some of your favorite acts growing up?
David:
I think music has always been major in both of our lives. That's the artistic constant, certainly. I've been singing for as long as I can remember, and have always been deeply effected by well-crafted lyrics. I think Davey is the same way, although he tends to go bananas a little more than I do. I think it's an energetic expression for him, just as much as it is mental. I wasn't introduced to underground hip hop until the latter half of high school when Napster ruled the "airwaves." That opened the floodgates, but like a lot of kids, my older sister had kept me hip to a lot of good music growing up. Everything from Beastie Boys and A Tribe Called Quest, to Grateful Dead and Joni Mitchell. I always thought I'd be a singer-songwriter as a hobby, but I didn't expect to be doing this!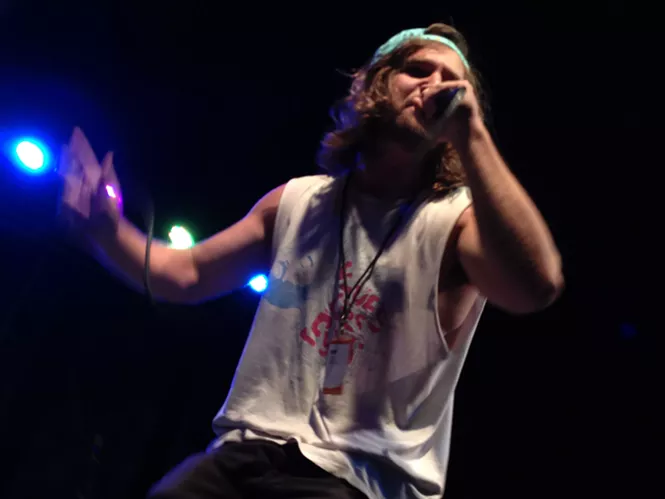 Gavin: When did each of you break into the music scene and what had you been doing before this band?
David:
CSWS started gaining notoriety, if it may be called such, through YouTube about a year after we started, which was 2009. I think we turned heads for a while in Utah because there wasn't anyone doing what we were doing, the way we were doing it. There were, and are, some great rappers living in Utah, but we wanted to throw PARTIES. Old school, BBQ having, break the furniture, somebody call the cops kind of parties. With that said though, we didn't really have a loyal or large following until probably 2012. That's when it really picked up. Before this we were both studying at BYU and playing music on the side. Davey studied art. I studied marketing. It ended up being a pretty winning combo.
Gavin: How did you come together to form Can't Stop Won't Stop?
David:
We got started after Davey's band played a show of hip hop covers at Velour in Provo. The whole room got hyped for it, self included, and I think I saw it for the missed opportunity it was. Someone in Provo ought to be doing this. After the show I congratulated him, and said that we should form a crew if his band ever broke up, which happened two weeks later. The earliest iterations of our songs are rough because neither of us really had a great sense of what we were doing or what our voice ought to be. But we plowed through, with a fortuitously similar sense of what we ought to be creating, and started writing stuff that we actually liked and were proud to share.
Gavin: What were the major influences behind doing a more pop-influenced take on hip-hop?
David:
Our long time friend and producer Aaron Hatch (AKA Fresh Big Mouf, Beat Scout, Ron Solo) is probably the main influencer there. Davey liked underground aesthetics a lot. I liked Ratatat a lot. Aaron liked Michael Jackson a lot. The one thing I think we all discovered early on though was that no idea was terrible and horns are a pretty rad way to blend our sensibilities and come out with something sounding huge. Hugeness being the desired hallmark of our sound.
Gavin: How was it coming up through the music scene and getting your name out there?
David:
We have played some garbage shows. I remember we came to play one night back in 2010, and the band before us took almost 45 minutes to break down their instruments, so by the time we got up to play there were literally three people left in the audience, and one of them had drove there with us. I think if you've never had that happen, it's really important. We still performed a few songs and mostly just tried to make those people laugh. It sucked, bad, but it made whatever success we had on top of that infinitely more rewarding. I always go back to that memory when I think things are going poorly or too slow.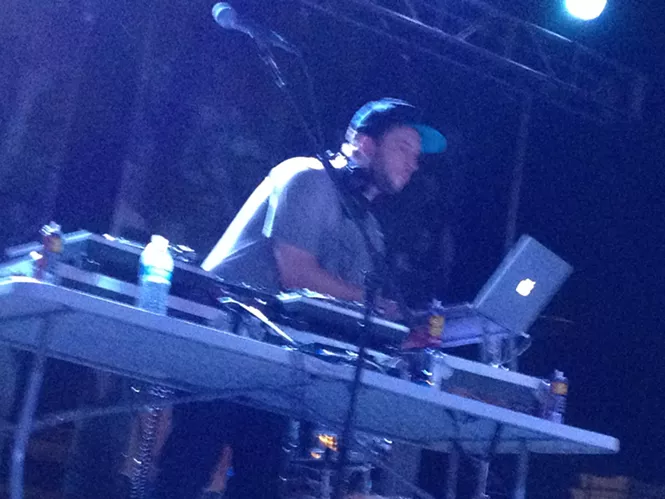 Gavin: In June 2013 you released the full length album Wildebeest, what was it like recording that album and getting it released all on your own?
David:
Full spectrum of emotions on that one. Davey flew out to L.A. probably 6-10 times to do these marathon recording weekends, only to decide a few days later that what we had put down in the studio wasn't going to make the cut, so we'd schedule another flight out. I was always having some drama inflicted on me (horrible breakups, life threatening illness, etc.) and Davey would leave his wife and very demanding life in NY for weeks at a time sometimes, so that we could work on it from morning until very late at night. No part of it was easy, but we both really wanted it to be right, and I honestly think for us, it is. It's not a perfect album by any stretch of the imagination, but it sincerely represents a time of real effort, stretching and growth. I remember calling Davey the day it went live on iTunes and just wept like a hormonal teenager. Equal parts relief and reward. I'm glad people like it, but it's bigger than that for us. The song "For The Love" is the heartbeat of the album, even if it isn't the best seller. Hopefully in the future it won't be quite as taxing, but there's a lot of heavy lifting when you're trying to launch a rocket yourself.
Gavin: At what point did you decide you wanted to relocate to Los Angeles and what was the motivation behind it?
David:
Davey had gotten into a program at Columbia in New York, and I had taken a job in San Francisco. I think we were both resigned to the fact that CSWS might just be a cool little bonfire we'd built, but never a real thing. I didn't last very long at my job though, and ended up leaving to do something where I could be the creative director. I just leveraged the momentum it took to get to S.F. and applied it to L.A. because I wanted to keep branching out. I decided on my drive down that I would go for broke on the music thing and I haven't looked back. I love Utah a lot though, and suspect I'll relocate again at some point.
Gavin: What was it like for you re-establishing yourselves in a new city and working for national exposure?
David:
Davey and I just wanted to build a presence online rather than build a local reputation. I was always better at that anyway. I've never known how to integrate into a scene very well. So in a lot of ways it didn't matter at all, it was just a change of scenery, which I think is really valuable.
Gavin: In relation to the local music scene, even though you still come to Provo to play and have ties here, you're marketing yourselves as an L.A. band. Are you fully moving on from being tied to Utah like Imagine Dragons has, or keeping the recognition like Neon Tress has, and why?
David:
I mean, I just post from L.A. because that's where I live. Davey lives in New York, and for five months of last year, I did too. When I'm in Utah, I post from Utah and express the same delight to be here that I've always had. Same in D.C. or Idaho or S.F. Ideally, I'd like to not be area-specific at all (Bangkok, statistically, has more CSWS fans than almost any other city), but I certainly don't try to obscure the origins. I love that we started in Utah, and I'm thankful for the pioneer spirit that pushes us onward, ever onward.
Gavin: You're still unsigned at the moment, are you looking for a label or are you working to do things without one and rise independently?
David:
If it comes, it comes. I don't really care to be signed or unsigned. Right now, the independent route is easier than it's ever been, and I get to make all the calls and all the upside. I'm not very risk-averse, so I think it's fun. If a label came around with a fat check and a killer game plan, I think that would be fun too, but I'm not shopping for it. I think it's a waste of time.
Gavin: You're playing the Rooftop Concert Series this week. How is it for you guys to perform at this series?
David:
So cool! Ever since they started the series, I thought it would be an honor to play it. Utah kills it with outdoor activities in the summer, and I love a good block party. We're excited and extremely flattered.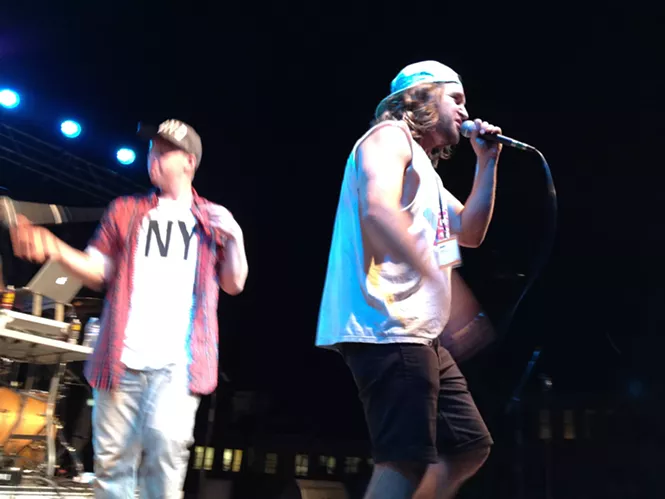 Gavin: What can we expect from all of you over the rest of the year?
David:
I'm building out a line of merch (and a suitable website) right now, and working on five new songs that I think are killer. Hoping to collaborate with other artists that dig our sound, although as you mentioned, it's often thought of as being a little more pop-based than where hip hop currently anchors itself. Up for whatever though! Under-promise and over-deliver.
Gavin: Is there anything you'd like to promote or plug?
David:
The merch will largely be promoted through Instagram. That's the new frontier, so I'll be running a ton of Instagram-exclusive deals. Free shipping. Half price days. Whatever. That and I'm committing myself more fully to YouTube. It's always done right by CSWS, and I think that we need a lot more of our own content up there. The handle on every social media outlet is CSWSmusic.