On Sunday we started our Salt Lake Comic Con coverage leading up to the event, starting with an interview with Howard Tayler. Today we continue the local-coverage talking with Mike Lovins. For those unfamiliar with his work, Lovins is a commercial illustrator from Midvale who started the online comic series We Go Anywhere, bringing back random adventure story aspect to a group of sci-fi truckers in an online comic book form. Today we chat about his career and what he'll be doing at Comic Con. (
All pictures courtesy of Lovins.
)
Mike Lovins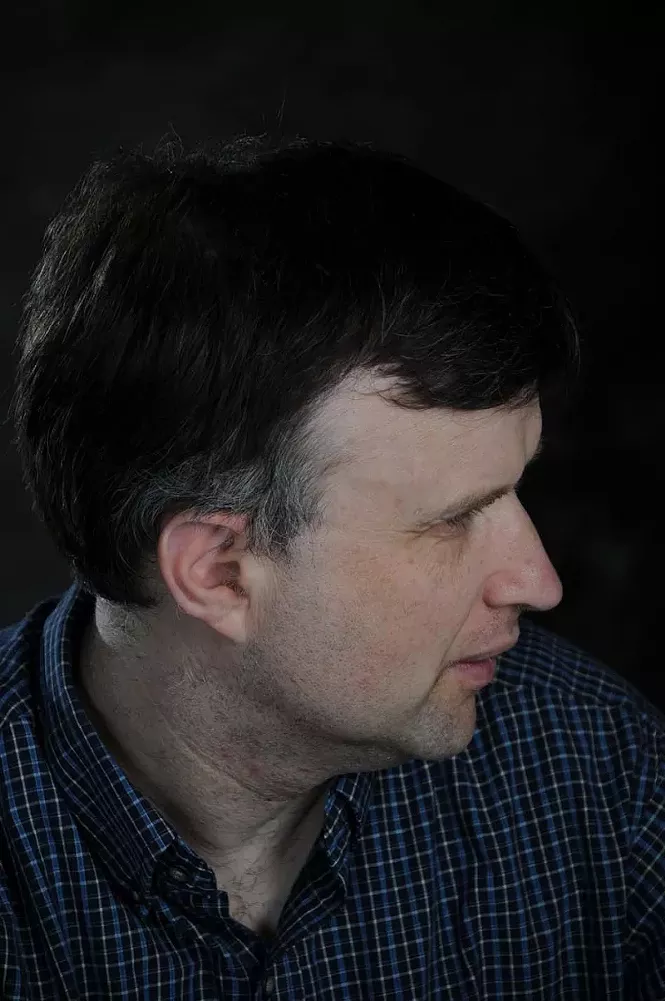 We Go Anywhere on Wix
Gavin: Hey Mike first thing, tell us a little bit about yourself.
Mike:
Came from a fairly unique upbringing. My Father was a filmmaker, my mother a homemaker, Grew up in Van Nuys, California in a family of eight.
Gavin: When did you first take an interest in art and what were some of your early influences?
Mike:
Starting when I was five years old, My grandmother directed the Hollywood Art Center School and when I would visit her there, she would talk to me about art.
Gavin: What specifically drew you towards illustration and more comic book related items?
Mike:
It was the
Spider-Man
cartoon that did the damage. I used to watch it before heading off to elementary school.
Gavin: You came from Los Angeles to attend Utah State where you earned your BFA. What made you choose Utah State and what was their program like for you?
Mike:
Actually I grew up in Los Angeles County in Van Nuys. About the time I was a teenager our family moved to Bountiful. I attended high school there and went on an LDS mission, attended the University Of Utah for one year and then attended Utah State for three years. At the time USU had one of the top five illustration schools in the country. I had outstanding professors like Adrian Van Sutchlen and Glen Edwards.
Gavin: Once you earned your degree, what made you decide to stay in Utah and make it your home?
Mike:
So the reverse is what happened. After I graduated Utah State I went back to L.A. to get into my career, but then, due to family obligations, wound up back in Utah again. I've been fortunate to work for a lot of local clients.
Gavin: How was it for you breaking into doing commercial work and essentially being a freelance artist?
Mike:
I was lucky to have some good connections. Friend of mine hooked me up with a local director where did storyboards for KUTV'S Telescene Division. The project was Vanna's Choice. From there I've worked for clients off and on for over twenty years.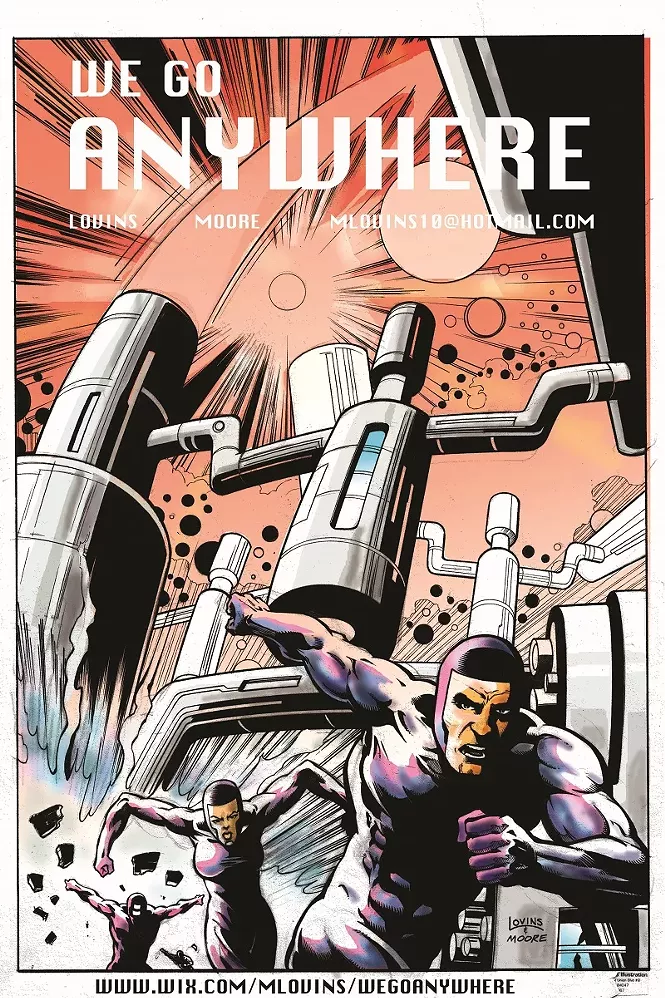 Gavin: What was it like for you breaking into doing comic book designs and covers?
Gavin:
Comics has always been my first love, but the bulk of my resume has been in storyboards and concept design. Breaking into anything is network related, and either one job has led to another or networking with one client has led to connections to other clients.
Gavin: What is the process like for you when creating a new design, from concept to final product?
Mike:
Great question. When working for one of my longtime clients we discuss the springboard in a meeting. I have a week, usually to bring in storyboards. I start with thumbnails develop the compositions and pencil it all out. Sometime there have been up to nine drawings to complete. When you're looking to get paid for what you do, you find a way to make your deadlines.
Gavin: How did the idea for We Go Anywhere come about?
Mike:
Alien
was among it's biggest influences. Most Sci-Fi in film or television seems to occupy itself with the military. Even
Star Trek
is about being in the service. What struck me about
Alien
is that it was about truck drivers in outer space working for a huge corporation. So I took the concept further. In
We Go Anywhere
, there are several corporations, no governments and We Go Anywhere specializes is a company that specializes in business negotiations, rescue operations, and joint business ventures. Their bread and butter is mediation.
Gavin: What was it like for you making the series and what made you decide to go digital rather than print?
Mike: I enjoy working for clients, but nothing is more gratifying than working on something you own. It was a long haul because I wanted to have the first arc done before putting it out there. I went digital out of necessity but also because of the stipulations Diamond owns the Direct Market. In digital, you free yourself from all that. Your audience potentially is global. I talked to a former editor once who said "everything will go paperless in ten years." In large measure, that's probably going to happen.

Gavin: What's the public response been to the series and what are your plans for it down the line?
Mike:
When you do your own book, you have to take a long-term approach. Building an audience is a process, not an event. You have no marketing department. You are the marketing department. My push right now is to build an audience, and promote the book. The first issue is online with four more that have already been done, Barring a number of revisions.
Gavin: How has it been for you being involved with the local comic book community and participating in events?
Mike:
I reached out to Sal Velluto while still in college and count him as a mentor. He in turn, introduced me to other local pros like Bill Galvin, Howard Taylor and others. We've done some networking dinners where we talk about the business. I'll always consider myself a student and have learned a great deal from all of them.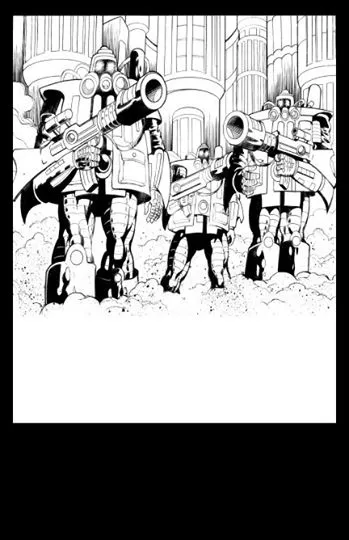 Gavin: This year, you'll be in artist alley at Salt Lake Comic Con as well as a panelist. What's your take on the event and how it has grown?
Mike:
When Dan Farr first started out, he hoped to for a demographic of 20,000. The event was going to be at the South Towne Expo Center. He's been pretty smart about how he's approached it. Through a combination of traditional marketing and social media, the number for the first show were 80,000+, FanX was near 90,000 and compared to the first Comic Con, he's sold three times as many tickets.
Gavin: You'll be bringing with you Steven Grant of Two Guns and Whiteout creator Steve Lieber. How did you get to know both of these guys?
Mike:
I got to know Steven Grant at the San Diego Comic-con and Steve Lieber was a reference of his. I approached Steven for the first show but his schedule already was set for that year. They're outstanding creators and I'm glad the SLC Comic Con is having them as guests.
Gavin: What will the three of you be doing during the Con this year?
Mike:
Since the con has our tables in different areas, I imagine speaking at panels and manning the tables. I'll be at five panels and I'm aware Steven will be at three of them on Saturday.
Gavin: Do you have any other surprises in store at your booth for fans to check out?
Mike:
Glad you asked for that. Over fifty roughs for a partnership I worked for this year.
Edgar Allen Poe's Narrative of Arthur Gordon Pym
.