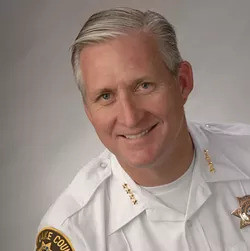 Salt Lake County Sheriff Jim Winder
The public has until Nov. 4 to make up their mind about the Salt Lake County Sheriff race, which has Unified Police Department watch commander Jake Petersen running against incumbent Jim Winder. But members of the Salt Lake Valley Law Enforcement Association Fraternal Order of Police Lodge No. 2 have only till Sept. 20 to decide whether to endorse Winder or Petersen, both members of the lodge.
The lodge draws its membership from the Unified Police Department UPD, the Salt Lake County Sheriff's Office and the Granite School District Police Department.
Allegations of inappropriate use of a UPD armored vehicle at a Winder fundraiser in October 2013 have dogged the race, and the SLVLEA FOP vote itself has raised its own controversy, as lodge member Jon Richey says that an e-mail sent by the lodge's president Bob Odor was an attempt to influence the vote in favor of Winder.
In an amended complaint Richey sent to Lodge 2, he wrote that "the Lodge president used the official UPD e-mail system to send a message to the membership that clearly (although some contend tacitly) intended to suggest that we support one candidate over the other."
A Sept. 7 e-mail from Odor to the membership addressed media coverage of the race that had focused in part on businessman Mike Drury's support of Winder and his leasing of a $350,000 armored vehicle, called a BearCat, to UPD. Odor wanted to remind the membership that Drury "has always been a very generous contributor to all our efforts to support the families of fallen officers, Sub for Santa," and that officers should "be aware of these facts during any conversations you may have regarding the recent events reported in the media."
Five hours after that e-mail was sent, Richey responded in an e-mail to the membership that Odor's comments had been made within the context of the endorsement vote and "are subject to interpretation one way or another by membership." Fourteen minutes later, Winder ordered that the e-mail thread discussion cease.
Richey wrote in his complaint that Odor's e-mail regarding Drury, "an avid supporter of the Winder campaign, was sent for 'tacit or overt political purposes' and therefore, a violation of policies and procedures, as noted by the Sheriff in his e-mail requiring that the e-mail 'thread' end."
He also raised a concern that Odor and Drury being on the same board of an organization suggested a relationship between the men outside the boundaries of Odor's duties as president of the lodge.
In a Sept. 11 e-mail signed from "the SLVLEA board" addressing what it termed Richey's "outrageous allegations," the board countered that he had "accused a good and honorable man, who has toiled continuously, along with other board members, for your benefit." The board said the complaint was "without merit and is baseless," in part because Richey had not stated which candidate he felt the board and Odor were trying to influence the vote toward.
The board noted that Drury "is a strong supporter of Law Enforcement and particularly of the FOP. He has made many contributions to benefit OUR lodge" and wrote that Odor "does not sit on any business boards with Mr. Drury as you allege."
Odor and Drury both sit on the board of a nonprofit called FBISLCCAAA. According to its articles of incorporation, FBISLCCAAA is "a nonprofit association which provides a forum for the alumni of the FBI Salt Lake City Citizen Academy, which is distinct and separate from the FBI, and is designed to promote a safer community through community service projects."
Odor is listed as director and Drury as president. The address of the nonprofit, which Drury says was incorporated in January 2013 at the suggestion of the FBI liaison to the FBISLCCAAA, is the FBI's offices on Amelia Earhart Drive in Salt Lake City.
Drury says the nonprofit seeks to gather donations to help promote the FBI in a positive light through encouraging community members to take a six-week educational course about the FBI's activities.
Odor was invited to join what he described as a volunteer board by the FBI, he says, because he had worked with agents on cases. Odor says that it was coincidental that his Drury-themed email went out during the election process, and that the timing of his e-mail was dictated by the media coverage of the BearCat controversy.
Richey's allegations "are unfounded and they are kind of politically motivated," he says. The e-mail, he says, was intended to "preserve" the relationship between Drury and the FOP. "Mr. Drury is not running for any office. He deserves our support at a time the media is casting doubt on his motives."
Richey works in UPD's Special Operations, which Petersen supervises, and says he's a Republican "who happens to agree with Jake's platform." He says he has no objection to the two men being on the same board and included it in his complaint "to show there is a relationship between Odor and Drury beyond the FOP. It supports my contention that the adorning of Drury was meant tacitly or overtly to adorn the vote."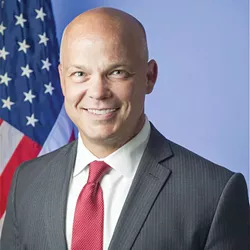 Jake Petersen, Republican candidate for Salt Lake County Sheriff
Petersen has already been endorsed by one law enforcement labor group. In July 2014, the Unified Police Federation—set up by Winder—voted to endorse Petersen. The UPF described itself in a press release as "the only recognized labor organization to speak on behalf of Unified Police Officers."
Winder declined to comment on the vote in a mid-August interview.
Drury says he has known Odor for "a long time," and recognizes that he was "trying to do a good deed," with the e-mail, but that the contents and subsequent controversy was Odor's issue and not one he had any involvement in.
Meanwhile, in the wake of the publicity, Drury has taken back the BearCat that first brought to light his commitment and passion for law enforcement. He says he is waiting for a call back from its manufacturer, Lenco, on whether he can do a deal with another police department, local or out of state, to pass it on. He said employees at the Big Shot Ranch were removing decals, its radio and other equipment. "Years of hard work gone down the toilet."
In a statement, Drury noted that "Big Shot Ranch will continue to support the hard work of Sheriff Jim Winder politically but will now also heavily contemplate whether or not to be involved the many other agencies and charities it currently supports."
Without a BearCat at UPD to call upon when there are problems involving potential barricades or hostage situations, UPD will have to rely Weber County's BearCat, a 40-minute drive away.