This year, more so than in at least the past five years, we've started seeing a greater rise in independent zines and comics making their way into the valley. If you haven't seen them, start looking around at locally-owned coffee shops and hangouts in areas where companies usually throw their magazines (hopefully not on top of ours). One of the more breakout artists this year has been Korey Daniel Martin, who has utilized his unique black and white style for comics, album covers, posters and more. Today we chat with Martin about his artwork and style, his own comic zine Baba and a few other topics. (
All photos courtesy of Martin.
)
Korey Daniel Martin
KoreyDanielMartin.Tumblr.com
Gavin: Hey Kory, first thing, tell us a little bit about yourself.
Korey:
I was born Korey Daniel Martin 25 years ago in a place that, to this very day, is known as Cookeville, Tennessee. I spent all of my formative years there before running off. I think I've been drawing myself the whole time.
Gavin: What first got you interested in music and art, and what were some early influences growing up?
Korey:
When I was 8, I saw
Princess Mononoke
and on my 11th birthday, I got a Destiny's Child album. These were turning points. I had young parents, so VH1 or MTV was usually on, and cartoons of the '90s Nickelodeon sort were a generous part of my visual diet. My family also played arcade games with intense competitiveness, so I spent a lot of time inspecting the art on the game cabinets. I would also draw the characters from my cousin's Nintendo games when it wasn't my turn to play. I would shape the hairs on our shower wall into weird contour drawings, which I now think of as playing a big role in how I draw. I once ran out of paper for a test in elementary school and was told I'd have paper if I wasn't always drawing, but what is paper for? Computers have saved many a young artist's life, I'm sure of it. My mother always had a
Far Side
collection along with a book on Frank Lloyd Wright's architecture on our coffee table. We'd move from house to house, but, sure enough, those books would always be there. I looked through them dozens of times as I grew up, and while much of it was probably lost on me until more recently, I really absorbed it all, especially the
Far Side
stuff. I still have it. As a kid, I was never an avid reader of comics, though. I just liked the idea of them. Eventually, I discovered contemporaries like Chris Ware and realized it was a format capable of so much more than I had initially considered. However, even then I never considered making my own.
Gavin: Before we dive into your art, you're currently playing in Foster Body. How has it been running with this band?
Korey:
Oh, right, Foster Body. I show up to practice, and there are these people who expect me to play guitar, but I'm not really fond of the guitar, so I play drums on the guitar instead. I'm preoccupied with rhythm, as is the rest of the band, which actually overlaps with my work in comics. Melody is often too tied up in memory, symbol, nostalgia – the latter of which being something I make a point to avoid – while the way we experience rhythm seems to be more immediate. While there are certainly rhythms which can be directly associated with certain geographical sources, a dense variety of implications, and the situation in which we were first exposed to them, those rhythms are typically not assigned a mood until someone applies their relative conditions to it. A rhythm can be fast, chaotic, slow, hypnotic, but can you show me a sad beat? What about an ambivalent beat? That's a fun idea, anyway. Foster Body introduced me to so much, and I'm really lucky to be a part of it. We respond to one another. It's oddly mutative and instinctual. It's all mechanical pencil and primary colors.
Gavin: Do you guys have any gigs coming up and new music on the way?
Korey:
We're opening for Shonen Knife on October 15 at Urban Lounge. Have you ever heard of them? They sing songs about cats and chocolate (amongst other things I am certain). I like songs with content like that. I try to write about what I'm thinking about, which is usually just what I'm looking about.
Gavin: What was the biggest influence on you to start making art for a living?
Korey:
That's a tough one, and I guess it depends on how you think of for a living. While art – in whatever sense of the word – certainly sustains my ability to make sense of my experiences and the information it possesses me with, I don't really expect it to sustain the more literal aspects of for a living, or at least for the time being. By that I mean, my work doesn't buy my bread (I like really nice bread) but it is what I do as I live. Art as behavior is a constant part of my life, while the 9-to-part-time job, which operates as an instance within it, supplements the requirements needed to generate that behavior. So, art (music or visual) influences my behavior in these spaces which I did not create for myself. All of that being said, I didn't really know how to involve myself until Robin Banks encouraged me to get my work into the public eye. Without that push I'm not sure what I'd be doing right now. I guess just chunking away at guitar.
Gavin: Did you attended college or take any training, or are you primarily self-taught?
Korey:
I did, but only for maybe a year total if we're to piece it all together. I moved to Florida after grade school, where I washed air filters at a Holiday Inn as I waited to attend an art school. That fell through, so I moved to Portland, Oregon where I went to Pacific Northwest College of Art, but that didn't work out either. I somehow ended up here sometime after that. It's been five years. Still paying off tuition – oh well! Salt Lake is brimming with enthusiastic people who are driven to create a strong creative community, and from my experience, school hasn't been necessary to grow as an artist. There have been so many resources presented to me by these people who are also mostly self-taught or taught by the self-taught. Everyone I know is always learning some new technique. We're a community of apprentices.
Gavin: What would you say influenced your style the most, both in creating and developing it?
Korey:
The types of styles that I tend to really respond to usually give full attention to familiar shapes and forms, so they're clean and visually obvious in some way in order to present them as their most universally familiar symbol. They also typically hold a certain level of flatness no matter the depth of the environment portrayed. I am deeply wary of nostalgia, so I'm trying to develop a minimalist, or maybe literalist, visual language with what I am actually experiencing in my immediate context. This means becoming accustomed to the objects occupying my environment, their functions, and the ways I interact with them. This could be anything from the tools I use to the chairs I sit in or the clothes I wear. At least, this is what I see in the work I really enjoy, like the artists Tove Jansson, Joost Swarte, Moebius, George Herriman, Katsuhiro Otomo, even Schulz—too many to mention, with their own variety of voices, really. They're visually articulate and direct, so there's little noise between what you see and the reality of what you're looking at. You witness it, but everyone witnesses things differently, so there is room for the audience to derive something exclusive from it. I like that idea quite a bit. This isn't limited to comics, however, and I also find these qualities in things like the theory behind early-to-mid-modern architectural and design work – areas which I return to most often when I'm unsure of my style. I'm always trying to remember how I drew the day before and challenging myself to rethink how I might draw the next, which usually comes paired with distorting the familiar and questioning my relationship with something. What is a face? What is a house? What are pants? Silly questions like those come up a lot, and they're always posed at the objects I live with.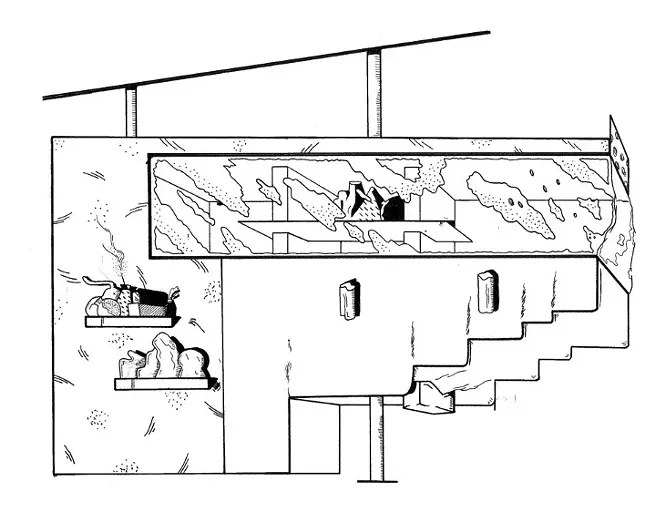 Korey:
This creates a sort of detached familiarity – the uncanny – like how you're familiar with the idea of a building, but not with how I may apply that idea to the composition of a face. The result isn't a repugnant face, though, because you're familiar with buildings. That's design, I guess. It makes things like scissors and plants just as integral to a story as those with the features we relate our own experiences to. I feel like this creates a narrative which rejects reality by proposing a new one, while still remaining responsible for and aware of the reality from which these forms are designed. I hope to eventually be able to have work which literally shows you familiar things behaving in unfamiliar ways. This is all just ideal, though. I'm only just recently figuring out my process, which is really exciting. It's the sentiments which inspire me, not their historical results, usually, but that's just how art works, I suppose. New problems require new forms to appropriately express them. I like 70s/80s Belgian comics, oldish French and Japanese cartoons, manga, jazz, De Stijl architecture, the internet, rulers and expressionless pens. I absorb a lot and in intense volumes. Did I answer the question?
Gavin: What pushed you more toward comics and prints?
Korey:
Rhythm! Like I said earlier, it has my attention. The relationship between artist and onlooker is one of great importance to me, as with any creator with work intended to be experienced. There is a constant performance between these two characters. Rhythm is in the way I draw my faces, and not just the composition of a page or the ways which text is delivered. Considering rhythm and the pace it establishes as a crucial element in comics, it only makes sense that I would choose it as my medium. Print most naturally relinquishes itself to the reader so that they may readily and subconsciously apply their state to the way they experience it. That excites me. There's a level of mutual exclusivity to it. This is why I lean towards working in black and white so that there is little noise between my images and the minds witnessing them, which I've mentioned. When it is black ink on white paper, the object is any color the reader wishes it to be. A chair is their chair or a chair they'd like to have. Comics do all of this really well.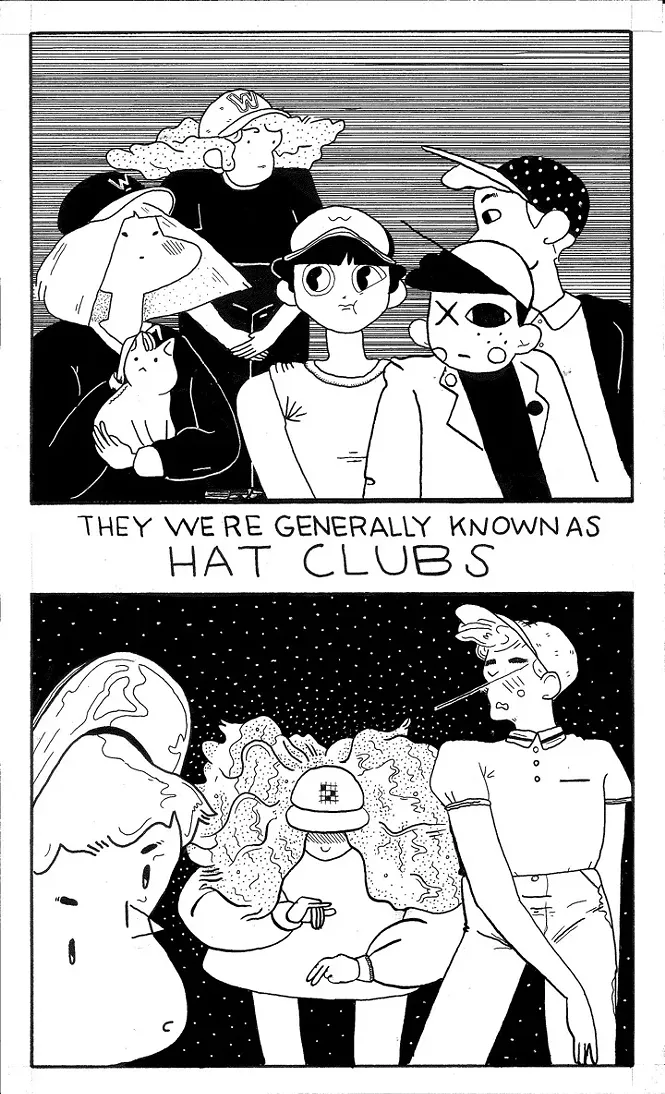 Gavin: What's the process for you in creating a new comic, from idea to final design?
Korey:
I am constantly collecting scraps of information or impressions from that information. There are piles and piles of half-filled notebooks stuffed with scrap paper and receipts with ideas I'll likely never return to. This can be a problem, because I often spend more time thinking about doing things rather than actually doing them. Usually, I'll just start drawing something. I'll see repetition in it and emphasis upon it. Then I'll apply ideas and concepts gathered from my notes to flesh it out.
Gavin: Do you find yourself changing things as you go along or do you stick to an idea once you sketch it out?
Korey:
If I'm doing an extensive comic, I have to sketch out the panels in my sketchbook to get an idea of the pacing and layout or else it all just becomes a mess. I'll rearrange, add, subtract as I draw the masters, because you begin to notice things you can't otherwise see until you actually begin to draw the comic. As far as other things are concerned, I just draw and find meaning in it later. So much of what I do is aesthetically oriented, which I find has its own potential narrative if it is repeated enough. I'm usually not too worried about changing things because I have no idea what to expect from them. I'm content with drawing the same thing until becomes something else, because I'm never too sure what it is I'm drawing to begin with.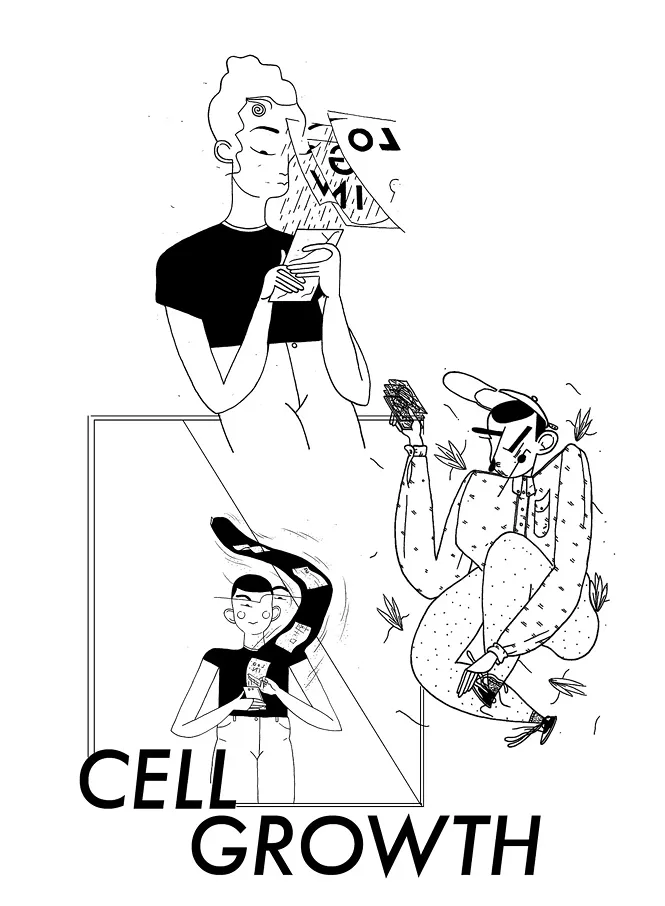 Gavin: How did the concept behind Baba come about and what made you decide to create a zine?
Korey:
It was the last night of Foster Body's first tour, and we were driving from Boise, Idaho to make it home that morning. I'm not sure why, but I couldn't stop thinking of the phrase "baseball circus," so I told Dyana, our bassist, to text that phrase to me so that I wouldn't forget it. That's usually how it starts, a pleasing image or design, whether that be a string of nonsense or a shape, which I later figure out the purpose of.
Gavin: What was the public response like to it when you you put it out?
Korey:
Surprising. Without having much to show for myself, I had applied to table at the Alt Press Fest, which is the Salt Lake City Public Library's own alternative press convention of sorts. Not until Foster Body got home from that tour in May did I find out that I had been granted a spot. I immediately went to work on "baseball circus," posting pictures of its development to Instagram and Tumblr along the way. When the day for Alt Press Fest finally arrived, I was really taken off-guard by the number of people who approached me who had either heard about it or had been following its development online. I only printed 30 copies, and they sold out fast. I ended up sitting at my empty table drawing and talking to all of the talented people Salt Lake City has. It was inspiring and motivated that interest in the artist-audience relationship.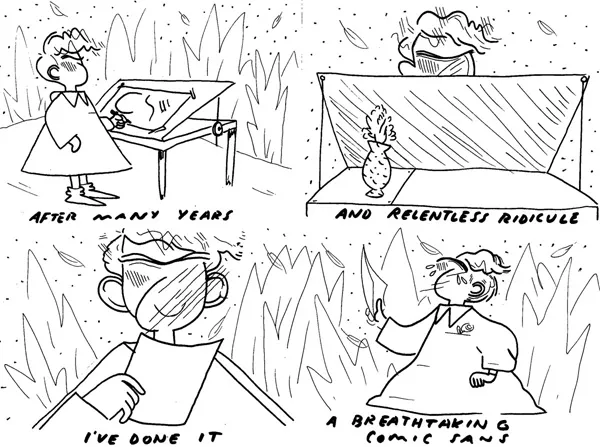 Gavin: Do you plan to continue Baba, or was this a one-time offering in your work and you'll be working on other zines?
Korey:
Baba
is an exercise in style for me. It's heavy on narrative without much character driven plot work, so it lets me explore whatever idea or technique I might be interested in at the time without having to be concerned with a theme, because, with
Baba
, I'm loosely adopting real-world phenomena (baseball, architecture, Dadaism) into a world in which they do not exist as we know them to be. With that I have reinvented their origins and causality. This affords me a lot of room to play around in without ever loosing focus. That's the great thing about concept stories, maybe. Its all mapped out, so all I have to do is apply pictures to it. It'll definitely keep going. I love zines. I feel like they're highly relevant and going through a renaissance period, because with fixtures like the internet we've become increasingly aware of the individual condition and now often celebrate or defend it. Every human experience is relevant and zines allow us to share things which often go unacknowledged through intimate and immediate means and across a diverse network of individuals. There is so much increased visibility and representation through these channels (zines and the internet as its person-to-person distributor) and I hope to see it grow. You never know what some seemingly arbitrary autobio-comic is going to have on someone you'll never meet. It feels crucial for social maintenance. Not everything needs to be serious, but whether its about your life or some funny gag comic, I'm happy to see more and more people feeling motivated to share their perspective.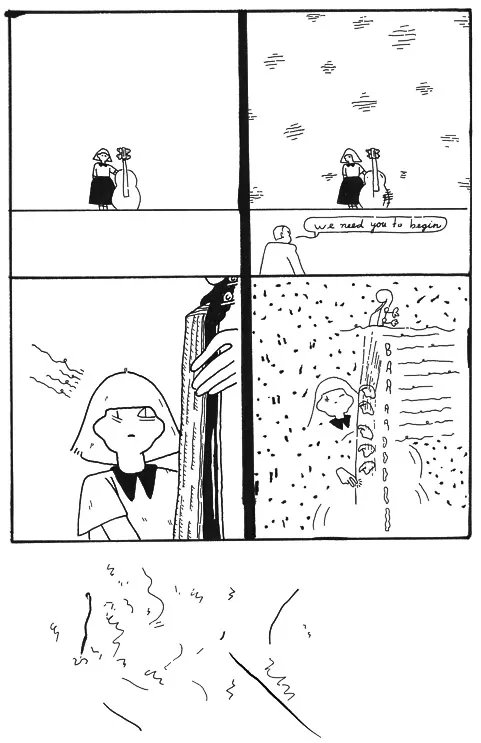 Gavin: What other projects and designs are you currently working on that we'll be able to check out soon?
Korey:
I have started developing characters for a daily strip, something that employs the identity-situation as theme, like
Peanuts
or
Moomin
. These are more like one-offs that help me keep up the habit of drawing everyday. They give me some flexible level of consistency so that I don't spend too much time thinking about commitment to an overall idea or an idea at all. You just draw a character doing something. That's it. Usually that situation is true to that character's personality, but even that's debatable, because coincidence occurs. There will probably be an emphasis on clothes. I think about clothes a lot.
Gavin: What can we expect from you over the rest of the year?
Korey:
Well, there's not much left, is there? Maybe I'll eat lots of pumpkin pie and find a risograph machine. Maybe at the same time.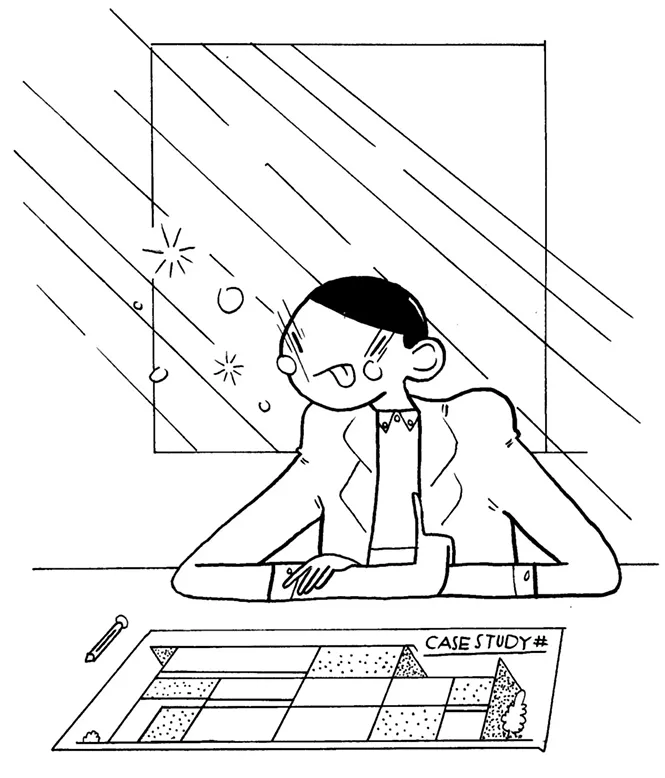 Gavin: Is there anything you'd like to promote or plug?
Korey:
Zines! Did you know the Salt Lake City Public library has a big zine collection? You can actually checkout Baba there. I encourage everyone to check it out and maybe submit something of their own to be a part of it.