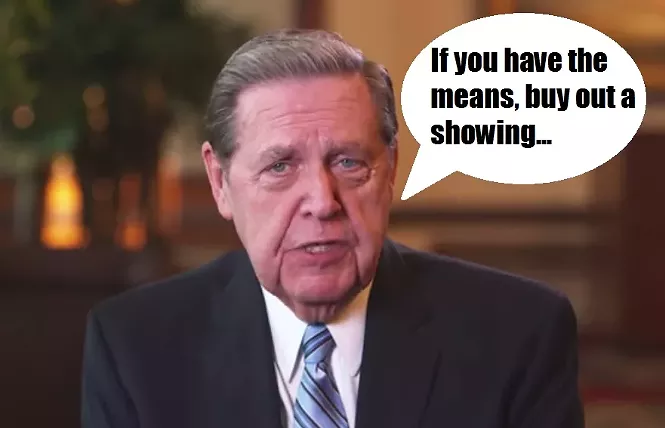 For a major motion picture release, everything rides on opening weekend. If a movie does well and sells a lot of tickets, it stays in theaters for a longer period of time. If it doesn't, it ends up on TBS a few months later, if it's lucky.
Now, let's imagine that a large movie studio wanted to guarantee big ticket sales on opening weekend. One way to do this would be to ask every single studio employee to purchase as many tickets as possible and then give or sell them to friends and family, or just burn them. Every theater would then be sold out, and the opening weekend would, at least on paper, be deemed a success.
Now, back to reality. A studio wouldn't do this. If it did, its employees wouldn't go for it, and the backlash if anyone found out would be catastrophic. But what if, instead of a movie studio, it was a church, one a with a network of more than 15 million members?
That's exactly the situation unfolding this weekend with the film
Meet the Mormons
, an LDS Church-funded documentary.
On Oct. 10,
Meet the Mormons
will debut at Cinemark, Regal and AMC theaters all over the United States and could go down as a box office win, as church leaders have asked members to not only go see the movie but to buy out showings.
"We want as many people as possible to see this film," said Elder Jeffery R. Holland, a member of the church's Quorum of the Twelve Apostles, in a September video directed at church members. "As with any theatrical film, our success will depend on box-office performance during the opening weekend. How long the film will be available in theaters will depend on that." Holland then recommends that followers share the trailer on social media, request that local theaters play the film, or even "buy out a showing for a group."
Though Holland makes it clear that purchasing a ticket for the movie "is not a commandment or a requirement," some church members, especially those out of state, where the film is being heavily marketed, say that they've been pressured by local wards and stakes to buy tickets for opening weekend because local church leadership has already bought the tickets.
A member of the Redlands California stake, who wished to remain anonymous, told
City Weekly
that her local theater wasn't going to show
Meet the Mormons
because of poor ticket sales. But that changed when her ward bought out the show.
"My Relief Society president e-mailed everyone in the ward and said, 'You have to buy these tickets because the movie isn't going to be shown unless you do.' Then the stake purchased all the seats, and now the ward is saying to buy tickets through them rather than the theater. So yeah, there's been a lot of guilt for us to buy these tickets so they can get their money back."
In Portland, Ore., at least one ward placed an advertisement for the film in the Sunday sacrament meeting program.
Boosting sales through church members makes sense if selling tickets is the main goal. But it doesn't appear that LDS members are the even the target audience for
Meet the Mormons
. As Holland says in his video, the movie is meant to inform non-Mormons about Mormons.
"That's what's kind of creepy to me," the Redlands, Calif., Mormon says. "It seems like they made the movies to promote the religion to non-members, but they're pushing it on the members themselves. So why are they encouraging so heavily for the members to go see this movie?"
So far,
Meet the Mormons
has been met with mixed reviews.
On the review aggregate site
Rotten Tomatoes
,
Meet The Mormons
has a rating of 0 percent (based on five reviews).
City Weekly
movie critic
Scott Renshaw gave it 2 out of 5 stars
, saying, "Even when [the] individual stories are compelling or inspiring, you know you're not just watching a movie. You're watching a feature-length piece of PR spin."
Sean P. Means of The Salt Lake Tribune
gave it 2.5 stars and pointed out similar issues:"
Meet the Mormons
isn't a definitive look at people of the LDS faith. It's not a documentary but an infomercial, meant less to inform than to introduce a sales pitch."
On the other hand, non-critic reviews paint a different picture. Rotten Tomatoes' audience rating for the film is 81 percent positive.
In the scheme of things, none of these reviews will really matter. If theaters are indeed being bought out to this extent, then the sales will be there. Plus, this weekend, the biggest competition for
Meet The Mormons
is
The Judge
,
Dracula Untold
and week two of
Gone Girl
.
Cody Craynor, a church spokesman, deferred any comments about marketing to the film's director and producer, whom he says were in charge of that effort. Craynor, though, did say that he was out and about Salt Lake City on Thursday with the Candy Bomber, a retired U.S. Air Force colonel who appears in the film.
Bumping sales isn't necessarily against the rules. In fact, it happens all the time and not just in film. According to
Politico
, in 2010, Mitt Romney's book
No Apology: The Case for American Greatness
reached No. 1 on the New York Times best-seller list by "asking institutions to buy thousands of copies in exchange for his speeches." And in 2013,
former Utah Attorney General Mark Shurtleff
was accused of lining up a multi-level marketing company to buy 100,000 copies of his book
Am I Not a Man?: The Dred Scott Story,
before it was even written.
For the Redlands, Calif., Mormon, the church's efforts—pure as they may be for seeking a box-office bonanza—reek of something worse than pure greed.
"It's very dishonest," she says, "and I don't know if the church cares about honesty."