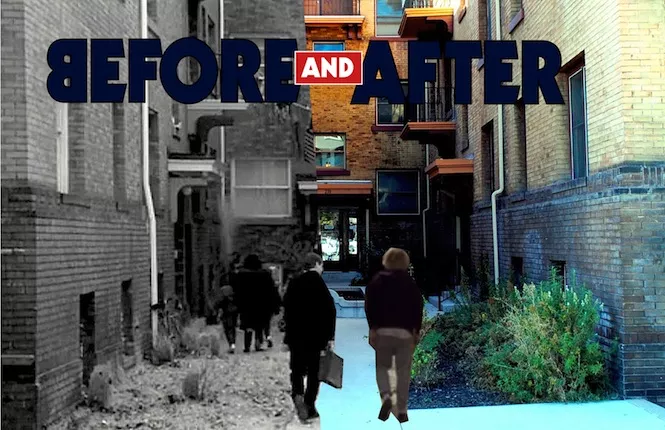 photo illustration rachel piper
Twenty years ago, filmmakers Peter and Bobby Farrelly set up shop in Utah to film their debut movie,
Dumb & Dumber
. They shot in locations like downtown SLC, Park City, Orem and Sandy. Though much of the film was also shot elsewhere, Utah arguably had some of the best scenes. Personally, I can't drop off anyone at the airport without thinking of Jim Carrey saying, "Goodbye my loooooove!"
In conjunction with the sequel,
Dumb & Dumber To,
out Nov. 14, I set out to find as many of these film locations as possible. Unfortunately, the Internet and local rumors have fueled a lot of false speculation on where some of these scenes are located. So, with the help of director Bobby Farrelly and location scouts Lee Steadman and Mimi Davis-Taylor, I was able to track down Utah's most iconic
Dumb & Dumber
scenes.
Let's start at the location everyone already knows:
"I hate goodbyes!" —Lloyd Christmas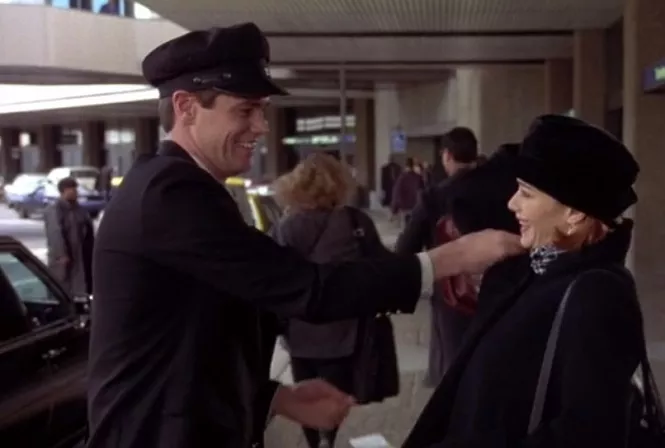 Lloyd drops off Mary Swanson at the Salt Lake International Airport and they say goodbye at Door 4, which used to be the old TWA area. After she leaves her briefcase by the escalator, Lloyd scoops it up and attempts to board her plane, located in the B2 concourse.
Here's where he took a spill off the jetway.
---

"So I say, 'No, but that's a real nice ski mask!'" —Lloyd Christmas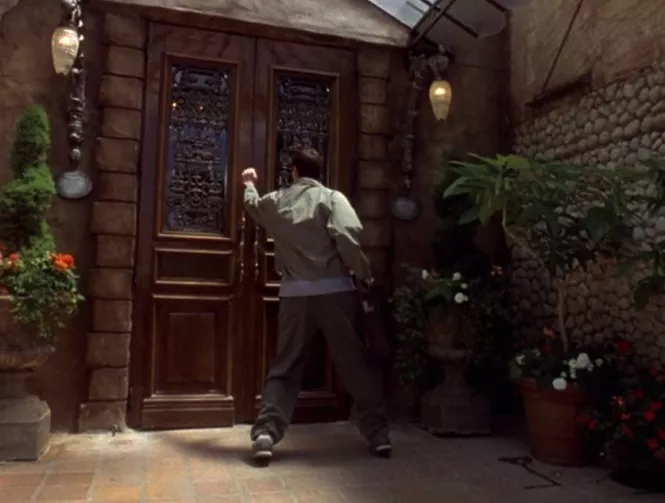 While Lloyd and Harry are driving to Aspen, Lloyd fantasizes about the moment he returns Mary's briefcase. Her home in the dream is actually the LaCaille restaurant in Sandy.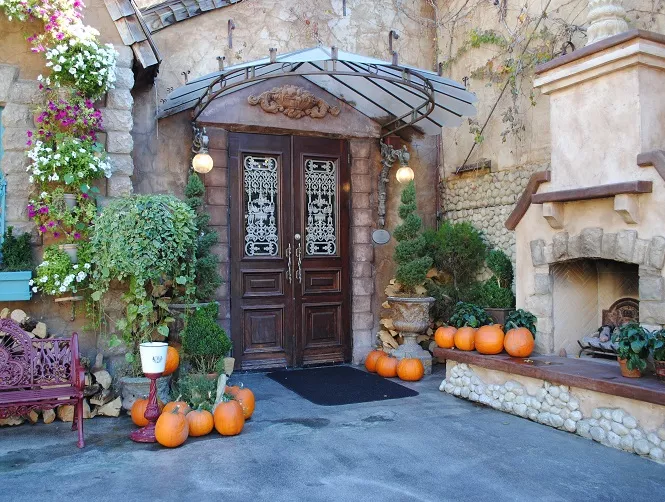 In the same dream, Lloyd is entertaining Mary's friends in a cozy living room in front of a fireplace by tossing nuts in his face and lighting his own farts. This is also the same room where he unveils her "headlights."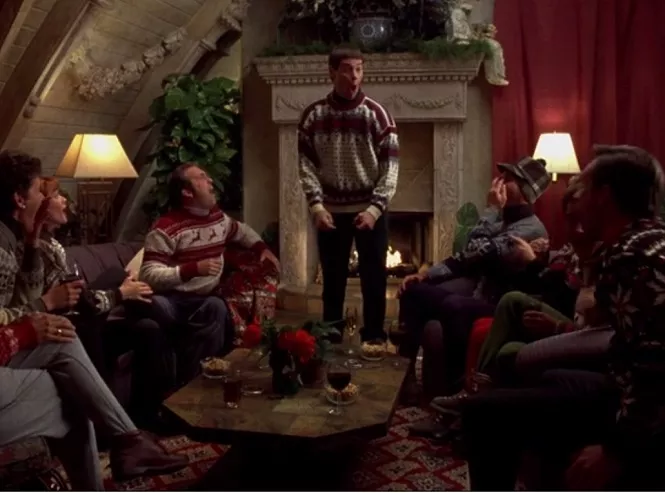 This area is located on the second floor of LaCaille's main building: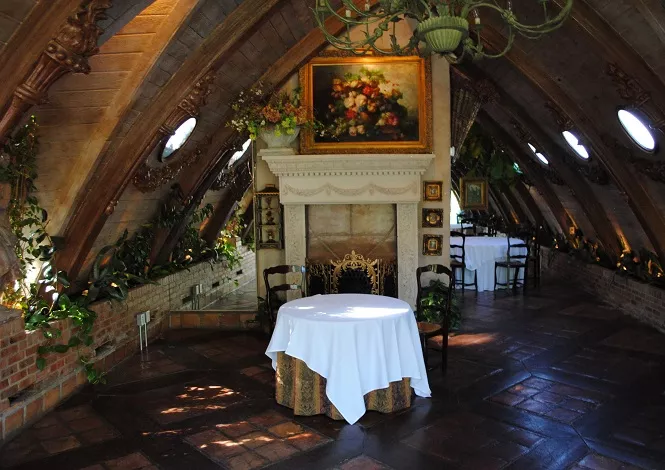 ---

"Suck me sideways." —Lloyd Christmas
The LaCaille property is Mary Swanson's actual home from the beginning of the film. It's called The Chateau, a fancy guest house that can be rented out for weddings or special events, and it's just a few steps from LaCaille's front door...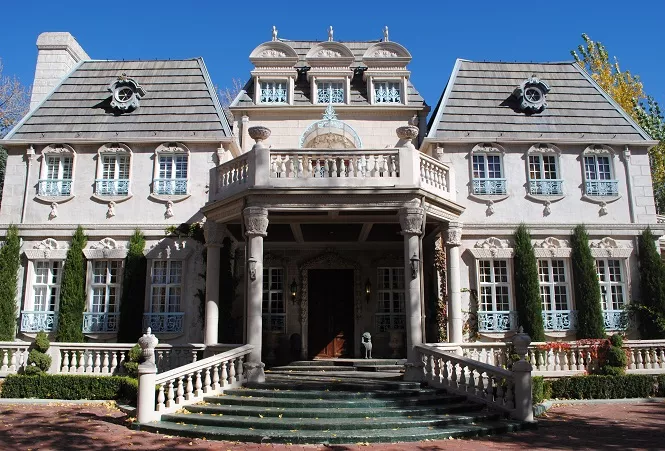 According to
Dumb and Dumber
location scout Lee Steadman, a small pond on LaCaille's grounds was also used to shoot an ice-skating scene that never made it to final cut.
---

"No, it was a girl, Freda Feltcher." —Harry Dunne
While driving west, Harry and Lloyd make a stop at the The Second Time Is Best motel to soak it up in a heart-shaped hot tub and reminisce about Freda Feltcher. It's currently called the M-Star Hotel (soon to be renamed the Heber Inn) located on Main Street in Heber City.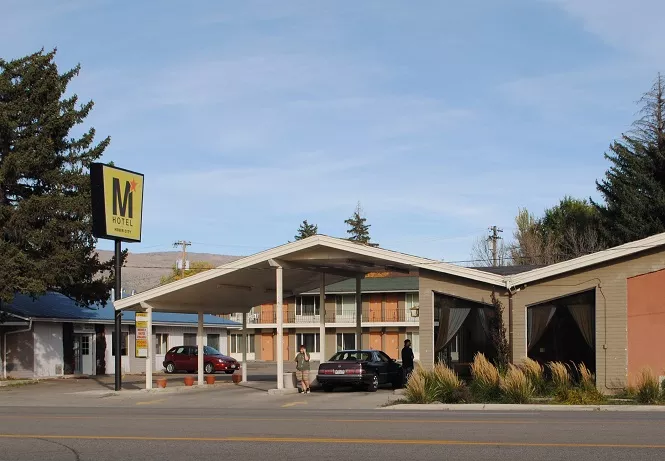 According to Steadman, there never was a heart-shaped hot tub in this place, because the interior shots were filmed at The Osmond studios in Orem, which is now the Cirque Lodge rehab clinic.
---

"Big Gulps, huh? Welp, see ya later!" —Lloyd Christmas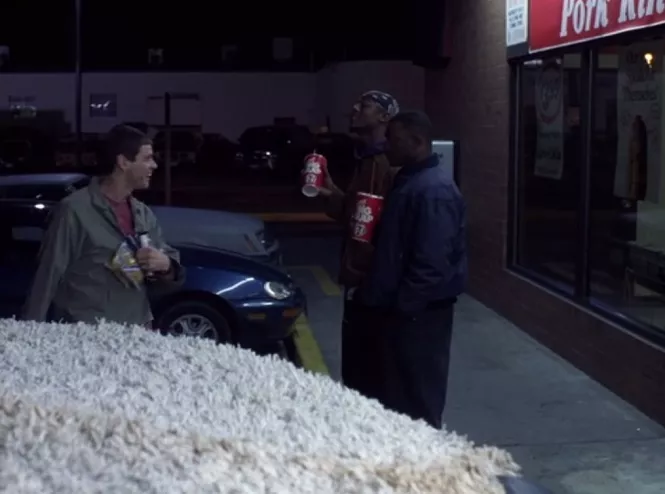 About a half mile down the street from the motel, you'll find this infamous 7-Eleven. People have speculated that this spot is in Tooele, or Ogden, both of those locations are incorrect. It's in Heber City. It's still owned by the same family and looks pretty much exactly like it did in 1993.
Director Bobby Farrelly pointed out that the extras in this scene were just guys standing around watching the shoot and Carrey's line was completely improvised.
UPDATE:
Recently a few scrupulous
City Weekly
readers have refused to believe the 7-Eleven is in Heber City (which you can read all about it in the comments). To prove that the 7-Eleven is in Ogden, resident Amanda Greener sent in this photo of a Check Smart on Washington Blvd. Back in 1993, this building was indeed a 7-Eleven...
Her picture makes a compelling argument, especially when you notice that the white sign and the Kiesel Sales and Service building in the background match up perfectly with the screen grab below.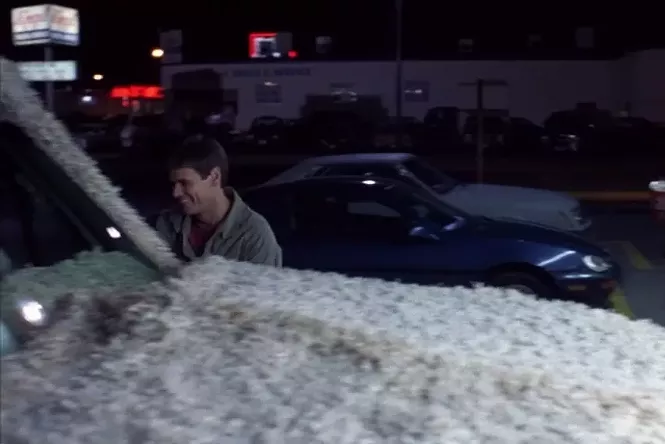 It's in Ogden, huh? Welp, see ya later.
---

"We got no food, we have no jobs, our pets' heads are falling off!" —Lloyd Christmas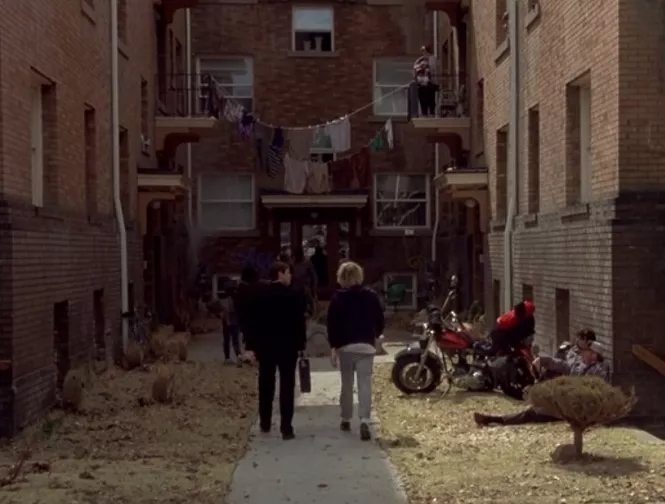 Harry and Lloyd's apartment isn't as bad as it looks in the movie. The interior shots were all filmed at the Osmond Studios, but the outside shots were filmed at the Smith Apartments, located near 300 East and 200 South in downtown Salt Lake City.
---

"Hey, I guess they're right. Senior citizens, although slow and dangerous behind the wheel, can still serve a purpose. I'll be right back. Don't you go dying on me." - Lloyd Christmas
After Harry and Lloyd spend the day looking for new jobs, Lloyd decides to walk to the store to pick up some "bare essentials." Ultimately, he drops his wallet in the
Rhode Island Slut
newspaper box and is robbed by a "little old lady on a motorized cart."
The scene was filmed just a block away from their apartment, right next to the old Salt Lake Antiques building on 300 South and 300 East.
---

"You know, on second thought, you might just want to run a comb through 'em." —Harry Dunne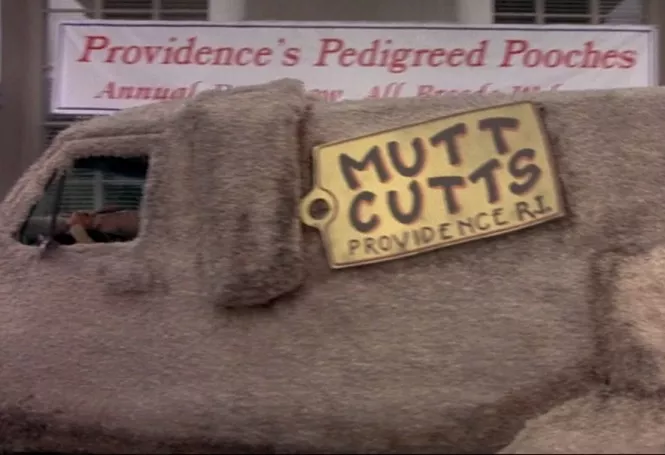 In the opening sequence, Harry drops off some poorly manicured dogs at the Providence Pedigreed Pooches dog show. At the time, it was a Holiday Inn that served as the production offices for the film. Currently, it's the Palmer Court affordable housing development at 999 S. Main in Salt Lake City.
Out of convenience, a lot of scenes were shot around this area, including the limo drive to the airport and the very first scene of the film, where Jim Carrey hits on the Austrian woman from the back of his limo.
---

"Let's go get a couple of bowls of loud-mouth soup" - Harry Dunne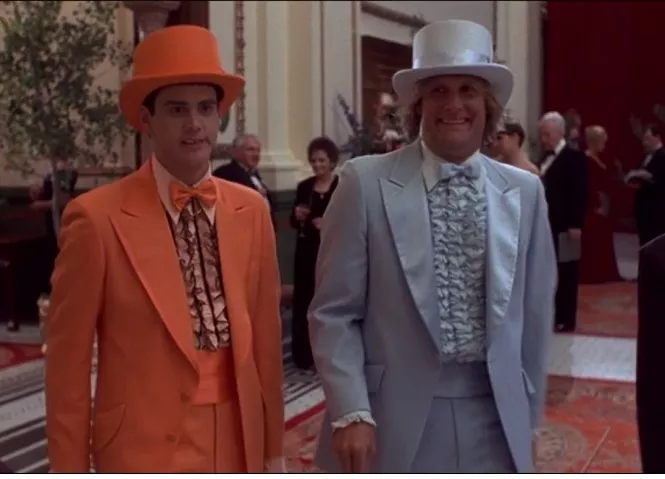 The scene where Harry and Lloyd attend the Aspen Snow Owl Benefit and accidentally kill a bird with a champagne cork was filmed at the Grand Hall at the Union Pacific Depot (located in The Gateway mall).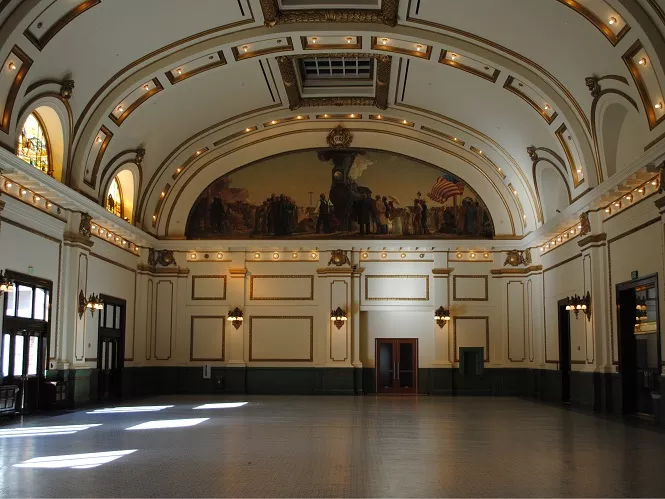 However, the exterior shot, where Lloyd and Harry exit the horse carriage and enter the building, doesn't look like a shopping mall...
That's because it was filmed just down the street at the Devereaux Mansion.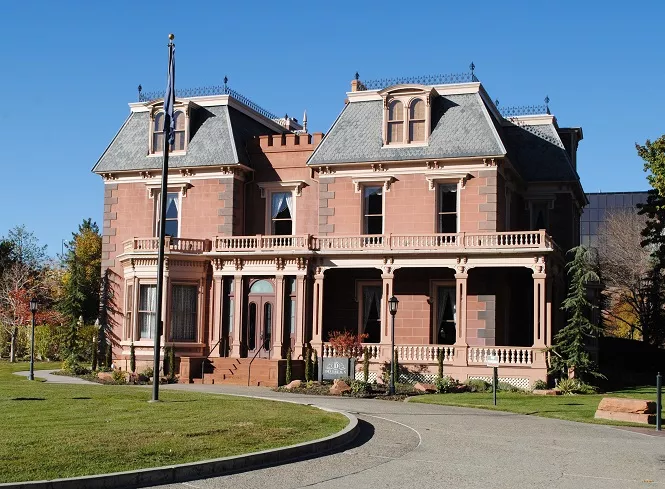 This location is also where Jim Carrey fights the restaurant staff and places the chef's heart in a doggy bag.
A few more notable Utah-related Dumb and Dumber locations:
- Both Mary Swanson's parents' and Nicolas Andre's ski chalets are located in Deer Valley. However, the exact addresses are a mystery.
- The presidential suite Harry and Lloyd stay at in Aspen was modeled after a top-floor suite at American Towers in downtown Salt Lake City, but rebuilt at the Osmond Studios. Bonus fact: The exterior shots of the hotel were filmed at the Stanley Hotel in Estes Park, Colo., the same hotel from
The Shining.
- The scene where Harry and Lloyd drive into Aspen on the scooter was filmed in downtown Park City.
- Dante's Inferno—you know, the restaurant where Harry and Lloyd accidently kill Joe Mentalino with rat poison—was filmed at a burger joint in Ogden, though no one who worked on the film is 100 percent sure on its exact location.
- Many of the driving shots of the Shaggin Wagon and the Scooter that were meant to look like Nebraska were actually filmed out near Kennecott, in the area of 7800 South and Highway 111.
If you know of any other scene locations that I may have missed, have at it in the comments.