Hello to all you gum-chewing, tip-withholding, attitude-faking, patio-talking, music-chattering, employee-bashing, drink-spitting, don't-know-how-to-go-to-a-fucking-concert enthusiasts! This is venting time for me: I've been to more concerts with shitty behavior from patrons and bands in the past two weeks than I've been to in two years combined. Seriously,
its
a pathetic display of behavior at what should be a pretty chill experience. I'm getting to the point where I'm ready to launch a 6-part series of blogs about it all, because if you're acting like this kind of a person... you're fucking up and need a swift kick in the ass. Now that that's out of the way, here's a picture from The Shred Shed where I got to attend the last event held there, and this is the last picture I took of the Exchange Place location.
Getting to events, on Sunday the City Library will be hosting another edition of
12 Minutes Max
, the showcase where performers of various performing arts genres will be given 12 minutes to put on a show for you. It's the variety showcase for people with short attention spans. This month's show will feature Nick Foster and Jason Rabb collaborating on music, Rachel Borup reading from her current novel and Jorge Rojas with his performance piece "Lucha Libre." The show is totally free in the auditorium at 2 p.m.

On Monday, December 15,
Filmulate
Film Festivals will present the Dark Christmas Film Festival. Basically, this is an all-submission festival from local filmmakers who have put together creepy holiday classics. Two hours worth of short films, all for the prices of $10 at The Broadway, you can meet Krampus at 6:15 with the films starting at 7 p.m.

On Wednesday, December 17,
The Davey Foundation
will hold a new screening at the Tower Theatre. In honor of the late David Fetzer, the foundation was formed to help filmmakers on the rise, and some of the first films from grants being awarded out will be shown over the course of two days. The second day will be held at
UMOCA
featuring a panel of filmmakers discussing collaboration in
filmmmaking
. If you're in the local film community, both of these are must-see events.
On Thursday, December 18,
Muse Music
will put on their fifth annual Christmas Benefit Concert, where proceeds will be going to benefit The United Way's Sub For Santa program. This will be one of the last shows before Muse shuts down to relocate. The show will just be $6 and will feature, Kathleen Frewin, Cotton Bones,
Mihaly
and Alarm Call. Go check it out and contribute to a good cause.
On Friday, December 19. the last
Sketch Cabaret
of the year will take place at The Metro. This month the theme will be "Enchant," and will have a focus on dreams. The cabaret runs from 9 p.m. until 2 a.m., $10 to get in and $15 to sketch.

And then next week.. everything is pretty much dead because of the holidays beyond concerts. The one worth mentioning is the Festivus Bake Sale happening at Cakewalk (inside Frisch) from 1-5 p.m. on Sunday, December 21. This is a good chance to snag some vegan baked goods before they head out on holiday.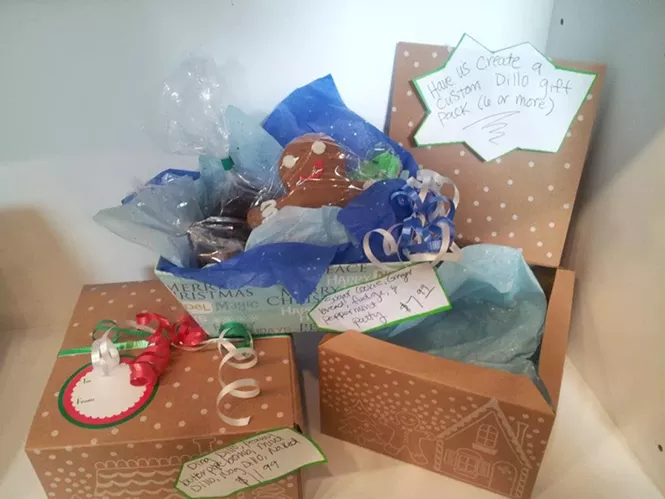 As for the blog, there's an anniversary coming up that we'll chat more about later, as well as something awesome for the holiday. But in the meantime we'll keep the rest of what's happening a secret. As always, we'll see what happens.