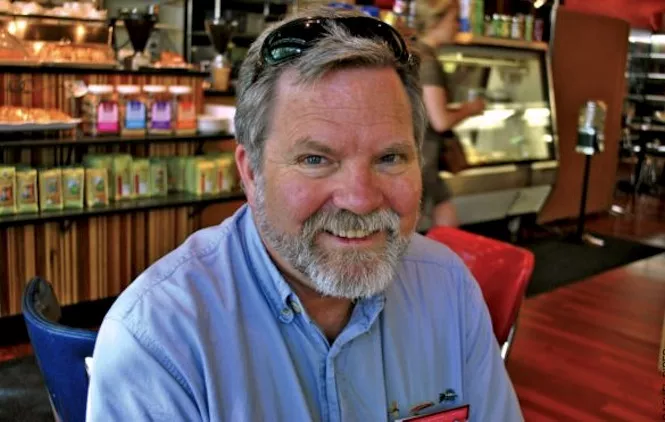 Rachel Piper
Pat Bagley
Pat Bagley hadn't been home too long from his LDS Church mission when he took a job as the first cartoonist at The Salt Lake Tribune.
About 13,000 cartoons and nearly four decades later, Bagley is still the political cartoonist of record in Utah, wielding his pens and pencils five days per week to skewer anything and everything that turns him on.
Bagley's trade in cartoons—consistent with that of newspapermen and women around the country—has seen little besides attrition over the past decade. He's looked on as the number of newspaper employed cartoonists has dropped from 200 to around 45.
But on Tuesday, when four prominent French cartoonists were gunned down in the offices of the weekly newspaper
Charlie Hebdo
, the work cartoonists do was thrust into the international spotlight.
The cartoons that were routinely splattered across the pages of
Charlie Hebdo
, Bagley says, were unknown to most Americans. He says the cartoons often depicted sexual themes, as well as excrement and urine, which American audiences would find immature or inappropriate.
"We would think that's kind of amateurish, but it's a different kind of aesthetic over there," Bagley says. "I think
Charlie Hebdo
was out to offend. If you got offended, that just made you that much more of a target."
Authorities say the massacre, which left 12 dead, including the paper's editorial director, Stephane Charbonnier, also a celebrated cartoonist, was carried out by a trio of Islamic extremists. Charbonnier's final cartoon for Charlie Hebdo showed an armed man, perhaps an Islamic fighter, with a headline that read: "Still no attacks in France. Wait! We have until the end of January to give our best wishes."
"Personally, I would not be doing the kind of cartoons that they were doing," Bagley says. "But on the other hand, if you do believe in free speech, you have to allow it."
Bagley's cartoons often say with no more than a few words what an army of reporters could not—biting truths about Utah—and the nations'—daily experiment with life and democracy.
Too numerous to name, and certainly difficult to adequately describe, Bagley's cartoons routinely target the Beehive State's most prominent resident: the LDS Church, which he was born into.
The political machine in Utah is also a regular resident of Bagley's space, which appears five days a week.
"Utah's great because there's so much material here," Bagley says, noting that he finds the state legislature "sanctimonious beyond measure."
In many places outside of Utah, Bagley says the overt taking of large sums of cash from corporations and lobbyists would be viewed as corrupt. Not in Utah, he says.
One recent cartoon showed a politician taking an eye exam. The doctor points to a paper with letters that spell "Biggest Utah Polluters." The politician, holding a hand over one eye, says "My campaign donors."
It's "actually a pretty corrupt legislature because they just don't see it," he says. "They think that's just business as usual, but anywhere else it's clearly corrupt."
Bagley's outspoken opinions, says
Tribune
Editor and Publisher Terry Orme, have made Bagley at once a "beloved" and "reviled" journalist.
"He gets a reaction because he has a strong, undeniable point of view that cuts to the core of sensitive and important issues," Orme says. "He's more than up to the task of taking on the power structures in this state."
Like all daily newspapers in the nation, the
Tribune
has seen its share of layoffs. In the last decade, dozens of journalists have left the paper. And, although the last few months have been quiet on the front of staff cutbacks at the
Tribune
, the exact intentions of the paper's owner, a New York City hedge fund, remain unknown.
Through these rough economic waters, though, Bagley's job has been spared. He says this is due in part to his status as a Utah institution, as well as his ability to understand the complex and quirky Utah landscape.
In another recent cartoon, Bagley drew what appears to be LDS Church officials huddled around a newspaper with the headline: "BYU Bowl Game Ends in Brawl." One of the men remarks: "They certainly didn't learn this kind of behavior in church!" Next to this cartoon is another that shows a basketball player, elbows flying, a hand in his face, wearing a T-shirt that says, "Give Blood Play Ward Basketball."
To anyone who hasn't left a ward basketball game with a bloody nose or a broken limb, the joke could be lost.
"I'm singularly qualified to do what I do in Utah," he says, noting that he attended BYU and went on a church mission. "I'm very familiar with the culture. I think that's helped me with my cartooning here."
Orme says Bagley's cartoon is a "cornerstone" of the paper's opinion pages.
"He's one of those journalists who have come to define
The Salt Lake Tribune
," Orme says. "If an editor were to let Pat Bagley go,
Tribune
readers would demand that the editor go, and Pat be reinstated. And they'd be right."
On Wednesday morning, Bagley says, he woke to the news that his fellow cartoonists had been killed—a reality that he says hit "close to home."
During his years of taking the state's political elite to task in his cartoon, Bagley says he's been threatened. And in a state that holds the Second Amendment in as high regard as the right to wear shoes, Bagley says the threats aren't always easy to write off.
"Occasionally you get somebody who will say something like, 'You better watch yourself if you keep doing cartoons like that,'" he says. "It makes you wonder what they have in mind."
With this year's legislative session only a few days away, some of Bagley's ripest material awaits. And at the
Tribune
, the guy who some in Utah regard as a state treasure will be on the job.
And whether Bagley's cartoons draw ire from the powerful or bring tears of joy and laughter to the eyes of others, Orme says that, above all, in the wake of the killings in France, that "freedom of expression is a non-negotiable human right."