So if you haven't read my recap of this year's FanX, you really should
go there first for a little information about those three days
before you delve into the interviews. But if you truly don't care, I can't stop you. Below are the few visiting celebrity interviews I was able to snag from Brandon Routh (
Arrow
,
Superman Returns
,
Scott Pilgrim vs. The World
), Jess Harnell (
Animaniacs
,
Transformers
), Rob Paulsen (
Animaniacs
,
Teenage Mutant Ninja Turtles
) and Mark Pellegrino (
Dexter
,
Lost
,
The Returned
) on the final day of the convention. Enjoy! (A special thanks to
Kacee
Boswell, Kari
Keone
and Jeremy Kartchner for their help over the entire FanX weekend.)
Brandon Routh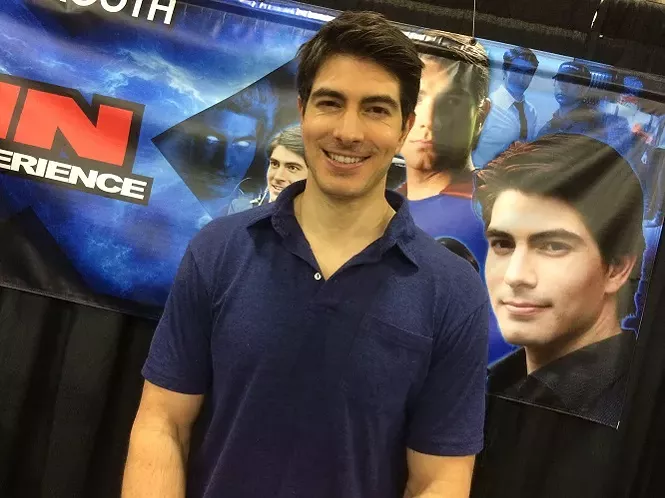 Gavin: How have you enjoyed being at this particular event this year?

Brandon:
Absolutely, a lot of people, they're all very kind, and I'm inside away from the cold. Even though I don't mind the cold, I actually kinda like it.
Gavin: Is there anything here you've browsed around and enjoyed besides your own panels?

Brandon:
Ah, no, I have not, I have been pretty busy at my table and doing the panel, interviews and all that kind of stuff.
Gavin: So then how's the fan interaction been?

Brandon:
It's been great! Genuine, kind people. Everyone very excited about
Arrow
, it's good to see all the love for that which everyone has.
Gavin: Speaking of that, how has it been being a part of Arrow and taking on the role of The Atom?

Brandon:
It's been awesome. I'm excited about the amount of humor and comedy I get to bring to the character and the show. Getting to work with Emily [Bett Rickards] who plays Felicity is great every day. Big things are come for Ray and The Atom, can't say we'll see Ray in The Atom suit and become The Atom before the end of the season, which is exciting. I'm very thankful for the great fan response.
Gavin: Having been a part of things like Superman, Scott Pilgrim, now you're playing The Atom, how does it feel living out the fanboy actor's dream? Going from role to role and becoming that guy who becomes the hero or the villain.

Brandon:
Well, you know, it's great. It's always great to be working as an actor in a thing I want to be doing and growing all the time. I definitely love playing the hero versus the villain, but there is some fun in playing the villain. And you know, being about to revise another hero character in Ray Palmer is great as I continue to become a more mature person, I can bring some of that stuff to the character as well and make them even more heroic.
Gavin: Is there anything we haven't touched on that you'd like to promote?

Brandon:
Well I have a film called
400 Days
, that will be out sometime this year, I don't know when yet. But it also stars Caity Lotz who has been in
Arrow
as Black Canary, Tom Cavanagh who is in
The Flash
, and Dane Cook. It's a sci-fi space action thriller that should be out sometime this year. Beyond that, I'm on
Arrow
, Season 3, and
The Flash
a little bit.
Jess Harnell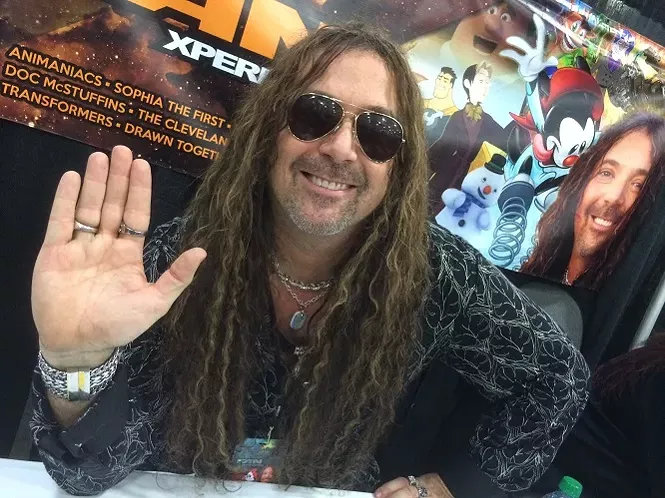 Gavin: How are you enjoying the con so far?

Jess:
Honest to goodness man, and I'm not just saying this so you can go on the internet to check to make sure, this is one of the best, if not THE best con I have ever been at, so well-organized, so well run and the people are friggin' awesome. I'm having a great time!
Gavin: Nice, how has it been for you being in Salt Lake City?

Jess:
Beautiful! I've only really ever passed through Salt Lake before, but I have had a wonderful time and hit it off with a lot of people and made a lot of new friends. Whenever we come back it can't be too soon. I think, and if you guys want to see this just let the con know, I think we're coming back in September with our sister Dot [Tress MacNeille] so you'll have the complete set. How about that?
Gavin: Fantastic, now have you done anything at the con besides your panel and the table readings?

Jess:
Yeah, I walked around a lot, but people kept trying to sell me kilts and take pictures with me on the convention floor, so I gave up and ran back to the green room. Not that I don't look good in a kilt. Google me and you'll see. I look like
Braveheart
!
Gavin: You've had a lengthy career, I mean we could sit here for an hour and run off everything that you've done. But in the past couple of years, what would you say is the stuff you've been the most proud of or enjoyed the most?

Jess:
You know man, first off I appreciate you noticing the lengthy career thing, what I consider myself is unbelievably blessed, cause I realize how incredibly lucky you are to get one job in show business. So having hundreds of them is almost too much for one man to ask for. You know dude, it's incredible, I think I just did my 5,547th session before I came here last week, that's a lot of work and its work I'm blessed to do. I terms of things that I'm proud of—I really love the fact that a lot of the things I do can be enjoyed by families. I've been working on a show called
Doc McStuffins
for Disney that's a big
ol
' hit, and it helps kids not to be afraid when they get sick, I think that's beautiful. I got a show called
Sophia The First
that I'm very proud of because it shows little girls how to behave like princesses, in other words have values and have things they stand for that matter, I like doing that. And I've always love doing
America's Funniest Home Videos
, which I've been doing for 15 years now as the announcer of that show, because what I love is that grandpa can watch it with his kids who can watch it with their kids who can watch it with their kids, everybody will find something to laugh about and that's pretty awesome.
Gavin: For you as a voice actor, having done everything that you have done, what's the next big challenge for you?

Jess:
Oh my gosh, man, you never know what God has in store for you. You never know what's right around the corner. First of all, it's really funny, and I guess it comes from a place of certainly not arrogance, but definitely confidence, I like to think that I'm confident in my abilities. So I don't think of anything as a challenge, I think of it as an opportunity. And I can't wait because I never know, it's like new things are always coming up. I'm working on a movie for Paramount now that's beautiful and it's going to be a huge movie. I can't say much about it, but I didn't even know it existed 2 weeks ago, and now I've done two sessions for it and it's so great! You never know what's around the corner and that doesn't just apply to me, it applies to everybody. So even if you're feeling bad right now, hang in there, because everything can change for the better tomorrow.
Gavin: Anything coming up you wanna promote?

Jess:
Well you know, my band, I have the world's most original cover band, it's called
Rock Sugar
. We basically take every metal song from the '80s and '90s and mesh it together with every pop song from the '80s. All those songs you think you knew, we turn them over, turn them upside-down and kick them upside the head a couple times until you recognize them, and go "I've never heard it like this before!" We're going back on the road this summer, we get to play with bands like AC/DC and Aerosmith out there on the road and that's friggin' awesome. And of course I'm looking forward to my job because I every day I go to work I really go to play, and that's even better!
Rob Paulsen
Gavin: How has it been for you at this convention?

Rob:
I know you think I probably say this all the time because I do this a lot, but honest to God, this is a really exceptional event. The folks who put it together have spared no expense and really pulled out all the stops. The facility is terrific, the city is phenomenal, beautiful and clean, the people are delightful, the folks helping me out could not be more professional. Top to bottom, it is really an excellent convention and I would come back here in a heartbeat.
Gavin: Great! How have the fan interactions been?

Rob:
Perfect. You know I make my living doing stuff in a cloistered environment. I'm not a celebrity, I don't walk down the street and people say "Oh look, there's Rob Paulsen!" Once they find out what I do they get a big kick out of it, I'm an integral part of the characters but the characters are the celebrities. However, having done it now for over a generation, when I come to things like this and I meet these lovely people, hundreds of people have come up all weekend and some of them get very tearful. They just say, "you have no idea what
Pinky & The Brain
or
Animaniacs
or
Ninja Turtles
or
Jimmy Neutron
or
The Tick
made me laugh during a very difficult time in my life." That is an incalculable compliment to me, it's not about action figures or money or ratings, it's just about a pure expression of enjoyment. My job is to make people laugh, and not just me, I don't want to single myself out, we all get to do this. But when you're lucky enough to come here and get this feedback from so many people, who go out of their way and stand in line to want to tell you what a snippet of their life was made better as a result of the work... it's an incredible compliment. I am very cognoscente of how lucky I am to be in this position, I wanna ride this pony until I can't walk so I'm very grateful to be here.
Gavin: Have you had a chance to interact with anything at FanX?

Rob:
No, it's pretty much been the panels and stuff, but that's generally the way it goes. If we're lucky, we should have a big line. It cost these people money to bring us here, so they like to see us busy because that means they made a good choice. If you go to an event and somebody picks up your room, gives you a couple bucks and some food, and there's nobody in your line... Then they go "oh wow, we shouldn't have had Rob Paulsen come to our convention." So as much as I would prefer to go out and talk to more people, this is my job. I'm here and I should be exhausted from singing and talking and singing. I'm very grateful.
Gavin: I just talked with Jess about this topic, you've had a lengthy career with a fantastic number of credits. With that said, what have you taken the most pride or interest in over the past few years?

Rob:
Getting another crack at
Ninja Turtles
, it's been unbelievably exciting. Because the first show, nobody knew, including the creators, that
Ninja Turtles
would become NINJA TURTLES! So for a lot of actors, just having that in your back pocket is a pretty cool thing. At the end of your career, that's kind of like being Fred Flintstone, right? I got to be Raphael on the original
Ninja Turtles
because that's a big deal. 25 years later, to get hired again to be on a new iteration of
Ninja Turtles
, being made by people who grew up watching the original, they are the ideal folks to have the reigns turned over to. And the new show is excellent, it's smart, it's funny and it absolutely caters to the fanbase. Because the people who are making it were fans when they were watching the original one. And now I'm a different turtle. My kid said "you know dad, you're gonna be the answer to a Jeopardy question." If I live long enough maybe I can knock out all four of them. That I have to say is the most gratifying, to get another shot at
Ninja Turtles
to see how big it still is and arguably bigger than it was before. If you went to Toys R' Us this Christmas—Turtle Mania! And I'm a part of it, it's real exciting.
Gavin: I'm jealous as an adult, they have the turtles shells and the full costumes. I never had that as a kid!

Rob:
Right?! They've got so much cool stuff, but what we hear often is folks your age and even have been younger—my son is a good example; people who grew up seeing the original Turtles. Having seen this new version coming out, the fan reaction was, and I totally understand it, "oh man! They're going to screw it up!" Little did they know that Viacom gave the money to make it to some people who knew what the hell they were doing. And then, IGN and other large gaming sites start doing reviews of us, and the reviews are between 8-9 starts for the whole entire season. They're all going "oh my God, we had no idea, we thought this was going to be some stupid reboot with another opportunity to make a bunch of money off of merchandising." The response from top to bottom has been absolutely positive, and that's again, because its made by people who know what they're doing. That's really gratifying to have people come back and say "you know what, I didn't want to like this but I'm friggin' crazy about it."
Gavin: Yeah, to be fair though, coming from that generation growing up with it, we've been burned a lot over the past decade.

Rob:
That's what I mean, and I totally understand why. My son is 30, and he said "you know what dad, you gotta make a living." He doesn't just blow smoke, he said he watched 4-5 of them on Hulu, then he called me and his response was "this is f'ing unbelievable." And I said I don't hear him use that word too often, but that's what I mean. It's so good I can't believe it. If they're going to stay on this road, and we're in the middle of our third season, it's gonna stay huge.
Gavin: Having talked a little on your career, what's the next goal for you?

Rob:
I've been doing my podcasting, it's called
Talkin' Toons
. And you'd like it, its free and it's about me and people like me who do what we do. Jess has been on it, Jim [Cummings] has been on it, Mark Hamill, Tara Strong, Tress MacNeille, Nancy Cartwright, all of us. So I've been doing that on iTunes and have been using it as a launchpad to do more stuff like this. I love doing personal appearances. One of the seminal shows I did from the '90s is
Animaniacs
, the music from which was spectacular, so now we've gotten the permission from Warner Bros. and Steven Spielberg to mount a production of doing live
Animaniacs
music with live sundry orchestras around the country. We started last fall with the Colorado Symphony in Denver, huge success. Did it last week in San Francisco, huge success. We are actively perusing the Utah Symphony, because you guys have a kick ass world-class symphony here. And this [convention] is a great example, because we had a thousand people at our panel yesterday, when I sang that countries of the world song the place went nuts as they always do, it's a great song. Well guess what. We have a program now with myself, Jess and Tress MacNeille where we're Yacko, Wacko and Dot. And Randy Rogel who wrote all of that music, and we perform it live with a big screen behind us so you'll see all the cartoons with the Utah Symphony, all 85 pieces, performing that music live with us singing it live. It is really entertaining. So that's what the next challenge is, to take that
Animaniacs
music and perform it live with symphonies all around the United States.
Mark Pellegrino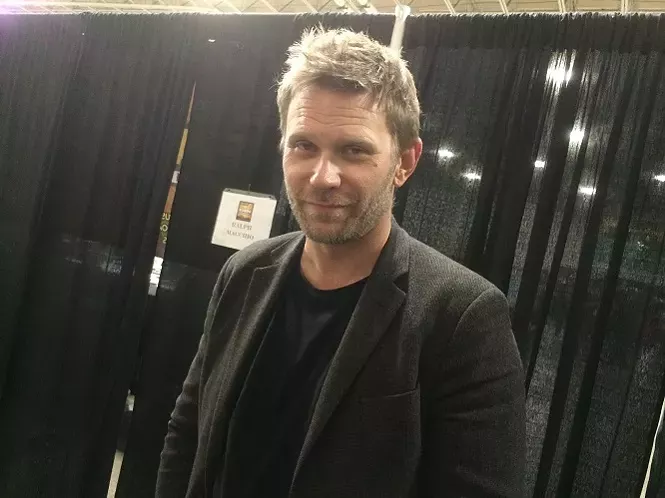 Gavin: So how have you enjoyed being here in Salt Lake for this convention?

Mark:
It's been great so far, actually. These things are well-oiled machines and sometimes you can feel like you're in a machine, but it really feels like I'm with friends and family and they've really gone to the highest level to make me feel really comfortable and at home. It's really great.
Gavin: How has it been interacting with the fans so far?

Mark:
It's really good! I love it, it's my favorite thing so even in my panel I don't like to sit up there and be all impersonal and just field questions or talk for an hour. I like to interact with everybody and get to know them as they get to know me. This signing format gives me the farm to sit down and have a one-on-one with them.
Gavin: Have you had a chance to get out from the panels and the signings to see what FanX was all about?

Mark:
I did actually, I bought some t-shirts at one of the vendors and I met somebody at the party last night who writes and develops the
Grimm
comic books. I went over to their booth and they gave me a bunch of free stuff. So I'm going to be reading
Wonderland
,
Oz
,
Grimm
and some of the other stuff that they gave me.
Gavin: A little character-wise. You've been a part of Lost and Dexter, a couple of serial shows where they hype went up at the start when the series was going well, and then kinda near the end the fanbase started to turn on them. As an actor you put your heart and soul into what you do, so how is it for you seeing you put all that work in and then the fans almost turn on it at the end?

Mark:
Well, I'm so happy I'm not aware of the fans turning on the series. So you're giving me some new information. But I always love new information, that's the way I roll. You know with
Lost
, definitely the end didn't satisfy some people, but for me it ended the way I feel it needed to end, and the "unsatisfactryness" of the ending actually makes that show totally subjective so that every person has their own relationship with it. Every person can determine what it all meant, and I think that's kinda cool, actually. The other one was
Dexter
, you said? The fanbase turned on
Dexter
?! [A independent bystander nods and confirms the statement.] Well thank God I got out of it in the second season, so I'm not responsible for that. I had a good time on that show, I was frankly disappointed the way they killed me, I was thinking Paul would become Dexter's foil, he had things figured out before everyone else did. I thought he was going to be a thorn in his side to compete with Rita. I wish there had been a greater storyline with him, that said I thought it was really fun to work on that show and be a part of it, I think it was a really interesting and unusual show. One of the first ones with a serial killer as the protagonist and the hero of the story
Gavin: You've got The Returned coming on A&E, I know you're probably under an NDA right now, but what can you tell us about the series and how was it for you working on it?

Mark:
Well the series is for A&E, gonna premiere March 9 after Bates, it's kind of based off
Les Revenants
which is a French international Emmy award-winning series, it's very good. It kinda becomes its own unique take on that universe, it's based on this little town called Caldwell, Washington, where people start coming back from the dead. And I think the adage "be careful what you wish for" is a very thematic element in this because most people associate the miraculous with something very beneficent and amazing. But it's not always that way and we have darker elements to this miracle and the way it affects the people. The principal characters, including my character, are taken in some very dark and sometimes heroic directions. So it's more of a character-driven drama with some very eerie elements in it.
Gavin: Besides The Return, is there anything else your working on that you want to promote?

Mark:
I just did a movie called
Bad Turned Worse
, which got released and was simultaneously on iTunes and video-on-demand, I think that's now being released on DVD. I'm also doing a project with my wife, we've been doing it for a year and a half, we're doing a feature-length film composed of twelve thematically composed shorts. We've done it in 12 cities and 8 countries, it's all about miscommunication between cultures. It's a comedy, so it's funny and fun to do, and challenging since we've been doing it guerrilla style in cities all over the world. I think it's going to be good, we're doing our last one starting March 1, so we'll start post soon and hopefully in a year, we'll get the product out to people.