The music scene in Utah County gets a lot of credit in various ways for blowing up. But who could have foreseen that the impact would care over to a younger generation that has yet to snag a diploma? KOHS is a radio station broadcasting on 91.7FM in Orem, reaching most of Utah County and some surrounding areas, founded back in the '70s with an ever-changing format that currently features a pop/rock flavor. In recent
years
the station has garnered much attention through the outreach of social media and the students who run it bringing more personality to their choices and on-air personalities. Today we chat with the class teacher and Program Director behind the station, Matthew Brown, about the work the kids are putting in today and where they're headed from here. (
All pictures courtesy of KOHS.
)
Matthew Brown
KOHS on Twitter
Gavin: Hey Matthew, first thing, tell us a little bit about yourself?

Matthew:
I was born and raised in Vineyard, Utah. I played outside as much as possible and developed a love for the mountains. I attended Mountain View as a student and graduated in 1997. I love to travel and take pictures. I am married and have four kids.
Gavin: What got you interested in music and what were your favorites growing up?

Matthew:
Growing up in my home I was exposed to lots of different music. My dad had a good sound system in the house and used it almost every night for music or movies. My dad exposed our family to Jim Reeves, Nancy Griffith, Johnny Cash, Celtic Music, British Comedies, Three Tenors, John Denver, Neil Diamond, The Carpenters, ABBA, Cowboy Poetry, and Anne Murray. My brothers and sister exposed me to the '80s. U2, The Smiths, The Cure, The Cult, as well as Bob Marley, The Grateful Dead, The Doors, pretty much anything my dad told us to stay away from. And when my grandmother visited it was Lawrence Welk...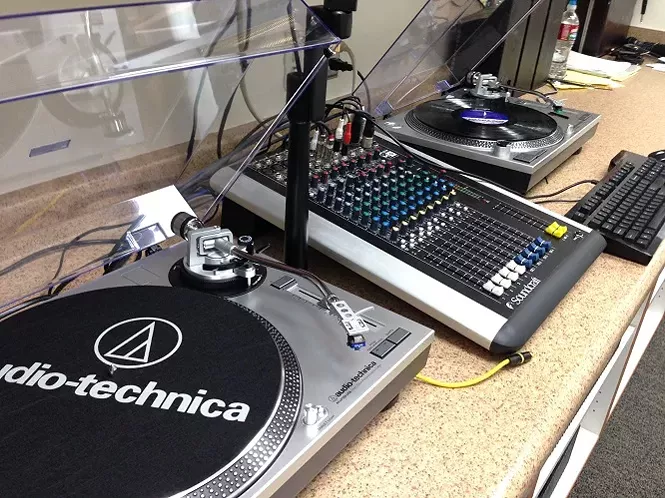 Gavin: How long have you been teaching and what brought you to Orem High?

Matthew:
I have been involved with broadcasting since early 2000, when I joined student media at UVU. I started with news, moved to sports broadcasting, and then to entertainment. I thought I would be working at ESPN in Connecticut one day, so I started doing work with KSL in Salt Lake City. I did, though, do some freelance work for ESPN and CBS. In
2002
I got married and decided to finish my degree. I needed a job that allowed me to work and finish school. While at UVU, I traveled to local high schools and did presentations about UVU. Several people approached me from different schools and encouraged me to think about teaching. I went through the process to become an alternatively licensed teacher in the state of Utah. In 2004, I was hired as a part-time teacher at Mountain View High School teaching Digital Media. I loved teaching, and I was good at it. After three years of teaching part-time at Mountain View, I was hired to teach Digital Media and TV Broadcasting at Orem High as well., and I have been doing that ever since. I currently spend one day at Mountain View and then the next day at Orem High. Ken Seastrand was the station manager at KOHS when I began teaching at Orem. He allowed me to work with his sport broadcasting students. I helped them with their broadcasting techniques as well as organizing a weekly sports show on the radio. When Ken decided to retire he asked me if I was interested in teaching the radio class and running the station. I did not hesitate, I absolutely was interested in doing it. I took over in August of 2013 and have loved it.
Gavin: Getting right to it, how did the opportunity come about for the school to attain a radio signal?

Matthew:
I have been piecing this history together from lots of different stories. In 1971, Stephen Lamar Garret started the radio class with his electronic students. They operated kind of like a pirate radio station until 1974 when they were officially licensed by the FCC and broadcast at around 100 watts. In 1974, Alpine School District obtained two radio licenses, our station on 91.7 FM and KPGR on 88.1 FM at Pleasant Grove High School. I jokingly refer to KPGR as our ugly step-sister and enjoy working with them. Stephen Garret eventually left Orem High and Ken Seastrand took over. As cell phones became popular the need for cell towers increased and Orem was offered an opportunity to put up a cell tower on school grounds and as part of the agreement the phone company helped get KOHS licensed to broadcast at 1000 watts. We cover all of Utah Valley and are the largest high school radio station in the state by wattage.
Gavin: What was the process like in putting the station together in the new building?

Matthew:
Orem High was rebuilt about four years ago. The building is new and that is nice but it is too sterile and plain. A student has designed a mural for the radio station so we can add some personality to the place.
Gavin: What made you end up deciding on an alternative music format for the music?

Matthew:
The music format was chosen before I arrived. But looking through the collection of music it looks like KOHS has changed over time. The vinyl collection in the back of the station ranges from John Denver and the Osmonds to Def Leppard and Frank Sinatra. I assume the alternative genre was chosen to appeal to the school population. I have purchased two new turntables and will be bringing back all the old stuff. We need a few more things to make this a regular part of the programming, but students will have the opportunity to physically cue the next song. Even as we expand our playlist we will stick to the alternative rock genre as our core.
Gavin: When choosing the music, what guidelines do the students need to follow in order to put music in the library?

Matthew:
This process is still in development. When a student or listener requests a song or an artist we don't have we present it to the radio class. As a class, we judge the playability of the music. If student DJs express interest in using it during their radio show we add the new music into the library. This semester I have a student music director and am working with next year's music director to organize ourselves a little more.
Gavin: What kind of response have you seen both from the student body and the community?

Matthew:
Reactions have been almost entirely positive. I hear story after story from listeners who appreciate that we play their requests and that we don't play commercials. I love listening to my student DJs develop on-air personalities and radio shows. We broadcast Orem High's football and basketball games as a service to the school and local community. One of my goals is to be more proactive in reaching out to our community. Everything is in the beginning stages but we have worked a little with the Orem Public Library and the Provo Rooftop Concert Series, and expanding sports broadcasting to include more school events. Working with students means there will be mistakes and issues with quality control, but that is part of the process of education. When we make mistakes or have had complaints from the community we try to protect the student and the opportunity to learn from mistakes.
Gavin: How much work goes into promoting local music on the station and bringing in guests to perform?

Matthew:
Local music is becoming a mainstay of KOHS. Local music in Provo and SLC is amazing. I am constantly working to expand our local music library and have had many local artists come into the radio class and talk about the business of music. Our FCC license prohibits us from promoting anything over the air, but we are developing a website and the regular social media products to help promote local and diverse music to our audience. I am arranging our classroom studio for live music performance like on Audio Tree. I think giving the students the opportunity to learn how to prepare and conduct an interview and set up and mix live audio is essential to the radio experience. This will take some time to develop but it is underway.
Gavin: Is the station mainly focused on being a DJ format, or will there be chances for the kids to host their own shows like talk programs or interview segments?

Matthew:
As we work more with our community we will give students the opportunity to host a show that is not focused on music. What that will look like is yet to be determined. Most of my students need more exposure to different types of media and story. Many students enter my class knowing only what is currently popular and I do my best to wake them up to a better life outside of Pop.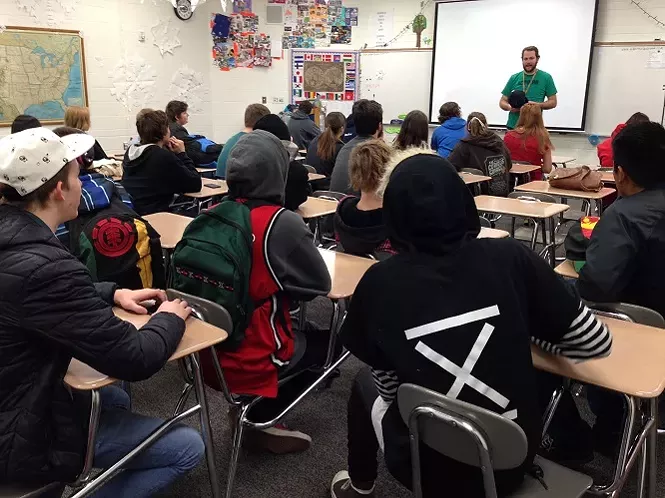 Gavin: Are there any plans to possibly expand the signal beyond Orem/Provo and branch out to SLC or the rest of Utah County?

Matthew:
We have no plans to expand into SLC, but if we had the opportunity to be re-transmitted there we would be open to the idea. KPGR is re-transmitted into Salt Lake Valley and I think that is really cool. We are working on getting online. We are testing it right now and will be fully online soon.
Gavin: What kind of influence do you hope the station will end up having on the students once they leave?

Matthew:
I tell my students the world was a cool place before they were born so they shouldn't ignore something just because it is old or different from them. I hope my students leave with their world being a little bit bigger and with a desire to go learn on their own. Music is an easy and accessible way to learn about history and culture.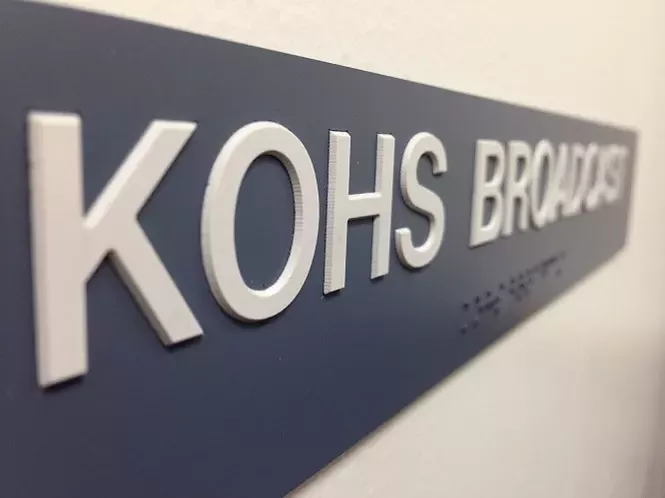 Gavin: What can we expect from the station going to the end of the school year and into the summer?

Matthew:
Last summer I started the summer radio program. I want to expand the summer radio program and give current and past students the opportunity to develop portfolio and demo tapes. As the program grows, and I think it will, the summer radio program will grow as well.