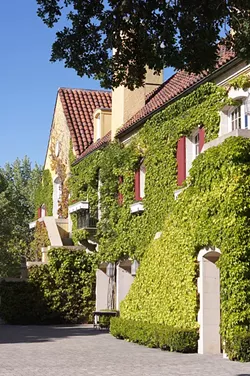 Recently, I had the opportunity to spend a couple of days and nights at the Jordan Winery Estate in Sonoma and was bowled over not just by the excellent wines, but by the Jordan hospitality. Anyone can schedule tours and tastings at Jordan Winery, and they should. Programs range from a one-hour, $30 tasting of Jordan wines, estate olive oil, and food pairings in the private Jordan library, to complete tours of the winery and estate, including wine and food samplings, breathtaking views and much more.
Whether you ever visit Jordan Winery or not, you should certainly treat yourself to Jordan's wines. During my visit to Sonoma I got to sip my way through a number of Jordan vintages and, while it's interesting to see how the wines develop over time, I was also impressed at how great the current vintages are right out of the bottle.
Jordan 2010 Cabernet Sauvignon Alexander Valley
($50.67) is sourced from 60 Jordan Estate vineyard blocks and from a dozen-plus family growers. Luscious blueberry, blackberry and cacao aromas and flavors dominate the wine, along with a core of cassis. I loved this Cabernet and its long, layered finish with duck confit and beluga lentils.
As for the current
Jordan 2012 Chardonnay Russian River Valley
($32.33) release, well, the 2012 growing season in Sonoma was, as Jordan winemaker Rob Davis says, "a dream year." He adds, "I think the 2012 Jordan Chardonnay is about as close to Burgundy as we've ever come." I can only add, amen to that!