Tiffany Frandsen
Westlake High Marching Band performing the National Anthem.
Musicians should play in the State Capitol rotunda more often – the sound echoes and reverberates magnificently. On March 4, orchestras and bands from Utah schools played classical and jazz music in the Utah State Capitol building for a rally to support incentives for musical educators. A bill (which has already been passed by the House and is currently being debated in the Senate) would offer yearly incentives to STEM teachers, but the bill neglects arts teachers.
Representative Bradley Last, R-Hurricane, is sponsoring House Bill 203, which extends income supplements that are already offered to teachers of math and science classes to those that teach courses in engineering, special education and computer science. The annual compensation is also being increased; qualified teachers would receive a supplemental $5,100 to their income in 2016 (up from $4,100), with incremental $1,000 increase up to $10,000 in 2021.
The incentive is to ensure that the STEM teachers aren't lured away from teaching by higher pay in the private sector.
"The reason for doing this is to attract some people to the teaching profession that may not choose it otherwise, and to retain individuals who have great opportunities in the private sector, to keep them in the teaching profession. These particular areas that we have chosen to include are due to the criticality index that the State Office of Education, where they identify the areas where they are having a difficult time hiring teachers," said Last, in a Senate Education Committee hearing.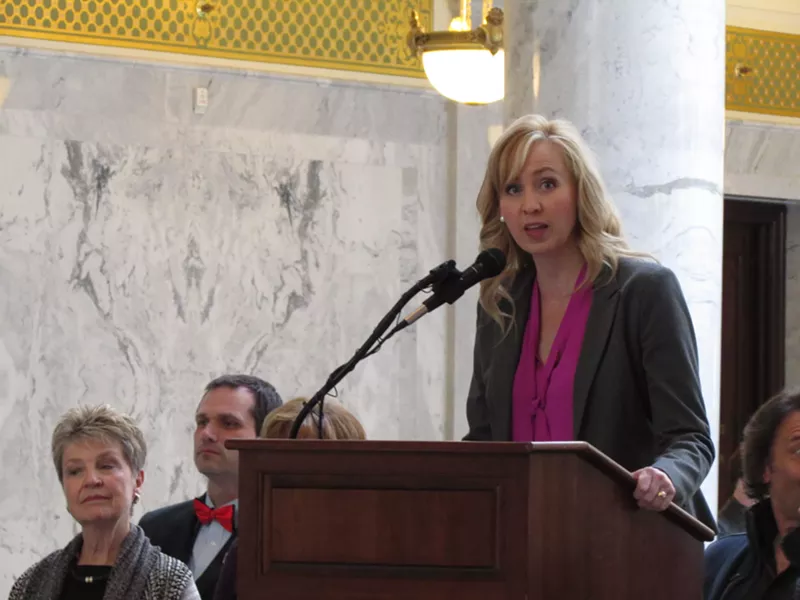 The Utah Music Educators Association and local educators are calling for fine arts teachers to be included in the bill and for the state's acronym to be changed to STEAM. Christine Wolf, UMEA advocacy chair and organizer of the rally wants the salary supplements given to all educators. If that is not a possibility because of budget, she wants the decision made by individual districts.
Wolf and UMEA are "concerned that this bill is inequitable in its treatment of teachers in Utah, who all bear the same responsibility for educating our nation's students and who deserve to be equally compensated for the work that they do."
"The argument is that they need to be paying the science and technology teachers a living wage, that they can go outside to the real world and be able to make that much more money. That's true of all educators," said Wolf.
Without the incentives, UMEA is concerned that some districts will struggle to find or keep music educators.
"Any teacher can be lost to other industries, if they so desire. Unfortunately, a lot of teachers fall into the trap of, 'it's our passion,'" said Wolf in regards to music teachers perhaps being unassertive when it comes to speaking up for equitable treatment. "It's because of dedicated teachers who refuse to fail, even when we're set up to not be successful."
Since there are different hiring concerns in each district, Wolf would like to have the districts have more control over where the money is spent.
"So what they need to do is let districts decide which content areas they are short in and give discretionary income to those school districts to add incentives where they need those teachers. Ideally, we all need to be paid a willing wage. Ideally, everyone should be getting this pay increase, not just math, science and special education," said Wolf.
If budget is a determining factor, then the incentives should be distributed
Tiffany Frandsen
Keynote speaker Thurl Bailey learned to play music when he was young, and played in marching bands in school.
based on a teacher's merit, not the degree they received.
"There should be a certain set of criteria that teachers make so that the teachers that are having the most effect are the ones getting those raises, and the teachers that have the ability to have their students perform at the highest levels are the ones being rewarded with that pay increase," said Wolf.
Music educators have just as profound an influence on a student as other teachers of other subjects.
Contrary to the stereotype, music education doesn't lock a student into a career to become a starving artist, just as financial literacy doesn't guarantee that a student will be an accountant. Wolf cited Google and Apple as examples of companies whose executives valued music education from potential employees, to see if they received a balanced education.
Cathy Jensen, the fine arts chair of the Utah State Office of Education, encourages teaching students to match tones in music, and said they have seen a correlation in their ability to match tones and their ability to read. Pat Richards, the board chair of the League of American Orchestras, says that music also helps students learn better in math and science.
There is also a correlation between exposure to music in formative years and participation in music when students grow up, says Richards. If students aren't exposed to music education when they are young, professional orchestras like the Utah Symphony will lose audiences as their communities grow up.
The Westlake High Marching Band, directed by Brek Mangelson, played the National Anthem. Weber State University Jazz Band performed twice – "Quincy & The Count," by Sammy Nestico, and Jazz Band director Shannon Roberts' arrangement of "Mack The Knife," called "The Ripper." Woods Cross High Chamber Orchestra, directed by Sara Jane Thompson, played "Rhosymedre," by Ralph Vaughan Williams. Keynote speaker Thurl Bailey also spoke of the uplifting influence music had on his life.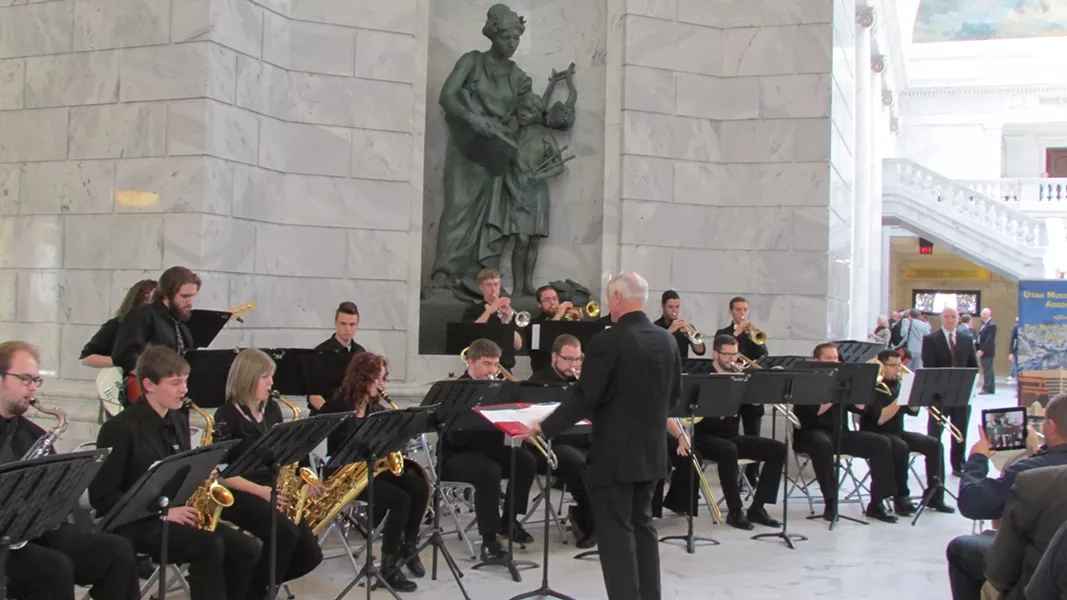 Tiffany Frandsen
Dr. Shannon Roberts directing the Weber State University Jazz Band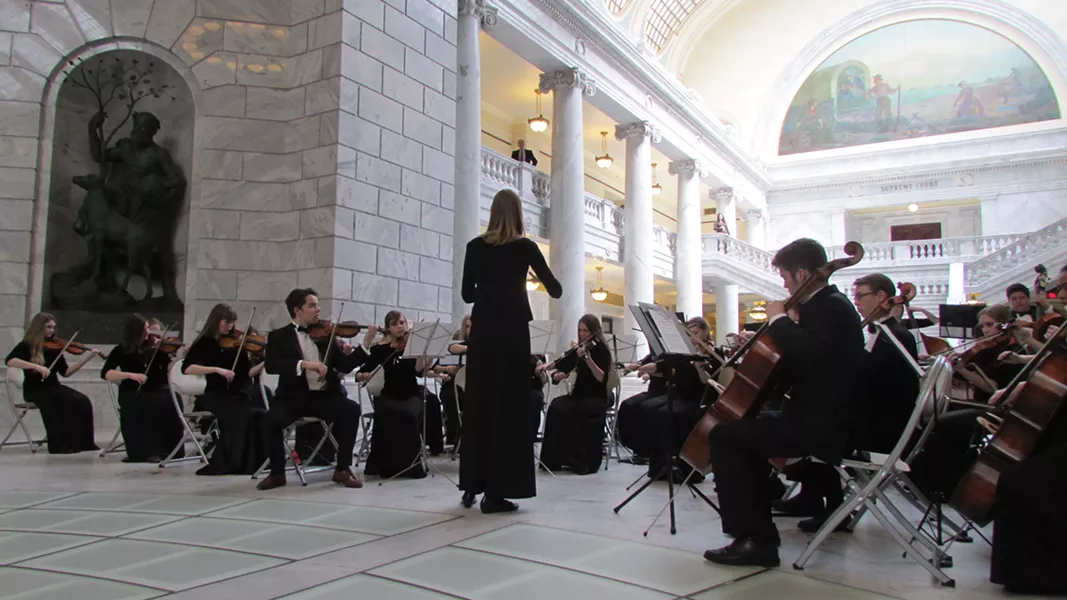 Tiffany Frandsen
Sara Jane Thompson and the Woods Cross High School Chamber Orchestra performing "Rhosymedre," by Ralph Vaughan Williams.