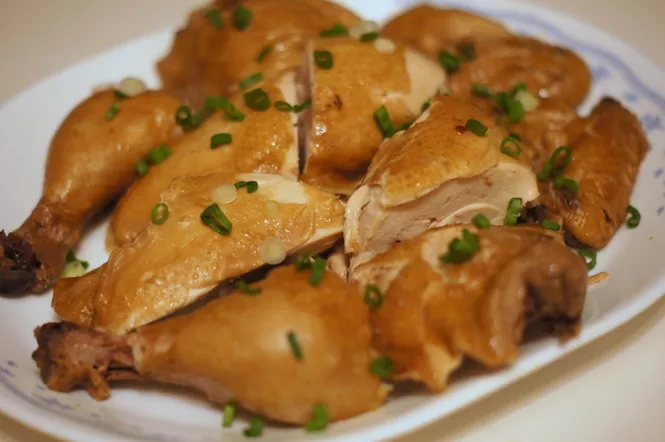 Soy sauce - or "shoyu" - chicken is one of the most popular Cantonese dishes and it's really very easy to make. The key is to very, very
gently
cooking the chicken in a mixture of soy sauces and spices.
Now, the amount of soy sauce used might seem like the dish would be incredibly salty, but it isn't. It's actually very delicately flavored. I urge you to try this recipe for shoyu chicken; even the kids love it.
Ingredients:


1 whole chicken, 3-4 lbs. (or you could use cut-up pieces)
2 tsp. sesame oil
2 tsp. canola or peanut oil
4-5 cloves garlic, peeled and lightly mashed to release the garlic oils
2-inch piece of ginger, sliced (you can leave the skin on)
2 star anise
1 cinnamon stick (about 2-inches)
4 green onions, 2 roughly chopped and 2 minced to use for garnish
15-20 white peppercorns, whole
1 tsp. dried chili flakes
1 cup good quality light soy sauce
1 Tbs. dark soy sauce
2-3 cups water
1 tsp. dried orange peel
1 tsp. anise extract
2 Tbs. turbinado or rock sugar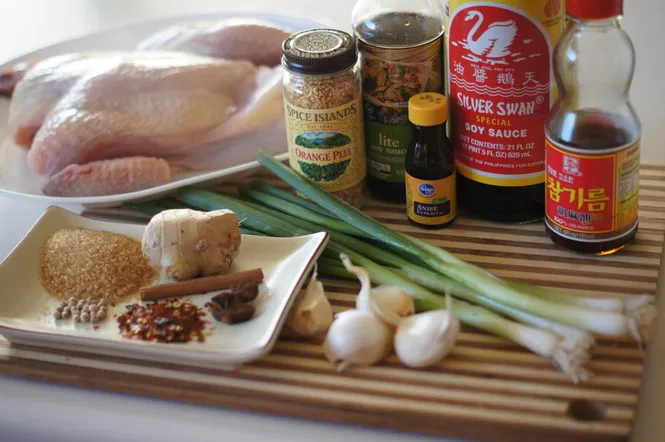 Method:


In a large Dutch oven or stock pot, heat the oils over medium heat and briefly saute the garlic, chopped green onions, ginger, star anise, cinnamon, peppercorns and chili flakes until fragrant - just a few minutes.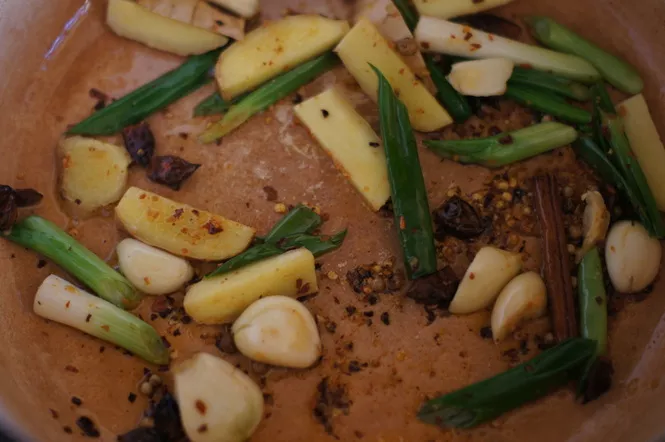 Add the all the liquids along with the dried orange peel, sugar, and anise extract to the pot and bring to a boil.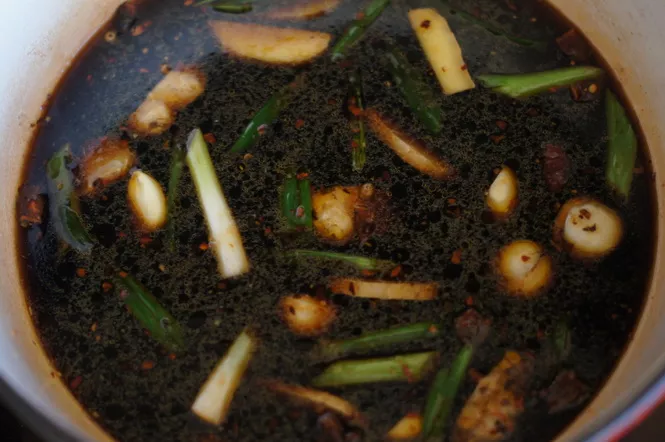 Reduce the heat and allow the sauce to simmer for 15 minutes.
Add the chicken to the pot, making sure the sauce covers the chicken. Add additional water, if necessary.
Let the chicken simmer very gently in the sauce until cooked and tender, about an hour. The sauce should just barely bubble.
Remove the chicken and test for doneness. It should read 165 F. with an instant-read thermometer inserted into the meat of a thigh.
Allow the chicken to rest for 15-20 minutes.
During the resting time, use a sieve to drain the solids from the sauce and discard the solids, pouring the sauce into a second sauce pan.
Bring the leftover sauce to a boil and reduce until you have a light "gravy" to drizzle onto the chicken.
Cut the chicken into pieces, pour sauce over it and serve garnished with minced green onions.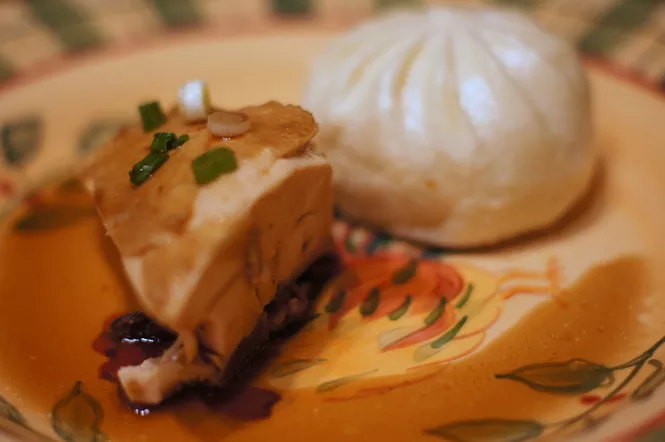 Photos by Ted Scheffler