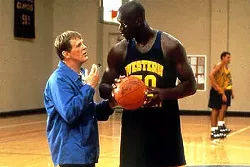 If you have spent any time over the last several days agonizing over a spreadsheet full of lines and the numbers one through 16, you have at least a vague understanding that the NCAA men's basketball tournament is a dizzying, dramatic spectacle that can't be matched by anything pro sports has to offer. If you love basketball—and I
love
basketball—you've been curled up in front of the television for hours at a time, just waiting for that next staggeringly improbable finish.
And if you love basketball, you have probably resigned yourself to never seeing a movie that gets it. Film history is full of worthwhile baseball movies:
Pride of the Yankees
,
Bull Durham
,
The Bad News Bears
,
Field of Dreams
,
Eight Men Out
. If you love boxing, you've got
Raging Bull
,
Rocky
,
When We Were Kings
,
Cinderella Man
. Meanwhile, here's what you can hang your hat on if you're a basketball fan:
The Fish That Saved Pittsburgh
.
Space Jam
.
Celtic Pride
.
Eddie
.
Teen Wolf
.
Juwanna Mann
.
Semi-Pro
.
Disclaimer: Yes, there have been good, and even great, movies that
featured
basketball. I don't know a sports fan who doesn't have a soft spot for
Hoosiers
, or a movie fan who doesn't recognize
Hoop Dreams
as one of the most remarkable documentary achievements ever. And there have been other movies about basketball made by people who clearly love and respect the game, like Spike Lee (
He Got Game
) and Ron Shelton (
White Men Can't Jump
). But the movies have never been able to capture the essence of team basketball visually the way the movies have been able to capture the essence of baseball and boxing. And while professional and high school basketball appear with some regularity on screen, few films have even attempted to deal with the college game—and among the few there have been, we can blame
Blue Chips
for Shaquille O'Neal's delusions of having an acting career.
It's obvious that, on a level of fundamental theatrics, baseball and boxing both lend themselves better to cinema. The mano-a-mano confrontation of a boxing match is easy to capture. And while there are matters like positioning outfielders, making double-switches and sending base-runners that can have an impact on a baseball game, the central drama is between a pitcher and a batter. Two-shot, close-up, reverse.
Basketball movies tend to assume that the same truth holds—that you can reduce the game to the guy with the ball and the guy trying to guard him. This is easy to understand, especially since the NBA was drifting in that one-on-one direction for most of the last two decades. But if you watch most basketball movies, you'd think the editor has never watched a game in his or her life. It's a chaos of cuts that never allows the flow of a game to unfold. Ball through hoop, cut to scoreboard.
Real, brilliant basketball is a five-on-five contest; college basketball is that same contest between guys who may have all the talent in the world, but are still only 18, 19 or 20 years old, and hence susceptible to pressure. A Princeton team beat defending NCAA champion UCLA in the 1996 tournament on a perfectly executed back-door layup. In 1998, the University of Utah flummoxed a defending champion Arizona team that was returning every NBA-ready starter by employing a triangle-and-two gimmick defense. These were great upsets filled with great drama, but nobody will ever make a movie about them, because those movies would require an audience to understand the beauty of the game of team basketball, and the unique glory of the one-and-done tournament.
So I suppose if I want my basketball drama, I'll need to savor the tournament on my television. The movies won't offer anything that can even compare.