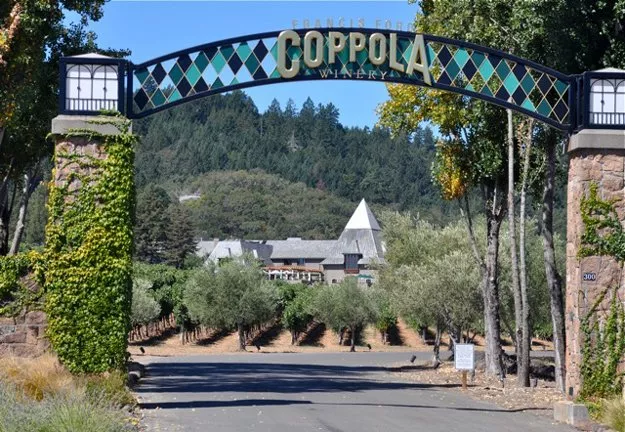 During a recent trip to Sonoma, I made time for a to Francis Ford Coppola Winery in Geyserville. As you might expect from the director of
The Godfather
films and
Apocalypse Now
, the Coppola Winery isn't quite like any other: it's definitely not a boutique winery. This is a large-scale operation, on grounds that look like a Las Vegas resort, producing huge quantities of wine, most of which is made for immediate consumption. For the most part, this isn't wine to cellar. That said, there were some nice surprises.
At the lower end of price range are
Coppola Bianco
and
Rosso
($9.99), which are the house wines at Rustic (the restaurant on the premises of the F.F. Coppola Winery) and perfectly good everyday wines for sipping without a lot of fuss.
2012 Director's Cut Cabernet Sauvignon
($25.99) is rich and well-structured - a perfect example of how excellent the 2012 Sonoma wines are, thanks to near-perfect weather that year.
I loved
2009 Archimedes
($60), a Bordeaux-style Cabernet Sauvignon, Merlot and Cabernet Franc blend.
And, Coppola honored his wife, Eleanor, on their 50th year of marriage, with
2010 Eleanor
($50), a complex and robust blend of Rutherford and Dry Creek Valley Syrah and Zinfandel, along with a smidgen of Alexander Valley Cabernet. It's a marriage made in Heaven.