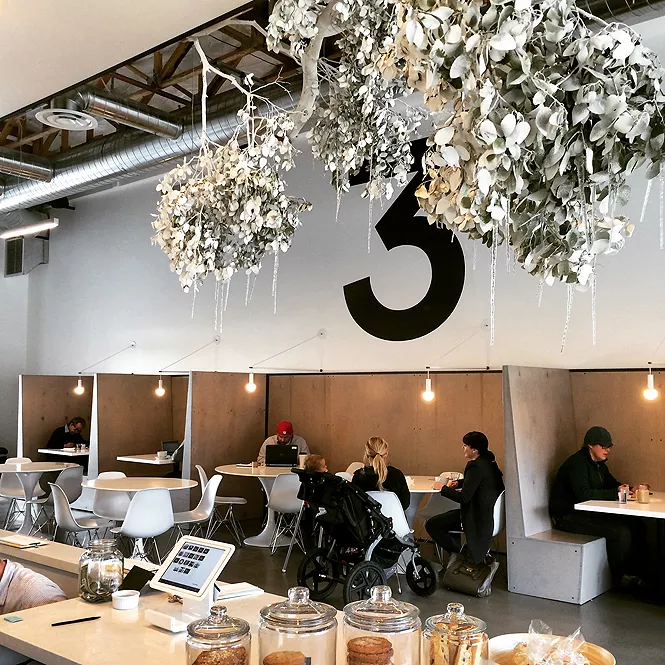 If you think you don't need coffee before you shop, think again. Since drinking cocktails isn't legal while shopping, drinking coffee is the next best thing. Your liver will thank you but your adrenal glands will hate you. Oh well, put down your corporate Starbucks and try a local coffee joint like
3 Cups
(4670 S. 2300 East, 385-237-3091, Instagram:
@3_cups_coffee
)
Husband and wife owners Derek Belmap and Lisa Dickman have created a modern Scandinavian design influenced coffee shop. They use beans from Salt Lake City-based Blue Copper Roasters and offer standard-fare coffee drinks but they specialize in pour overs which highlight all of the notes in the coffee. When the coffee tastes so great already I could care less about origins and nuances and more about the presentation, the beauty and interior of the space. I guess I'm a little shallow but I can't keep my eyes off the beauties behind the glass. Homemade baked goods like spinach and Gruyere tarts, lemon sour-cream sugar cookies, and vegan pumpkin-apple muffins (I'll have that one). If you like mid-mod furniture you will feel at home sitting at white Saarinen Tulip Tables and white Eames shell chairs. Or you can sip your drink at a giant 17-foot Douglas fir wood table made by local furniture and cabinet maker Jaren Harbertson of Modern Union (Instagram: @modernunion).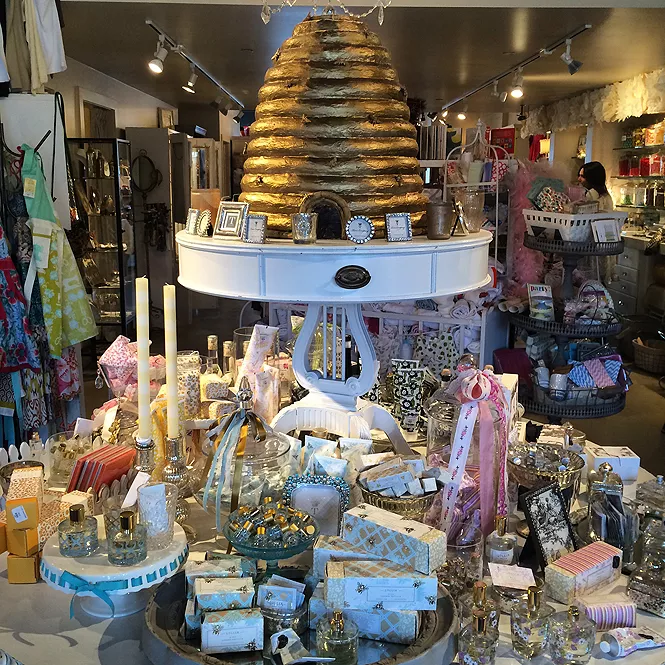 When you walk into Amy Boutique, 4670 S. 2300 East—next to 3 Cups Coffee—you feel like you stepped into a Parisian boutique mixed with Utah originals. Every inch of Amy Boutique (Instagram: @amyboutiqueutah) is meticulously hand-decorated and each item is hand-selected by owner Amy Bennett. This is your one-stop shop for gifts for all occasions—weddings, new baby, holiday décor, home and bath goods, clothing and jewelry. If you've ever shopped at Jolley's Corner you may recognize Amy Bennett's style in her own store. They sell beautiful notecards and ribbon (from 50 cents to $3.50 per yard), and there is an adorable candy bar with old-fashioned glass jars which house gummi candies, caramels and gumballs. This is a flowery, lacey, girlie kind of store. Your male partner should probably not bother coming in (unless, of course, he is buying something for you) because this store embodies the female, and you want lots of time to take it all in.
The highlight of the store is the clothes that are trendy and on-point. Dresses, sweaters, skirts, blouses are in colors and patterns that are popular and in season. Lots of lace-overlay blouses, leather skirts, and Aztec prints. You can easily select an outfit for under $100. Don't miss the dirty Diet Coke bar. What is that you ask? It's a Utah original consisting of Diet Coke, fresh lime and coconut syrup. Tip: there's lots of parking in the back.
Follow Christa on Twitter @ChristaZaro and on Instagram @phillytoslc.