A movie poster's job is to sell an audience in one image what the movie is all about. If posters for Nicholas Sparks movie adaptations are any indication, they're all about people touching other people's faces while in profile,longingly, almost but not quite kissing.
Of the 10 adaptations of Sparks novels released thus far—up to and including this week's The Longest Ride—there's a noticeable sameness to the central image used on the theatrical posters. It all started with the successful 2004 adaptation of The Notebook, with Rachel McAdams cradling the face of Ryan Gosling while standing in a sexy, sexy rain storm.
Movie marketing being what it is, somebody figured that The Notebook must have been a hit because of the look of that poster. So when it came time a few years later to adapt Sparks' Nights in Rodanthe, it was again time for some sensitive facial touching of nose-to-nose profiles, this time involving Richard Gere and Diane Lane.
The format took a brief hiatus in 2010 for Dear John (with a poster that found Channing Tatum and Amanda Seyfried merely sitting romantically on a beach) and The Last Song (Miley Cyrus and Liam Hemsworth as disembodied heads, also on a beach). But it was back for 2012's The Lucky One, as Zac Efron lovingly caressed the general neck and ear area of Taylor Schilling. In 2013, Josh Duhamel gently held the face of Julianne Hough in Safe Haven; and in 2014, James Marsden stroked the hair and cheek of Michelle Monaghan in The Best of Me.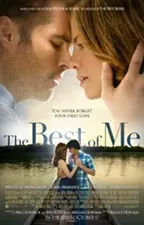 The double profile shot of Britt Robertson and Scott Eastwood for The Longest Ride might come as a surprise with its lack of facial contact, but perhaps the cowboy hat Robertson was wearing simply complicated the logistics. Next time, Britt, maybe go bare-headed, and you could get that gentle cheek action that you've got coming to you.