One of my very favorite Italian pasta dishes is also one of the simplest to make: pasta with garlic and olive oil. It's called
aio e oio
in Italy, a classic Roman dish.
This recipe is based on one by the late, great Italian cooking expert and author, Marcella Hazan, with a slight tweak or two of my own. I strongly urge you to try this — especially if you're a garlic lover. It's a very quick-and-easy dish for the busy cook — you can make the garlic and oil sauce while the pasta is boiling.
In Italy it would be considered sacrilege to eat
aio e oio
grated cheese, but I like it with quality Parmigiano-Reggiano sprinkled on top.
Ingredients:
1 lb. dried pasta, preferably spaghetti
1/2 cup extra virgin olive oil
1/2 to 1 tsp. hot red-chili pepper flakes (you can add more or leave them out altogether, depending on your heat tolerance)
3 cloves garlic, peeled and finely minced
2 Tbs. minced fresh Italian parsley
Salt
Grated Parmigiano-Reggiano (optional)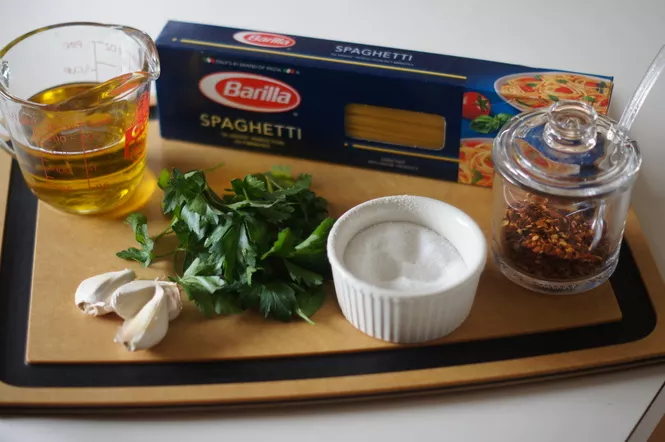 Method:
Bring a large pot of liberally salted water to a boil and cook the pasta just to
al dente
.
While the pasta is cooking, place the garlic, olive oil and chili peppers into a small sauce pan over medium-low heat.
Cook the garlic/oil/chili mixture, stirring occasionally, until the garlic becomes a pale gold.
DON'T BURN THE GARLIC! Remove from the heat as soon as the garlic turns slightly golden.
When the pasta is finished cooking, drain and toss with the
aio e oio
and the chopped parsley.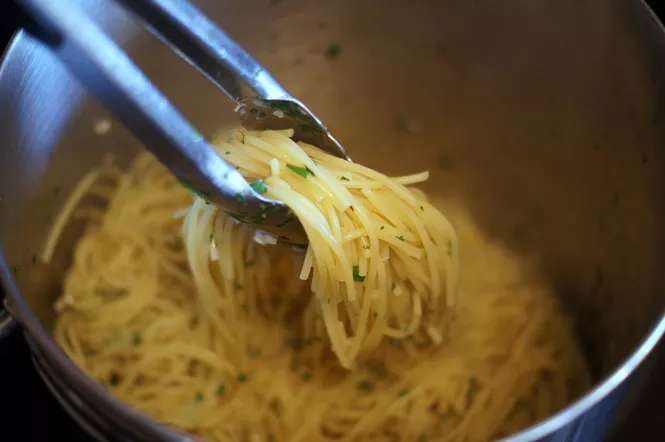 I think it's probably sacrilegious in Rome, but I like to serve my
aio e oio
topped with a little fresh Parmigiano-Reggiano. It's served here with a side of fried artichoke hearts.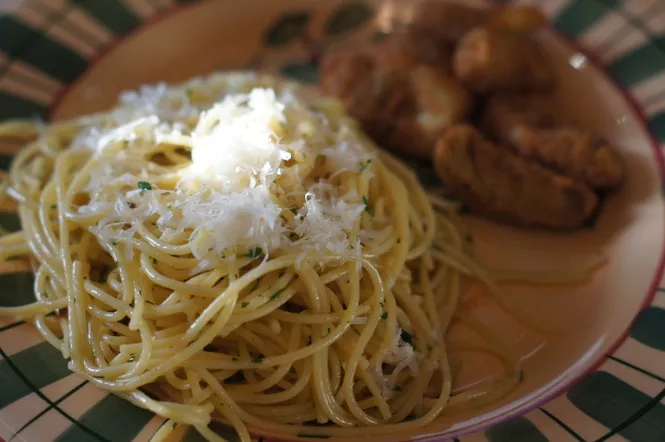 Photos by Ted Scheffler