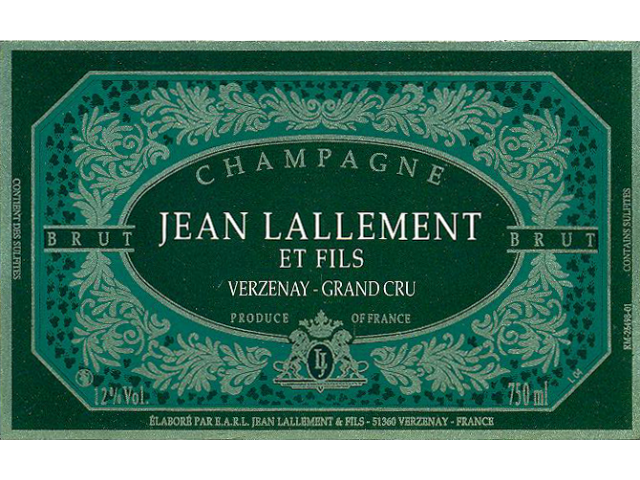 Earlier this week I was rummaging through my wine stash to find something to bring to dinner at Log Haven restaurant, where my wife works. She's spent a lot of time out of state lately and I wanted something celebratory.
Luckily, I came across a bottle of Jean Lallement et Fils Brut Champagne that I've have for a few years and sort of forgot about. It was perfect. Amazingly, it's a non-vintage Champagne from a very small grower with a small estate (four hectares) divided between Verzenay and Verzy in the Montagne de Reims. His are the oldest vines there. This is a tiny producer making smashing wines.
I've spend a lot more than $59.99 (the retail price for Lallement in Utah) for vintage Champagne from big-time producers that couldn't hold a candle to the Lallement Brut. It is nothing short of spectacular. Ian Campbell, General Manager and Beverage Director at Log Haven agreed, as did my wife, who doesn't always love bubbly.
Forgoing the "holy trinity" of Champagne's three grape combo: Chardonnay, Pinot Noir, and Pinot Meunier, Jean Lallement et Fils Champagne Brut is made solely from Gran Cru Pinot Noir (80%) and Chardonnay (20%). He allows the wine to undergo malolactic fermentation and his Brut is a blend of two years from younger wines.
This medium-bodied Champagne show notes of almond biscotti, pear and red apple, with substantial fruit, and yet it's dry and crisp. We sipped it with three dishes and it was bold enough (believe it or not) to stand up to Log Haven's duck confit
arancini
with rich
smitane
sauce and sour cherries, and was even better with entrees of dill butter-crusted halibut and ricotta dumplings and my dish of toasted coriander-seared scallops with poblano chile risotto and goat cheese. It's an amazingly versatile Champagne that would be terrific all by itself or paired with a wide range of foods.
Just short of 60 bucks isn't cheap, but I challenge you to find a better Champagne - particularly 100% Gran Cru, vintage or otherwise - than Jean Lallement et Fils Brut Champagne for the price. It's that good.