When I moved to New York City at attend graduate school, I came equipped with a guide called
New York on $15 a Day
. That should give you some idea of how long ago I enrolled in grad school.
Anyway, one of the first restaurants I visited (more of a cafeteria, really) was called
Manganero's Hero Boy
, supposedly the spot where the hero sandwich was invented. On Saturday's I'd always treat myself to a veal parmigiana sandwich ($2.75) and one
arancini
with sauce as a side dish (75 cents). It was my introduction to a lifetime love affair with
arancini.

Arancini
are small (although I've seen huge ones, too), rice balls usually made with egg, cooked rice, ricotta, mozzarella, parmesan, parsley and seasoning. The balls are coated in breading and then deep-fried and typically served with a basic marinara sauce. They are called
arancini
because they sort of look like oranges, which in Italian are called
arancia
.
Arancina
means "little orange."
Here is my favorite version. The prep work is a bit time-consuming, but once you have a production line set up and everything in place (
mise en place
) the process goes pretty quickly. And, you can prepare the raw
arancini
in advance and then cook them just before serving.
This recipe makes 10-12
arancini.


Ingredients:


1 cup rice, preferably arborio, but you could use long grain rice or short grain rice, too
salt
pinch of saffron (optional)
3/4 cup ricotta
3/4 cup grated Parmigiano-Reggiano or Pecorino Romano, or a combination of both
2 eggs, lightly beaten
1/4 cup minced Italian parsley
a pinch of nutmeg (about 1/8 tsp.)
salt and pepper, to taste
small pieces of fresh mozzarella (I use tiny mozzarella balls called pearls)
1 cup unseasoned breadcrumbs, or more as needed
Oil for deep-frying, preferably peanut oil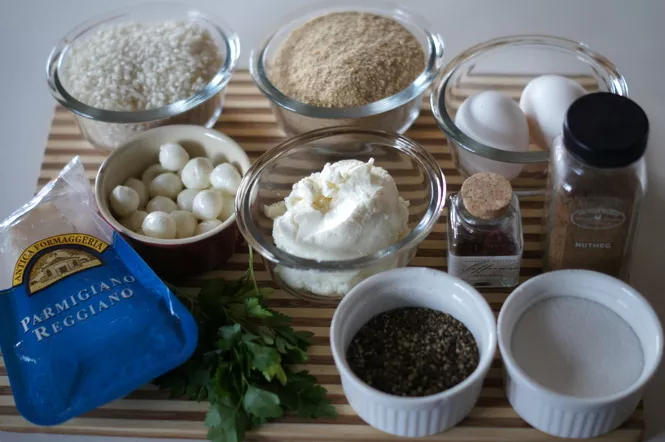 Method:


Cook the rice in a pot of salted water with a pinch of saffron (optional) until
al dente.


Drain the rice.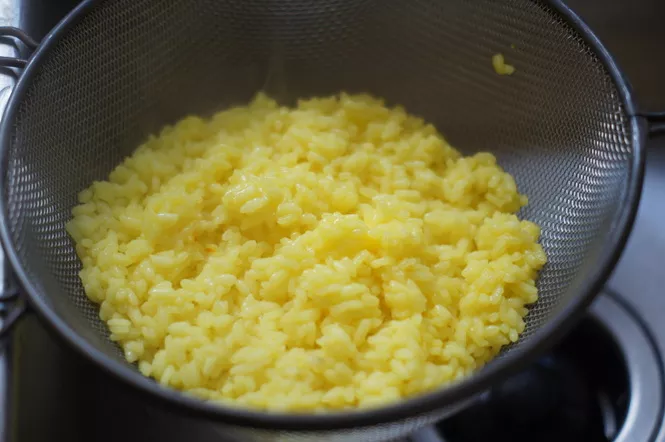 Spread the drained rice onto a large plate or baking sheet to cool down and dry out a little.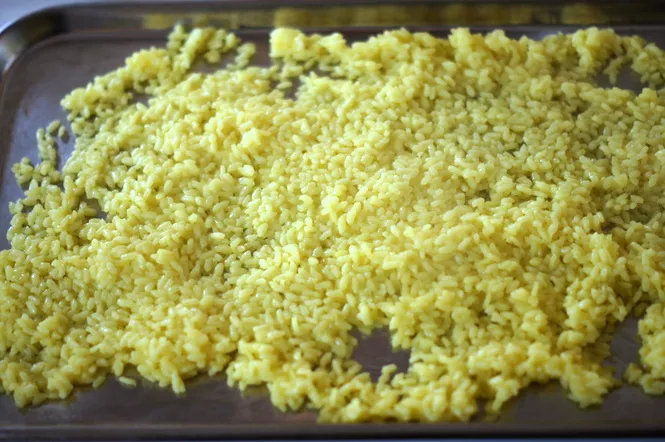 While the rice is drying, in a large bowl mix together the ricotta, Parmigiana or Pecorino, eggs, parley, nutmeg and salt and pepper, to your liking.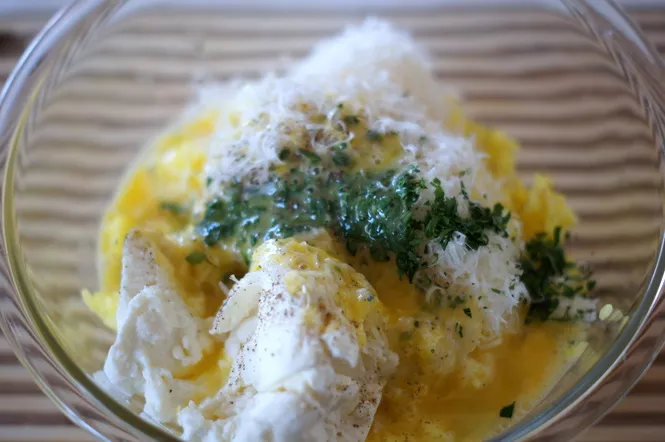 Add the rice to the bowl and mix well.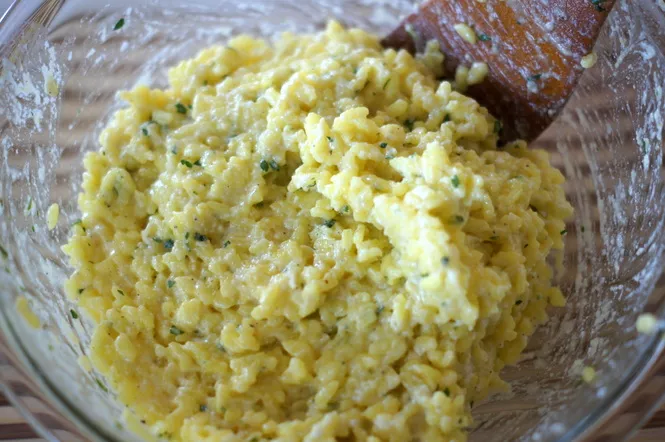 (If the mixture seems to wet and loose, add a tablespoon or so of breadcrumbs to help bind it.)
Now, this part gets messy, so work close to your kitchen sink, if possible.
Place the breadcrumbs in a shallow bowl.
Wet your hands with cold water and form about 2-3 tablespoons of the
arancini
mixture into small balls. Using a finger, poke a hole into the rice ball and insert one mozzarella pearl. Seal the ball up and coat with breadcrumbs. Don't worry if your
arancini
aren't perfectly round; mine never are.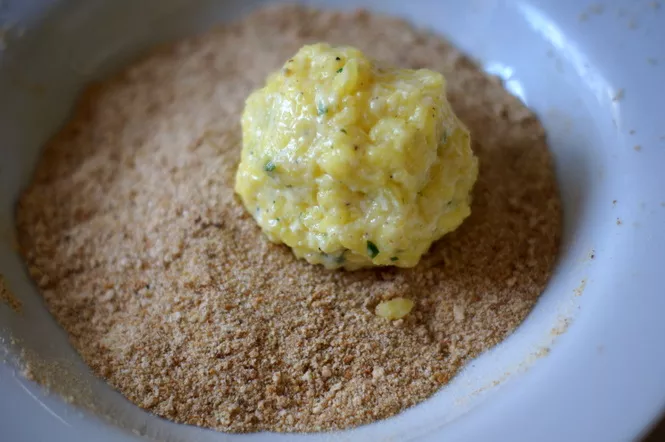 Place the ball onto a large plate or baking sheet and repeat, making the rest of the rice balls.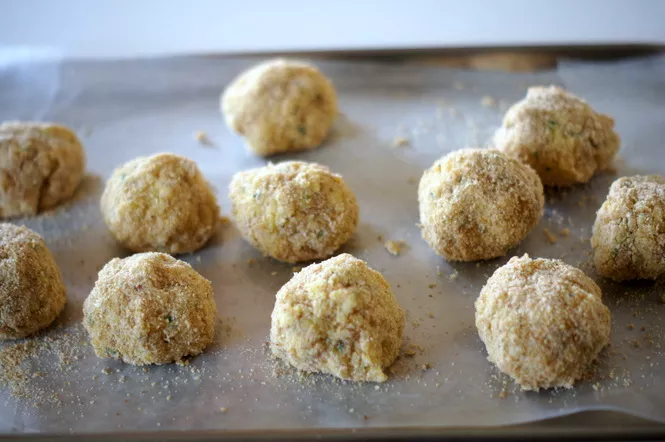 If not using immediately, put the
arancini
into the fridge until ready to cook.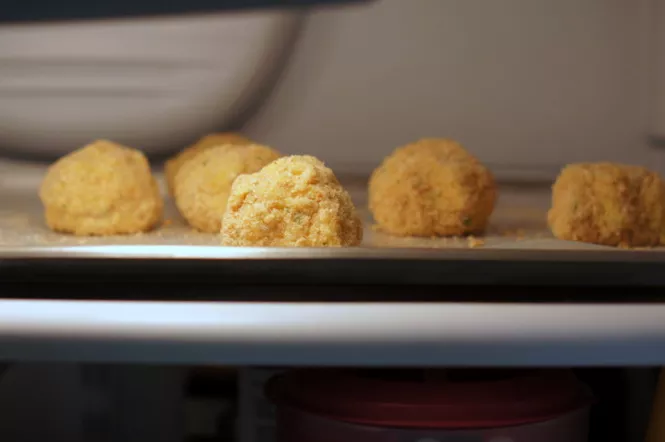 Heat the cooking oil to 350 degrees F.
Fry the
arancini,
a few balls at a time, making sure not to crowd the fryer. Using tongs, turn them occasionally so they fry evenly. Cook them for about 5 minutes, allowing the cheese to melt thoroughly.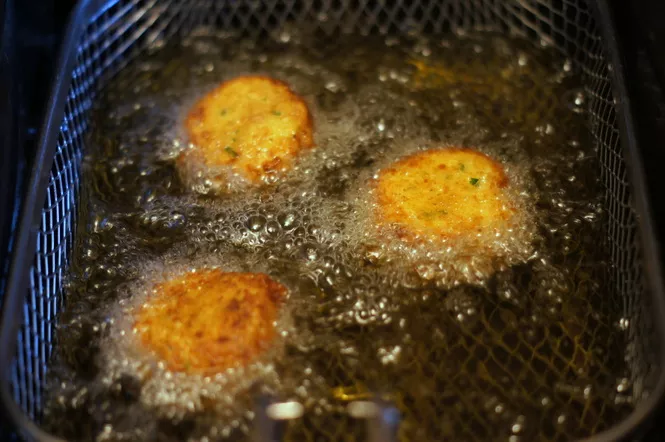 Drain the rice balls on paper towels or paper grocery bags.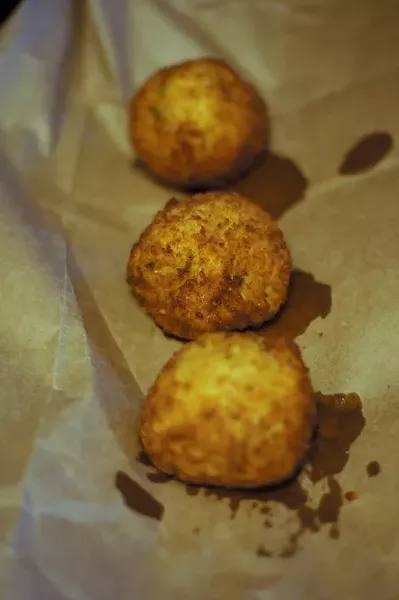 Serve with your favorite sauce. I usually use basic marinara.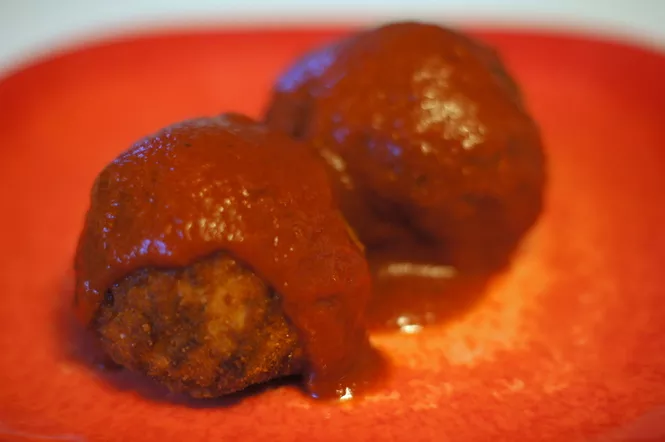 Photos by Ted Scheffler