The definition of "bohemian" is one who practices an unconventional lifestyle involving music, artistic or literary pursuits, often with like-minded people who have few permanent ties. Bohemians may be wanderers, adventurers or vagabonds.
Adam and Chelsea James, owners of Bohem (623 S. State, 385-202-7517, Instagram: @bohemstore) have gifted Salt Lake City with a store that exemplifies this definition to the core. Bohem, a home-goods and accessories boutique, has had a presence in downtown Salt Lake City for less than a year, but the roots of Bohem started more than 10 years ago, when the young couple met and traveled the world. After spending months on end traveling to exotic locales, the Jameses eventually packed up and moved to India—even while Chelsea was pregnant with twin boys. Long before Adam and Chelsea called Salt Lake City home, they were the subjects of an article written about their nomadic travels in the lifestyle magazine Kinfolk.
This is a ridiculously talented couple: With Chelsea's fine-arts degree and James' design skills, they were able to source products for their store from locations such as India, Morocco and Turkey. What they weren't able to procure, they designed for themselves: items like dining chairs, bar stools, scarves, bedding, table linens, throws, leather purses and wooden plates and utensils.
When I walked in, I wondered if I was in Brooklyn, India or a bazaar in Turkey. The store sells bath products and candles by brands I never imagined seeing in Utah, like Amber+Moss, Wary Meyers Candles, Earth Tu Face and Fat & the Moon. There are so many throws and blankets, decorative pillows, quilts and bedding sets that I was overcome with a desire to redo my bedrooms and thus infuse my life with gypset style.
All of the bedding is 100-percent cotton and designed by Bohem. Each is block-printed by hand, creating a unique effect so that no two are alike. There are unique patterns to choose from and you will never find this type of quality or design at Home Goods. The bedding is so fabulous that Urban Outfitters even carries it.
There are napkins, table clothes, tea towels and beautiful wooden platters mixed in with antique quilts, Turkish towels and children's clothing. I'm still dreaming about the eclectic display of stone necklaces, bracelets and rings from Turkey. You'll love their rugs, antiques the couple pick up on their travels, and their own new designs. I'm now embarrassed by my lack of talent, but I'm happy they brought Bohem to me (well, to us).
My Faves:
Nomadik leather goods: from $28
Designed by the Jameses. Clean styling with no frills or embellishments. Smart, simple, modern and timeless.
Basin porcelain tumblers in gray and dark rich brown, $17.50 each
Use for tea, coffee or a vase. Locally made by two brothers in Sugar House.
Hand-blocked polka-dot cloth napkins ($24/set of 4)
Also consider the hand-carved wooden spoon ($7)—a great hostess gift.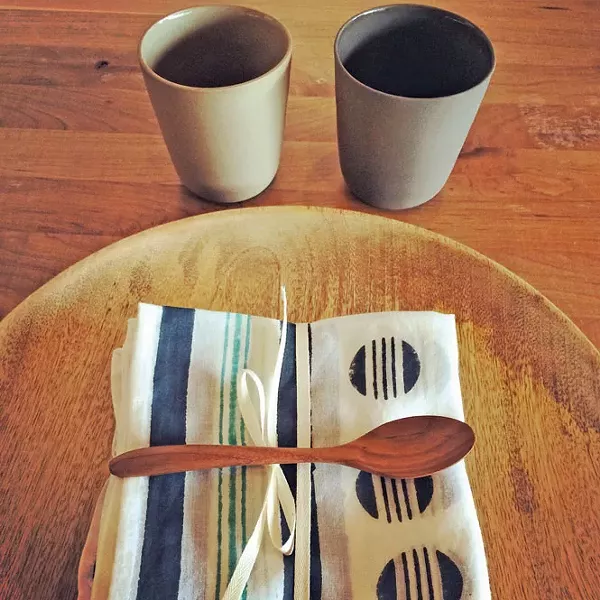 Follow Christa on Twitter @ChristaZaro and on Instagram @phillytoslc.