The term "soccer mom" is so 2000. We've moved on: A more up-to-date term is "active mom."
In the first decade of the new millennium, it would have been a fashion crime to wear stretch pants anywhere in public—and God forbid, when you dropped your children off at school! Fast-forward 10 years, and we see leggings and capris displayed all over town—and I love it.
Fashion and activewear have become indistinguishable. Gone are the boring, stereotypical "gym clothes." Welcome to the new age of activewear! Utah women lead active lifestyles, so we're fortunate to have a store called Uintah Standard (680 E. 600 South, @uintah_standard) to cater to a new generation of active and inspired females.
Uintah Standard—located in a beautiful, historic home south of Trolley Square—offers its own activewear collection: Uintah Collection. Whether your sport is running, hiking, climbing, yoga, walking or running errands, Uintah Standard is definitely something to get excited about.
Co-owners Heather Carlos and Janie Franks are Utah natives, and both have experience in the New York fashion world. Luckily for us, they returned to their beloved state, inspired by the desert and the mountains. The entire collection is designed by this talented duo and made in Los Angeles.
There are lots of leggings, capris, side-tie shorts and bra tops in tribal patterns symbolically depicting the four elements: earth, air, fire and water. The brightly colored bra tops are strappy and sexy, and the collection is interchangeable—meaning tops can be worn with differently patterned bottoms, because the prints are essentially coordinated. It's kismet!
The coolest part is that all of the activewear is constructed from bathing-suit material—so, if it gets wet, no problem! They're great for paddle boarding and hot yoga. Damn, I'm excited about this, because I'm a hot yoga mama (additionally, that fabric won't dig into your body and leave you with muffin top. Hallelujah)!
At Uintah Standard, you will also find treasures like Navajo turquoise jewelry, Stance socks, hippie-chic Mochila bags from Columbia, Magic Carpet Yoga Mats ( @magiccarpetyogamats), as well as locally made brass, copper and sterling-silver jewelry from H Works.
My Faves:
Rylee side-tie short: $58
Little short-shorts in colorful patterns to show off those hard-earned legs.
Palate vegan nail polish: $10
Made locally, the polish is less toxic and comes in colors you almost want to eat—including Black Coffee, Rosé, Mint Frosting and Beet Juice.
Yoga Mat Bags: $38-$54
Upcycled from local remnant fabrics and straps, these are made from water-resistant fabric.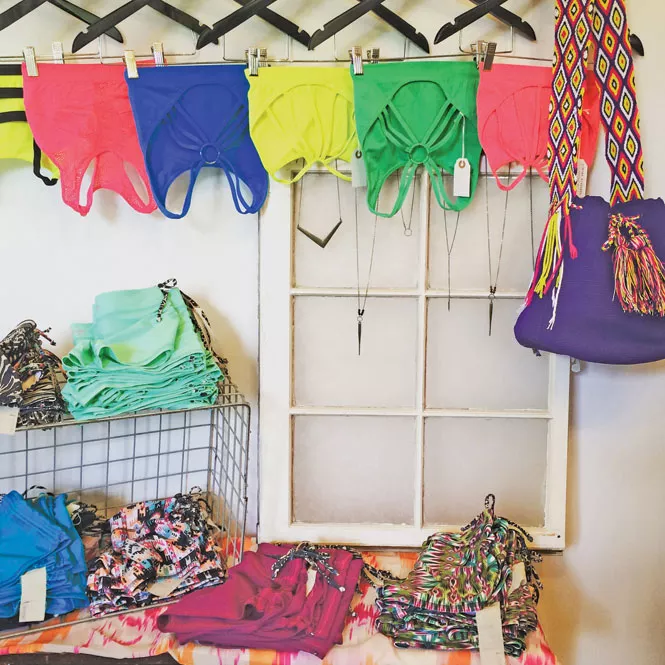 Shop Girl Tip:
Get inspired at the Downtown Yoga Festival, May 23-24, at the Leonardo. (209 E. 500 South, 801-531-9800, TheLeonardo.org) A full weekend devoted to healthy living and lifestyle practices like yoga, cooking, meditation and mindfulness. Live music will be included. Vendors include Satya Apparel, Vermilion Chameleon Jewelry, DoTerra Essential Oils and Priya's Henna Design. DowntownYogaFest.com
Follow Christa on Twitter @ChristaZaro and on Instagram @phillytoslc.