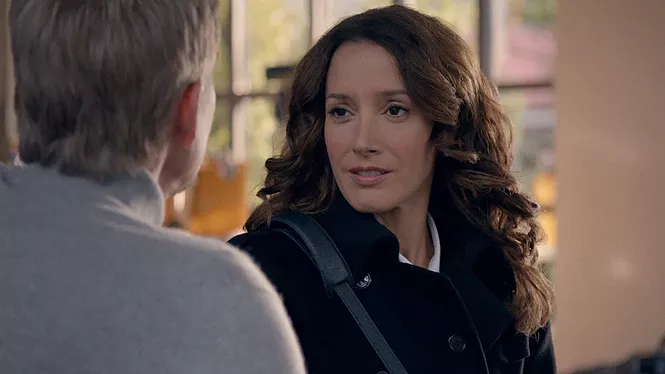 What's new on the tube tonight:
Proof (TNT) Series Debut: Shows like Rizzoli & Isles (which also premieres for Season 6 tonight) and Major Crimes still pay the bills, but TNT tried to shake up its mom-cops image last summer with new dude-centric testosterone-fests like The Last Ship and Legends, with varying results. Proof is something else entirely, like Grey's Anatomy meets Ghost Whisperer (Ghost's Anatomy, a better title than Proof). Jennifer Beals plays a brilliant surgeon whose life is a steaming bag of suck (bitter ex-husband, estranged daughter, dead teen son—guess the plot point), until she's hired by a cancer-stricken tech billionaire (Matthew Modine) to prove—or disprove—life after death. Will her hard-science ways conflict with supernatural hooey? Will there be tears? Can Modine rock a turtleneck? Yes, hell yes, and was there any doubt? Beals and Modine are good enough here to keep Proof from devolving into a manipulative weeper, but just barely. Proceed with caution, and a box of tissues.
Clipped (TBS) Series Debut: If the notoriously nostalgic TV Land can drop the laugh tracks (see the just-wrapped, fantastic Younger; the upcoming, promising Jim Gaffigan Show and Impastor), why the hell can't TBS kill the canned sitcom yuks already? Clipped, about a group of former clashing-clique high-school classmates who all end up working in the same Bah-ston barbershop, is from KoMut, the TV production company that's been cranking out failed variations on this crapcom since the '90s (with one hit exception: Will & Grace). Like every other "comedy" KoMut has somehow sold into instant cancellation, Clipped wastes genuinely funny actors (like Ashley Tisdale, and a bored George Wendt on autopilot) on the same tired setups and stale jokes they'll probably use in their next network pitch. I should have gone into TV production instead of TV watching ...
Tyrant (FX) Season Premiere: It's a political drama! It's a family drama! It's back for a second season? Tyrant, set in the fictional Middle Eastern country of Abbudin, may not seem like an on-brand fit for FX (devoid of pulp theatrics or any trace of humor, it'd make a better companion piece for Homeland on Showtime), but it deserves a second chance to clean up after its messy debut season. Then, expatriat Barry (Adam Rayner) went from advising his power-mad dictator brother Jamal (Ashraf Barhom) to attempting to overthrow him. Now, Barry awaits execution, much to the distress of his American wife (Jennifer Finnigan) and Jamal's wife (Moran Atias), Barry's long-ago ex. Even more concerning than the possibility that he may order his brother's death is Jamal's lack of his fearsome Season 1 power beard—shaved, he bears an unfortunate resemblence to Arrested Development's Buster Bluth.