Finding inspiration in the original gatherings at Hyde Park in England from the mid-1800s, Speakers' Corner SLC is a free speech-and-art series, focused on the ideas of giving the community's greatest minds and speakers an open space for dialogue to happen. Founded by a group of like-minded individuals looking for solution-oriented discussions, the group has started holding events with a focus on topics like The Environment and Human Rights. Today we chat with one of the founding members, Tanja London, about the organization and what they've got coming up in 2015. (
All pictures courtesy of Speakers' Corner SLC.
)
Tanja London
SpeakersCornerSLC.Wix..com
Gavin: Hey Tanja. First thing, tell us a little bit about yourself.

Tanja:
I am a choreographer, performer and filmmaker. I was born in Germany and got into the Arts via studying Social Pedagogy. I am a very visual and tactile person with a love for momentum and the outdoors. After living in my hometown for 20 years, I lived in Stuttgart, Berlin, London, Düsseldorf, and a small town in New Hampshire. I moved to Salt Lake City in 2010 to do my MFA in Modern Dance and to study Screendance with Ellen Bromberg. After graduating in 2013, my husband and I decided to stay.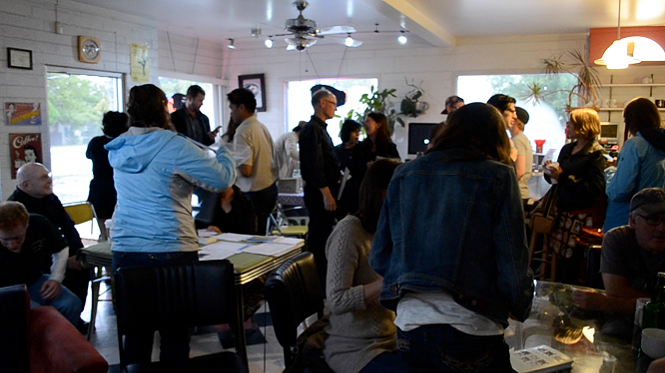 SpeakersCorner at Jitter Bug Coffee Hop
Gavin: When did you take an interest in performance art, and how was it for you making that a career?

Tanja:
In 1995, in the second year of my Social Pedagogy Studies in Stuttgart/Germany, my boyfriend and I discussed what might be the most environmental-friendly occupation. After mulling this question over, we decided it must be "Dance"… I think our main arguments were the sole involvement of the body and the fleeting, non-materialistic characteristic of choreography as product. So we started to enroll in dance workshops, watched shows and films. I particularly remember studying with Keriac, a San Francisco based (Contact) Improviser, who at that time facilitated "Dancing Together," a training partially held in the Bay Area and Stuttgart. Keriac generously invited me to be a part of her Stuttgart training block after taking a weekend workshop. She instilled the love of improvisation in me, but couldn't convince me to skip the conventional path through classical training. Mmh… career. I still feel I am working on that. It is definitely not a straight forward and easy path. You can imagine that it was rather challenging as a 22-year-old female to find a dance school, not having a clue what a tendu is. I ended up studying for two years at a vocational dance school in Berlin called "Die ETAGE," which taught me enough to be accepted at the Place in London/UK where I did my undergrad in Contemporary Dance from 1998-2001. In order for me to pay for these schools, I spent all my inheritance from my grandparents, worked as a street worker with junkies and homeless women, borrowed money, did construction work, cleaned houses and a betting shop, squatted, and occasionally dumpster-dove. Most of my money I always earned outside of the arts.
Dr. David Stevens, Utah State University, Head of Environmental Engineering
Gavin: How did you first become involved with local activism?

Tanja:
It was in 1990, through the circle of friends I had when I was 16 back in Germany. We all got very interested in environmental issues and animal rights. Our biggest involvement at the time was helping to improve the local public bus system and developing our own organic, fair trade food habits.
Gavin: What were some specific subjects that really spoke to you and made you want to be involved in the discussion?

Tanja:
Global warming, we are what we eat, and prevailing socioeconomic injustices through global, economic structures.
Dr. WendyPabich, water scientist and author
Gavin: When did you first learn about the original Speakers' Corner formed in Hyde Park?

Tanja:
I heard of the original Speakers' Corner the first time via my friend Lennie Lee, a painter, performance artist and curator from London. He and his house in Hackney are icons for underground art and happenings stemming out of the (ex-)squatter scene spanning from Berlin to London and beyond. I was living at his place early on while doing my undergrad in Contemporary Dance at The Place. I remember we were discussing performances in public places: He elaborated on his motivation to do a performance at Speakers' Corner—as an important site of early English democracy—to bring his point across that the historic density of a location always contributes to the content of the performance itself.
Gavin: How did the idea come about to bring that concept to SLC?

Tanja:
Throughout my MFA studies at the University of Utah, I got more and more interested in the erosion of democracy. I choreographed a short solo "Freedom Inc." trying to express that democracy, as a political form to promote freedom, fails if it is forcefully established and treated like a war export good. Through my short Screendance film
Occupation
, I tried to further understand the prevailing consequences of 9/11 and how it changed democracy underneath people's feet. While I am still grappling with the definition of democracy, what form and institutions it ideally should have, I felt the need to embody practical aspects of democracy such as free speech and striving for solutions and consensus. Democracy is a lived practice. If you don't participate in it, it starts to fade or morph into something else. Hence, I tried to create a platform where exactly that practice of democracy is possible.
Undermining Cliffs screendance: Shannon Vance & Kate Monson
Gavin: What was it like for you organizing the group, and how did you incorporate the artistic aspect to it?

Tanja:
I never would have started on this venture without the enthusiasm and expertise of the rest of our group. Brooklyn Draper, Amy Freitas, Joshua Yago Mora and Monica Remes, as well as our fiscal sponsor, lovedancemore and Ashley Anderson, were and are crucial in shaping this think tank art series. Speakers' Corner SLC so far operates only on the application fees that artists, activists and business owners pay to participate in the event. This is, if we are lucky, just enough to cover our material expenses; there is no wage for us in this. As we are all freelance performers, teachers and choreographers, time is limited for ventures that do not pay. So we mostly meet Sundays for two hours, on and off over the span of nearly a year to get the event going. The most effort went into creating the framework, as well as finding ways where we could connect to the community to find out what the concerns of the people really are. One way of doing this was to conduct a small-scale community survey. Surely, it is not representative of all the people, but it gave us a starting point. Once we knew the topic of the first event, we reached out to specialists in this area—meaning scientists, activists and artists, basically people who have immersed themselves into the subject matter from different angles. For me, all these different ways of gaining knowledge and motivating action are of equal importance, and offer crucial puzzle pieces in the process towards solutions. Art is yet another way of generating knowledge, perspectives and ideas for solutions.
The water was taken from us, choreography by Kate Monson
Gavin: How was it planning the first event, and what was the subject you covered?

Tanja:
The first event, due to our survey, was dedicated to the environment. We always try to find a very broad umbrella term for the event to make a wide range of participation possible. Within that broad framework, we decide to focus on one specific issue. For our May event, the round-table discussion circled around the sustainability of water in the Salt Lake Valley and beyond. It was pleasant to see that scientists, activists and artists alike were excited to be part of this venture once we reached out to them. The event planning was a process. We learned a lot! Our organizational talent got definitely challenged last minute as it rained. We had to relocate all the performing art presentations to Amy Freitas' studio apartment away from Jitter Bug Coffee Hop's parking lot. Surprisingly, we did not lose as many event participants as we predicted, and the inside location added a salon-like atmosphere, which I liked a lot.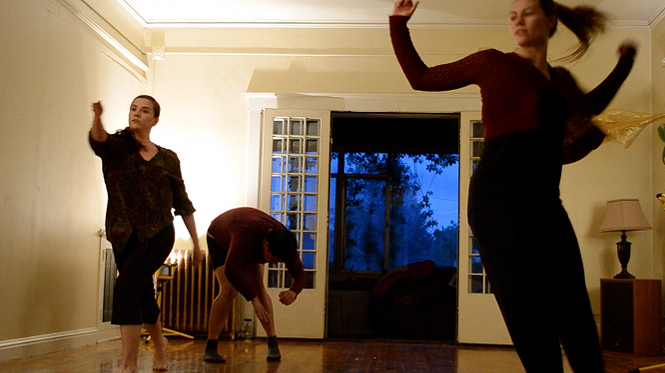 Tarred and Feathered: choreography by Triptych Figures
Gavin: What was the public response like to it?

Tanja:
Jitter Bug Coffee Hop is small, but it was packed. I think we had something like a constant of 30 and more people throughout the event. There was sincere interest in the subject matter and you could feel the desire to contribute to something that mattered to the participants. Some people who were with us all the way from 4-9 p.m. mentioned that through seeing the performing art pieces the theoretical input and discussion became palpable. We also had great feedback regarding the round-table discussion—so next time we will focus more on the participation of the discussion.
Gavin: You have an event coming up this July. Tell us what you have planned.

Tanja:
Yes, our next Speakers' Corner is dedicated to human rights, and will take place on July 18 at Mestizo from 4-9 p.m. What aspects of human rights will be highlighted is up to the participants, but we hope to get contributors expressing issues including everything from LGTBQ to immigration, ability, homelessness, gender and equality to domestic violence, rape culture and more. Mestizo has a great gallery space, so we are hoping to attract more fine artists this time around, as the exhibition will stay up longer than just the event. We will discuss all perspectives of how to prevent shootings by the public hand. There will be more dedicated time to our actual Speakers' Corner where anybody can go up to the mic and voice their opinion and convictions. But, in general, it will again be a mix of contributions of citizens, scientists, activists, and artists who have an interest in working on solutions to human rights issues.
Gavin: If people wish to become involved with you, how can they do so?

Tanja:
You can always email us with any question, idea or volunteer wishes at
speakerscornerslc@gmail.com
. If you are particularly interested in contributing your expertise to the event as citizen, scientist, activist, artist or as part of a nonprofit or socially engaged business, please apply on
our website
. If you want to support our venture financially donate via
our website at this link
. Donations are tax deductible! If you want to come to the event stay tuned via our
Facebook page
and spread the word!
Gavin: What would you say is the long-term goal of the organization, both in your outreach and as a group?

Tanja:
Our biggest goal is to stay true to our mission: to provide a space dedicated to the dialogue of the present by bringing citizens, politicians, scientists, activists and artists together to work on solutions. To develop solutions takes time so we strive to find creative ways to sustain the momentum; for example, we are organizing an excursion to a water and waste water plant. As a group I hope to get more fiscally afloat so that we can dedicate more time towards the process of making this all happen.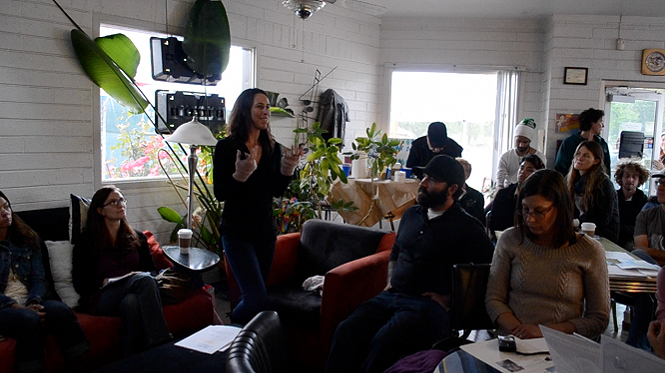 Salt Lake City Utilities, Laura Briefer
Gavin: What can we expect from both yourself and the Speakers' Corner over the rest of 2015?

Tanja:
Speakers' Corner will have one more event Sept. 12, most likely circling around education. Myself, I am currently working on a paper for the Performance Studies International Conference in August. In the end of September we are hoping to premier "test test test … #nohashtag," a co-choreography by Triptych Figures, Porridge for Goldilocks and myself. In October, I am happy to announce that we got a German grant to travel the TheaterDance Performance production "Everything Tendentious or M in Luck" by German dramaturge Michael Schmidt of tatraum projects from Düsseldorf to Salt Lake City. It is regarding the interrelation between utopia, longing and Human Machine Systems in digital times. I am excited to perform in this work again Oct. 16-18. There will be the opportunity for one or two SLC dancers to perform in this work. The audition will be a workshop taught by Michael October 5-9. I hope to see you there!