For the thousands of comic book writers and creators across the country who are producing new works online, the prospect of finding a publisher is becoming a daunting task and even finding funding to keep the dream alive is a pain. Which is what makes local comic book publisher Jay Crow Comics slightly unique, as the company utilizes Kickstarter for each issue to get it produced for online and eventually published into a physical copy for purchase. Today we chat with the founder, Joshua Crowther, about the company and the titles coming out, as well as producing local comic books in general. (All pictures courtesy of Jay Crow.)
Joshua Crowther
JayCrowComic.org
Gavin: Hey Joshua, first thing, tell us a little about yourself.

Joshua:
I live Sandy, and over the last year I've started writing and publishing my own comic series. It's called Super, and it's about a young man with super powers that takes place in the real world. That means no super villains, no alien plots for world domination, no robot battles. Just one super powered trying his best to save the world from war, poverty, and all the sort of stuff we see on the actual news.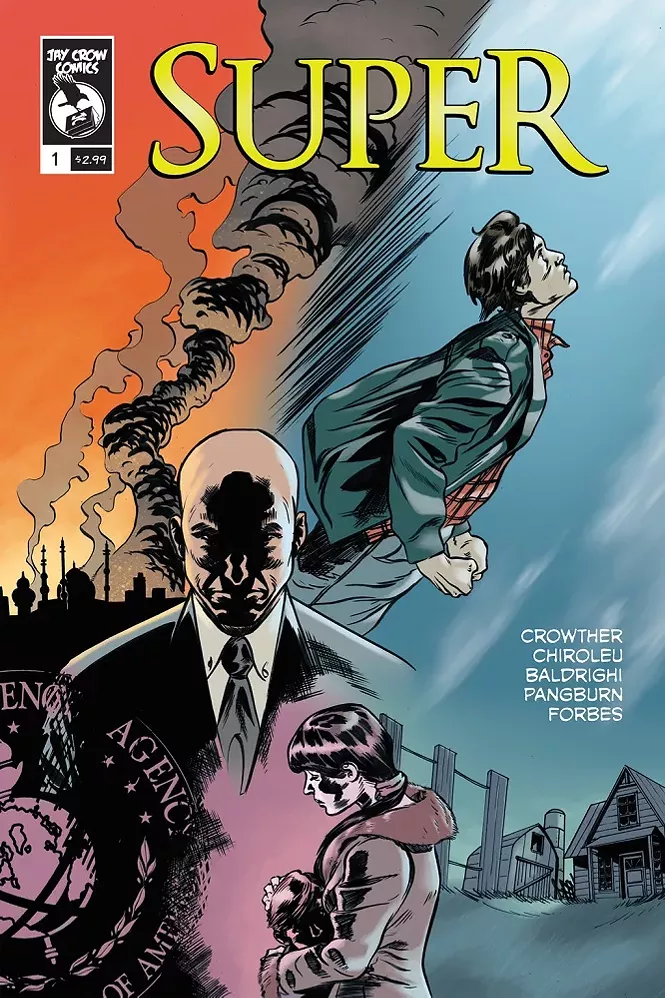 Gavin: What first got you interested in comics, and what were your favorite titles growing up?

Joshua:
I didn't really get into comics, other than comic strips, as a kid. I picked up an issue of
X-Men
and
Spider-Man
when I was 10 or 11, but it didn't really interest me. I mainly read novels until my junior year of high school, when a friend showed me the comic
Y: The Last Man
, a story about a man and his pet money who survive a plague that kills every other male mammal on the entire planet. It's what made me realize comics were just another medium of story telling instead of being picture books for children. Therefore, I pretty much skipped right past the superhero genre and jumped straight into alternative titles like
Fables
,
DMZ
,
The Walking Dead
, some
Star Wars
stuff. Even now, I hardly read any DC or Marvel, although I enjoy the movies.
Gavin: How did you first get involved with writing and creating stories of your own?

Joshua:
Some of my first memories involve writing and drawing picture books. I entered some short-story contests for the Jordan school district up until high school. I wrote campaigns for
Dungeons & Dragons
that my friends and I would play. I write music. So basically, I can't tell you when I started writing because I don't remember. Creativity has always been a part of my life. As for
Super
, I started writing the script about a year ago while I was working at Discover Financial Services. I worked the night shift for quite a while, calls would slow down, and my mind would reel. I started writing things down on paper and realized that I was creating a story that I just had to tell.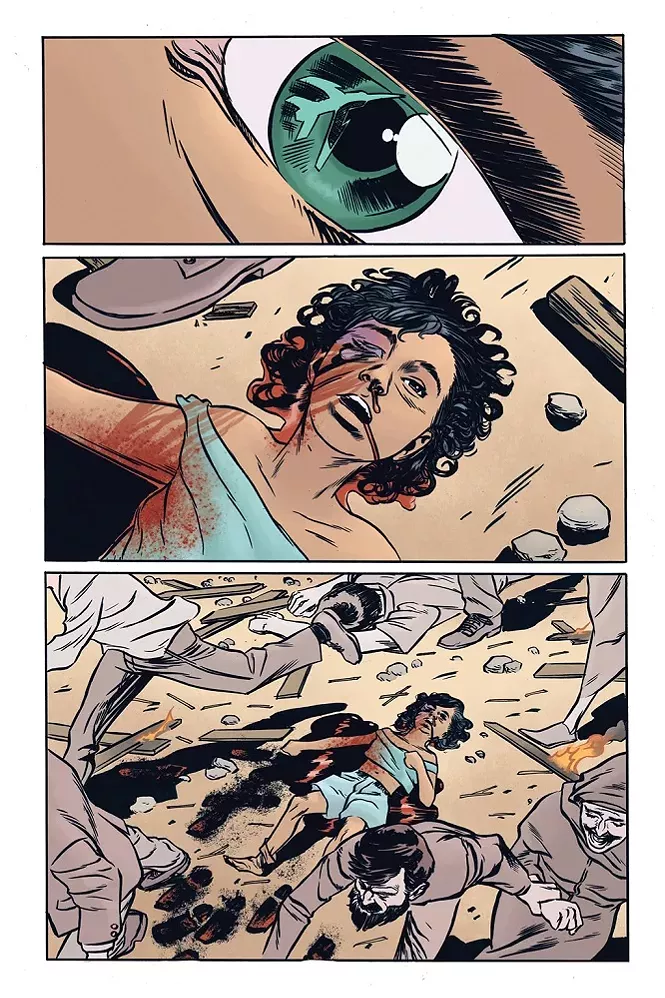 Gavin: Prior to Jay Crow, had you worked on any titles or projects, or was it mainly your own private stuff?

Joshua:
Prior to Jay Crow I was never too serious about getting my work out to the public.
Gavin: How did the idea to start your own publishing company come about, and where did the name come from?

Joshua:
The initial intention wasn't to create a publishing company at all. All I really wanted to do was just print my own comic. I had a story and I wanted people to read it, so I just put aside some money each month to hire artists and print the book. Almost all established comic companies don't take unsolicited submissions, and those that do, generally only accept pitches from established creators. I didn't want to jump through those hoops. I just wanted to create something. The Jay Crow Comics name came about purely because of Salt Lake Comic Con. I knew I wanted to debut my work there, but on the application sheet they specifically ask what company you create your work through. Well, I never really thought about it, so I just took the first letter of my name, combined it with the first half of my last name, and that was that. Ever since Super, however, I receive submissions from other creators. So maybe I'll start publishing other people's work after I figure out how to make my own work a bit more financially viable.
Gavin: What was it like for you putting together a team of talent to produce comics for the company?

Joshua:
Not too difficult. There's so many comic artists out there looking for work, you just have to learn where to look. I found out about this forum called Digital Webbing, posted an ad, and then it was just a matter of sorting through the hundreds upon hundreds of submissions in my inbox to find the right people for the project.
Gavin: One of the big things that sets you apart from other companies is that you utilize Kickstarter to fund each issue. How did that idea come into play?

Joshua:
While I saved enough money to create the first issue of Super on my own, most people don't realize how expensive comics are to create. You have to pay every single artist involved, the person who draws and inks the pages (which is the same person in my case, but not usually), the person who colors the pages, the person who adds the word balloons, and the editor. Each 24 page issue of Super costs over $4000 to illustrate, prior to printing a single physical copy, which is a lot of money for the average person. That price point is on the lower end of the spectrum too. If you want to hire more established artists, you could be looking at spending $400-500 a page or $10,000 to $12,000 for a 24 page comic. Art comes before printing. Until you pay your artists, they don't draw anything, which means you have nothing to print. So basically, Kickstarter is was the only viable way for me to create Issue 2. It's actually becoming one of the most popular ways to create comics. I believe there are 192 live comic projects on Kickstarter right now.

Gavin: What's the response been like from people as far as donating? Do you receive a lot of funding or is it hit-and-miss?

Joshua:
The first Kickstarter campaign I ran was really successful, the second one wasn't, and the third one was. So, if you only looked at Kickstarter, you might think it was a little hit-and-miss. But outside of Kickstarter, most copies of
Super
have been sold for Pay What You Want at comic conventions. The average person at a comic convention, realizing getting into independent comics is difficult, has paid around $5 an issue (the retail is $3). There's a surprising amount of people that have purchased a single issue at $10 too (and probably a couple dozen that have paid $20 or above). So I think it's been a pretty good response, especially considering I've sold about 5000 copies of my first issue at this point.
Gavin: What made you decide to go both digital and physical with your issues rather than stay in an online format?

Joshua:
If I sold
Super
in only a digital format I would have to sell 1334 digital copies at $3
a piece
to break even, but I would be unable to promote the comic at conventions or at stores. Which would mean I'd never get 1334 people to know that the comic existed. You can't just show an iPad to people at a convention and tell them to go home and buy your book. You need something they can purchase right there. I knew if I wanted to people to read it I would need physical copies. Plus, there's a certain pride in seeing your work inside a store.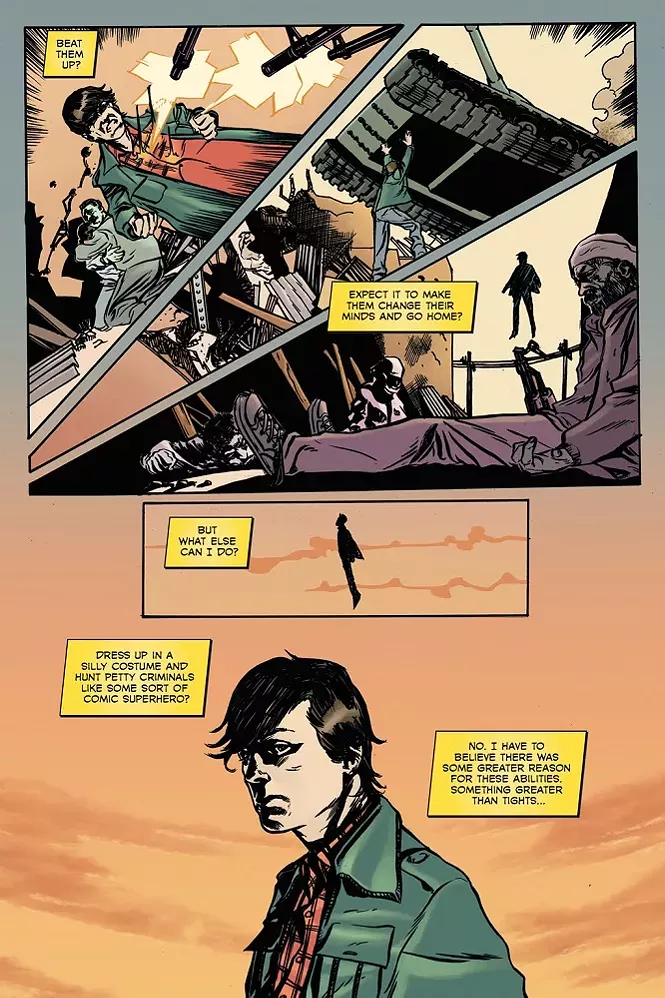 Gavin: When did the concept for Super come about and what was it like writing that as your launch title?

Joshua:
Super
was an amalgamation of ideas I've had since high school. I mentioned
Y: The Last Man
earlier, and I would have to say it was the biggest influence on
Super
. Brian K. Vaughn, basically asked himself what might happen if all the men on the planet died and subsequently poured in years of research into the gender demographics in every facet he could think of: domestic politics, foreign politics, job demographics, etc. I basically just try to do the same thing, but instead of imagining "What if all the men died?" I imagine, "What if suddenly someone like Thor or Superman appeared, and how would it be different than traditional comics?" In many ways, it almost feels like the story is writing itself. It's been fun, but also difficult, because hundreds of hours of research go into
Super
. I have to read news stories, study history, government hierarchy in espionage, weapons technology, psychiatry, etc. People tell you not to try and write your magnum opus as your first title, but I very much feel like that's what I jumped straight into. I didn't know, and I still don't know if I'm going to make it as a comic writer, but I know if there's only one story I'll ever be able to tell I want Super to be it. So it's scary, but so far, I've only received positive reviews. So that always feels good.
Gavin: Do you have a set idea of where you want to take this series or are you kind of playing by ear for now?

Joshua:
I didn't start writing dialogue for the script until I knew the ending. I think you can't have proper foreshadowing in a story until you know the ending, and now it's just a matter of getting there.
Gavin: What's your take on the locally produced comics coming out of Utah today?

Joshua:
I think there's definitely a growing market. Right now, the only other series I can think of that's completely independently produced is
Salt City Strangers
. But I also know we have some upcoming titles such as
Beware the Eye of Odin
, which will be a web series created by Doug Wagner and Tim Odland. Plus we also have great local comic artists that produce titles for larger companies such as Image Comics and Action Lab, such as Ryan Ottley (
Invincible
) and Phillip Sevy (
Athena IX
). I'm sure with the success of Salt Lake Comic Con we'll start to see more and more.
Gavin: What are some titles that you've been reading lately that you believe people should check out?

Joshua:
My favorite ongoing titles that I'm currently reading are
Bunker
,
Autumnlands
,
Deadly Class
,
Copperhead
,
Saga
, and
Roche Limit
. But everyone's tastes are different. I'd suggest going to your local comic shop, telling the staff what sort of stories you like, and having them suggest something catered to you. The types of stories we see now are so much more diverse than in the past, and I'm sure, no matter what genre you like, there's something out there for you.
Gavin: Are you currently taking any submissions from other artists and writers to make new series?

Joshua:
Yes and no. I want to make sure my own title is profitable before I take on other projects, but if someone sends something killer my way I'd love to help them raise the funds they need to get it done. I do, however, keep the emails of any artists and writers who send me portfolio's because, well... you never know.
Gavin: What is the long-term goal for Jay Crow as you continue to produce and expand?

Joshua:
I believe in taking things one step at a time, so I only plan one year at a time. Right now my goal is to finish 5 issues of Super, start distributing it through Diamond so I can get it into comic shops outside of Utah, and then get it put together into a trade paperback. We'll see what happens after that. Ultimately, I'd like to finish all 3 arcs, which would total 15 issues, but we have to see how things pan out.