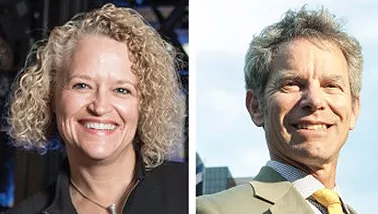 Salt Lake City Mayor Ralph Becker's quest for a third term at city hall will have to go through Jackie Biskupski, who, in
preliminary election results
on Tuesday, picked up 46 percent of the vote to Becker's 31 percent.
The pair pummeled their three opponents by margins that are unlikely to be toppled by their challengers, leaving them alone atop the ballot in November's general election.
Luke Garrott, the chair of the Salt Lake City Council, won 12.85 percent of the votes, while community activists George Chapman garnered 6.4 percent and businessman Dave Robinson pulled down 3.7 percent.
Biskupski, a former state legislator who is currently an administrator at the Salt Lake County Sheriff's Department, has accused Becker of being an absentee leader—a contention she says is reflected in the 4,327 additional voters who chose her.
"These preliminary numbers, I think, are very telling as far as the public saying, 'We need new, strong, collaborative leadership that is listening to the people who live here,'" Biskupski said. "And that's what we will get."
Although Biskupski said she expected to win the primary—she was favored in some polls—she was surprised by the gap that early voting results showed between she and Becker.
"I felt like we would come out in a very tight race and ahead, and the gap is bigger than I anticipated," she said.
Attempts to reach Becker for comment were not successful.
If money is a ranking factor in political fortune, then Becker and Biskupski didn't break the mold. Both handily out-fundraised their opponents. Becker amassed $502,259 in contributions, while Biskupski brought in $290,510. Garrott, who imposed a $1,000 limit on contributions from individuals and corporations, came in the No. 3 slot with $34,664.
As the candidates duked it out, this primary season provided some level of intrigue. In June, former Salt Lake City Police Chief Chris Burbank was forced to resign amid an apparent dust-up between him and city hall over how a sexual harassment claim against a deputy chief was handled.
And just a week ago, Becker's spokesman, Art Raymond, who also acted as the city's primary
buffer between media and city business
, was placed on paid administrative leave for anonymously advocating for Becker and ripping the mayor's political opponents on
The Salt Lake Tribune's
website.
Biskupski said Burbank's resignation and the actions of Raymond are symptoms of Becker's "absence in leadership."
"I think what happened over these years, is he has just been so absent and he's left the control of the city in the hands of these people that he's appointed," Biskupski says. "If you are not leading as you were elected to do, you will find that you lose control. I think that's what's happened."
Historically, this election season also saw the first infusion of political maneuvering by a super political action committee (PAC), which isn't bound by campaign contribution limits. This Super PAC, Utahns for Independent Government, which was born of Reagan Outdoor Advertising,
erected billboards and bankrolled free advertising
for all of the candidates but Becker.
Becker, whose face has never graced the broad side of a campaign billboard during his long political career, has battled Utah's powerful billboard industry for decades. According to a story in
The Salt Lake Tribune
, the PAC spent $113,000 on Becker's challengers.
Garrott and Biskupski each received nearly $7,500—the city's limit on single donations—in in-kind contributions from Reagan. But then additional billboards began appearing. Becker cried foul, accusing the PAC of skirting the city's campaign finance laws.
Garrott, though not nearly as averse to billboards as Becker, also criticized Reagan and its PAC for disrespecting the spirit of the city's laws. He asked Reagan to remove any billboards it erected without his consent.
Though not as the mayor, Garrott says a chunk of his remaining time on the council (he'll turn his District 4 seat over to either Derek Kitchen or Nate Salazar, who will face off in the general election), to reforming the city's campaign finance laws.
"I'm proud I limited contributions on my campaign and regret others didn't show the same leadership," Garrott said in a prepared statement. "Campaign finance reform is critical to the future of our democracy. When corporations and big money dominate so much of our lives, it remains vital that we defend the principle of political equality. As I finish my term on City Council, we will be looking to end the campaign war chests and limit contributions to get big money out of our local elections."
On that note, and looking to the general election, Becker still has $379,151 in his campaign bank account, while Biskupski has $71,011.