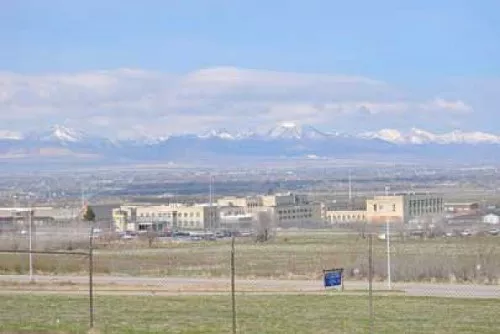 Eric S. Peterson
Draper's Utah State Prison
After more than four years of study, the process to relocate the Utah State Prison from its developer-friendly dirt in Draper to a less sought-after site appears to be on the fast track.
In a special session on Wednesday, the Legislature overwhelmingly approved the prison's move to a site near Interstate 80 and 7200 West in Salt Lake City. And by Thursday morning, Gov. Gary Herbert said he would sign the bill by the end of the day.
This lightning-fast legislative speed is in stark contrast to the years of deliberation that led up to the
decision on Aug. 11
by the Legislature's Prison Relocation Commission to pick the Salt Lake City site over three others. And, barring environmental concerns over the new prison site's proximity to Great Salt Lake wetlands or a lawsuit by Salt Lake City, the nod of approval by the Legislature and governor all but ensures that a new half a billion dollar structure will rise on the capital city's western edge.
A pair of primary drivers has catapulted the effort to move the prison: economic development and criminal justice reform. Lawmakers promise that building a new, shiny building in an industrial park will facilitate a new era of enlightened criminal justice in Utah. The groundwork for this promise was laid during the 2015 legislative session, where lawmakers approved a package of criminal-justice reforms that, at this juncture, will occur in tandem with construction of the new facility.
Rep. Brad Wilson, R-Kaysville, who was co-chair of the prison relocation commission, commenced his presentation to his House colleagues on Wednesday along these lines. He told a story of a mentally ill inmate named Mike, who in a new and improved prison, will "be able to see out of his cell what the outside world looked like," and "be able to sleep more than a couple of inches off the concrete floor.
"Unfortunately, Mike is not in a facility like that," Wilson said. "Mike is in our Draper facility, which is falling apart, which hasn't had significant investment in many, many years."
This compassionate rhetoric was echoed by many of Wilson's colleagues, nearly all of whom have been party to the systemic drought of investment in the state's prison system that Wilson referenced.
Given the Legislature's decades-long lack of concern for prisoners, the key to the body's sudden interest in making life better for Utah's prisoners is the 700 acres of dirt upon which the Draper prison now sits.
Once a distant frontier of Salt Lake City, the prison is now abutted by sprawling residential suburbs to the north and west, and to the south and east by the iron skeletons of rising office towers that house technology firms.
Just the other day, Wilson said he viewed a map showing where technology firms were locating, and on that map, where the prison is located, was a "big, black hole."
As the prison relocation commission contemplated where it would plop a new prison, every single receiving site, from Grantsville to Saratoga Springs, was greeted with fierce public outcry. This is true for the Salt Lake City site, an area that west side lawmakers say is being used by the state as a dumping ground.
Rep. Angela Romero, D-Salt Lake City, noted the Legislature's refusal to accept hundreds of millions of dollars from the federal government for Medicaid expansion that would help many of her constituents. The west side, she said, and its people, are "perceived as being disposable."
"Enough is enough," she said. "Why do we have to carry the weight of all Utah?"
Another west side lawmaker, Rep. Fred Cox, R-West Valley City, took the reins early in the meeting and pulled back the curtain on the fact that the relocation commission didn't consider as an option rebuilding the prison right where it is. Doing so, he said, could save $100 million. And construction in Draper wouldn't require that the foundations for the building be dug several stories deep to ensure stability, as must be done in the water-logged area that composes the 4,000 acre Salt Lake City site.
"The Draper site is a good site," Cox said. "It has had the prison for a number of years and it's the only site of the five, if you put it in the running, that can compete with the Salt Lake City site …"
But Cox's effort was swiftly batted to the ground by Wilson, who injected the debate with the lure of future dollar bills.
"First of all, you're selling ground that's worth a lot and buying ground that's not worth very much," he said, noting that a piecemeal construction approach at Draper could risk safety and security at the site. Additionally, Wilson noted that leaving the site at Draper and turning away from the likely piles of cash the state stands to gain by selling the land, and by shunning the industrial development that is expected to blossom around the prison, would be to "forgo not one opportunity to spark job creation in the state, but we forgo two opportunities."
Rep. Lee Perry, R-Perry, said that building a prison bit by bit at Draper would have an outcome similar to the Cadillac that Johnny Cash sings about in the song "One Piece at a Time," which documents an auto worker's ultimately successful effort to build a car piece by piece with mismatched parts stolen from the factory.
"We cannot build a prison once piece at a time," he said. "It will turn out like a Johnny Cash car. It will not work."
As controversy mounted from citizens whose towns were mentioned as possible homes for a new prison, some lawmakers, including the governor, attempted to tamp the anger by saying that leaving the prison in Draper was an option. But the cold, hard, fact that the political will never has existed to improve anything at Draper, and that the good will presently aimed at improving life for prisoners at Draper would wilt if the prison isn't moved, was summed up by Rep. Eric Hutchings, R-Kearns.
"We will never, ever prioritize enough budget to rebuild Draper," Hutchings said, adding that on a recent tour of the prison, he noticed that some furnishings came from an Army/Navy surplus yard at the conclusion of World War II. "We can have exactly what we have, or we can have the preeminent correctional process in the United States of America right here."
Rep. Joel Briscoe, D-Salt Lake City, said that as a leader in his local Church of Jesus Christ of Latter day Saints ward, he often sees the fallout from a prison system that is busted.
"However you vote on this, remember your vote, remember your commitment to every single citizen in the state of Utah," said Briscoe, who was one of 12 lawmakers in the House to vote against the bill. "There are no throwaway people. There are not people that we should just write off and say they don't matter anymore."