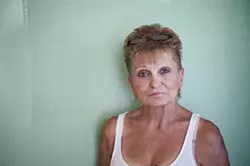 In early August 2015, human rights group Amnesty International adopted a policy favoring the decriminalization of prostitution, which would include paying for sex and running a brothel.
Amnesty's view was that it would be the best way to reduce the risk to prostitutes. Many disagreed, including the World Congress of Families, which will be holding its annual conference in Salt Lake City in October 2015.
They issued a press release trumpeting that thei r executive director no less than "flayed" the policy, evoking Biblical or nautical imagery of whips and shredded flesh.
But I digress. According to the press release, Dr. Janice Shaw Crouse condemned the decision as "a major blow for the protection of vulnerable women and children. It is a pivotal victory for the brothel owners, pimps, sex traffickers and johns who can now claim that their actions are acceptable and there's nothing wrong with what they do."
Crouse told a February 2010 Oxford Union Debate that "Prostitution is not like 'Pretty Woman,' where a glamorous prostitute earns big money from handsome johns; the majority end up drug-addicted, bruised and battered."
It's debatable whether Dr. Crouse's generalization is where sex workers end up as opposed to where many of them actually start.
I did a
story
on local street sex workers several years. Donna Steele (pictured above) was one of three women familiar and at that time active in "the life." In a
follow-up
, the three women talked about how they were trying to build new lives for themselves.
"I think [decriminalization] is a good thing," Steele says. "It doesn't help to take people to jail; they [are released] to nothing and do the same thing again." The same being going back to sex work.
Decriminalization, she speculates, would result in many more people entering the sex-work industry. "I think you'd have a lot more people doing it."
Steele is "all for the brothel thing," as long as, she adds, the brothel is made to look like a business building. "The girls not working on the street," wouldn't create an issue for businesses anymore, she notes, frustrated by sex workers lingering outside their premises while waiting for potential clients to pick them up.
While I cannot ever imagine the day sex work would be legalized in Salt Lake City, there was a period of months after the Salt Lake City Police Department closed its vice squad that street prostitutes felt they were at liberty to pursue johns uninterrupted.