It's August in SLC, which can only mean two things for the local art scene: hardy patrons and group exhibitions. As the heat beat down on the city through an orange haze, people took to the streets to check out the latest in what everyone had to display, which for many of the galleries was a mix of genres by dozens of artists and few solo shows. This month, I made my way up to Alpine Art to see their show featuring various forms of contemporary art, all curated by local artist Chauncey Secrist. Today we chat with Secrist about his career and the show he put together. Check out the photos below, or see the art in person for the next month.
Chauncey Secrist
Chauncey Secrist on Facebook
Gavin: Hey Chauncey, first off, tell us a bit about yourself.

Chauncey:
I feel like I'm filling out an OK Cupid profile or something. "I like long walks on the beach, pina coladas, and getting caught in the rain." Seriously, though, obviously I'm an artist. I'm also a full-time single dad to a teenage girl, which is both amazing and challenging. In my teens and into my 20s, I was in the gothic and punk rock scenes, and though I haven't dressed in that fashion for a long time, I still retain some of the dark aesthetic that permeates those groups. These days, I'm a bit of a desert rat, and I'm more influenced by the grandeur of the natural world (and my relative smallness in it) and our human connection to nature than anything else. I also volunteer both in collections and as a docent at the Utah Museum of Fine Art, which has an amazing collection and a wonderful staff.
Gavin: How did you first take an interest in art, and what were your influences?

Chauncey:
I've always had an interest in art; my younger brother and I both used to draw constantly. We used to play a game that we called Scribble Master Bout, in which we would open a sketchbook, each take a page, draw some random squiggles, trade pages, and use the other's squiggles to create images. It was largely inspired by the Surrealist games like Exquisite Corpse. My early influences were actually comic books artists. As a kid, I used to dream of becoming a comic book artist. Guys like Jim Lee, Todd McFarlane and Sam Keith were my idols. Then I discovered Neil Gaiman's graphic novel
Sandman
, and was introduced to the work of Dave McKean, which started my love of mixed media. Later, I was introduced to a wide variety of artists who all fueled my passion for experimentation in art—namely, Robert Rauschenberg, John Cage, Joel-Peter Witkin, Caravaggio, Douglas Snow, and so many others. I was also influenced a great deal by poetry. Writers who really played with language in ways that seemed kind of analogous to visual arts really interested me. E.E. Cummings and John Berryman are probably the best example that I can think of. That kind of thing, along with the Dadaist sound poets and the musical compositions of John Cage, really influenced me and led to my love of experimentation.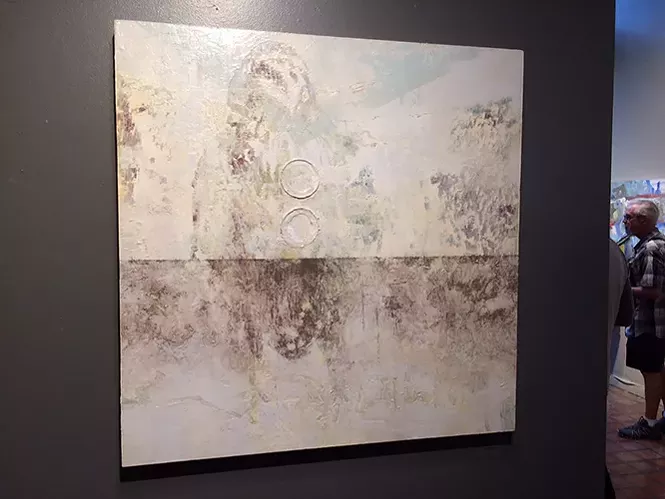 Gavin: What would you say were your first genres you really gravitated towards?

Chauncey:
Well, as I said previously, my earliest influences were comic book artists, and that's what I tried to do. I was also interested in collage at a fairly early age, but felt discouraged in pursuing that by some of my teachers, and pursued painting instead. My early paintings were primarily figure and portrait works, though I dabbled a bit in landscape and still life, both of which failed to hold my attention for more than a couple paintings. Eventually, I came back to collage and assemblage, which are still my primary medium. I also wanted to paint abstracts early on, but it took me years to overcome the idea that my work had to be representational to be artistically valid.
Gavin: Did you seek out any education for art while at SLCC, or were you more about finding your own style beyond learning other styles?

Chauncey:
I haven't taken an art class since high school, but I think that any education has the potential to work its way into the creative process. For example, I was fortunate enough to participate in an archaeology field study program, which took me into the Southern Utah desert for eight days to excavate a 150-year-old cabin. Prior to that, I hadn't been camping since I was a little kid. I didn't hike, and I just saw the desert as a sort of wasteland. My instructors taught me how to see the desert, to stop and recognize the diverse flora and fauna, the details of the landscape. And that's really what art is all about: learning how to see and then figuring out how to convey that in a visual medium. That said, I've always approached art making with the goal of finding my own style. When I graduated high school, I figured I would go into English and become a teacher. I didn't want to do art school. I had heard too many stories of people losing themselves in school and coming out as little more than watered down versions of their teachers. That fear isn't present any longer, and I'm not really sure how realistic it was then, and I still appreciate the freedom I have to play with different mediums and styles as I see fit, but I do think about taking classes now. The way I see it, there's always something to learn and learning, even just for the sake of learning, is always a noble pursuit.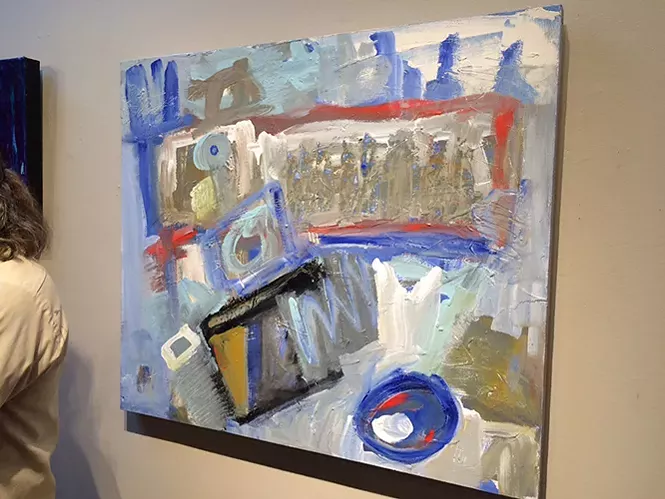 Gavin: What was it like for you breaking out onto the local art scene?

Chauncey:
This is kind of a hard question. I feel like I'm still just a young guy in this scene. I'm still emerging. But I suppose what really sticks out for me about my first few years, were the people who were willing to help me out. Galleries that took a chance despite [my] having no education or exhibition history. Artists that gave me feedback and advice. The local art community here is, in so many ways, incredibly supportive of newer generations of artists. But it wasn't easy. Because I didn't go to school for art, I didn't have any of those kinds of connections to begin with. I also didn't have regular access to the Internet, and it took me a while to get a feel for how to approach galleries, how to talk about my work, or how to present my work. I learned all of that through trial and error. And I made a lot of errors! But like I said, there were amazing people who saw something in me or in my work, and they helped me along the way. I will always be grateful to them and I hope to do for someone else what they did for me.
Gavin: You've experimented a lot with different works and don't have a specific genre you stay in for too long. What made you want to constantly explore different aspects?

Chauncey:
I think maybe it's an attention-deficit thing or something. I do jump around a lot as far as medium, style, subject, etc. I usually have several pieces going simultaneously as well, and they are typically all in different media. Currently, I have a couple of oil paintings (figurative and abstract), collages, and several assemblages that I'm jumping between. I've also been meaning to pull out my watercolors and ink, and start another series with those. Each medium offers something different and I love them all, so I just follow whatever my instincts tell me will work best for whatever idea I'm trying to present.
Gavin: Do you find it difficult switching between different forms of art or do you welcome the challenge?

Chauncey:
Actually, I find it difficult to stick to one thing for any extended period. I get bored if I stay with the same thing for too long, and if I get bored, the work suffers. It's like it has no soul if I'm not really into it. Also, certain concepts just seem better suited to certain media. For example, I've been working on a series of self-portraits that examine negative emotional extremes. They are all large pieces (36"x48" to be exact). This concept seemed best suited to oils. I also have a series that I occasionally work on that are small, abstract landscapes. Some are in oil, others in watercolor. Neither of these would be suited to the mixed media collage and assemblage stuff that I do. Each medium does come with challenges, but I really enjoy that. I have an assemblage piece that requires welding. I've never welding before, so there is definitely a challenge there that needs to be overcome. It's a learning opportunity, and with each new skill I learn, I gain more options for future work.
Gavin: What's the process for you when creating a new work, from concept to final piece?

Chauncey:
My process is pretty chaotic and messy. I work out of my apartment, so my living room, bedroom, kitchen and even my bathroom all double as extensions of my art studio. Unlike some other artists that I know, I have no rituals or specific things that I need in order to work. Sometimes I just throw on some instrumental music (anything from Rachmaninoff to Balmorhea) or put in a movie that I've seen enough times that I don't need to pay attention to it, and set to work. If I'm painting, it's pretty straightforward. I just sit down at my table or stand at the easel and start going at it, working mostly on impulse without thinking too much about where it's going at first. As a piece progresses, my actions are less impulsive and I work more to refine whatever I've started. The mixed media works are much more messy and chaotic. My apartment is full of materials with which to make art, and I don't always remember what I have, so I just start pulling everything out and putting things together, taking them apart, rearranging pieces, until I finally hit on something that really works. Then I put it aside so I can come back to it in a couple days and see if I still think it works. If it works, I secure it together and finish it. If it doesn't work, I deconstruct it and start over. The downside is that it leaves my apartment a complete disaster. And I probably look like a hoarder.
Gavin: Are there any particular exhibitions that stick out to you, or are you more wrapped up in what's coming next rather than looking back?

Chauncey:
I'm always more concerned with what's coming up next than I am with what I've already done, but I think the show I'm most proud of is my solo exhibition at the Finch Lane Gallery a couple years ago. It forced me to really focus on a single, cohesive body of work for the year that I had to put it together. It was all collage and assemblage, and it was built around the idea of finding commonalities between various religious beliefs and the secular world, rather than focusing on the differences between them. I've always been interested in the things that connect us to each other, and with how divisive religion/atheism can be, it seemed like a good opportunity to look for more universal ideas. I really enjoyed that show and working with the folks at Finch Lane. But like I said, I'm more concerned with where I'm going than where I've been.
Gavin: How did the opportunity to work with Alpine Art as a guest curator?

Chauncey:
A couple of other artists and I had talked about putting an abstract show together and were debating potential venues for it. Two of the artists had to pull out for various reasons, so it came down to me and Jerry Hardesty. I've worked with Alpine Art before. They have done a lot of framing for me, and I've been in a few group shows there. I was in the gallery and was talking with Susan and just sort of threw the idea out there. She like the idea, so we set up a meeting to go over the details. She really let us just run with it and do our thing, so that has been great.
Gavin: How did you go about choosing artists for this show?

Chauncey:
Most of the artists are people I've either known through online art communities or have been in shows with in the past. Jerry, Susan and I, in our initial meeting, discussed the idea of having mostly large works in the show. We figured we could bring in between 12 and 15 artists, so Jerry and I started narrowing down our list. Once we had a good list, I started contacting people. There were a handful of artists who couldn't do the show for different reasons. A few never responded. And a couple hit our radar after that initial meeting, so our list changed a lot. Also, I know we missed a few names. I really wanted to have a good mix of established artists and newer, emerging talent, as well as a variety of styles represented. Ultimately, there are so many wonderful artists in Utah, and we had a limited space in which to represent them, so it made it incredibly difficult.
Gavin: Tell us about the theme for the exhibition and what people can expect to see while it is up.

Chauncey:
The show was born out of a Facebook group for abstract artists in Utah, so the very general theme is simply abstract art from Utah artists. The more specific goal, however, was to show the breadth and variety of abstract work coming out of our local art community. It is such a diverse community, and abstract art has such a rich and diverse history, and we wanted to represent that diversity in Utah's contribution to the abstract world. People can expect to see nearly 40 pieces of abstract art from 14 artists exploring various approaches to abstraction. It's a diverse show with a handful of sculptural works in wood, ceramic, and mixed media, and a lot of paintings in different mediums.
Gavin: What do you hope people will take from this particular show?

Chauncey:
I hope people take paintings home from this show! Seriously, buy stuff! Really, I hope that people will see how vibrant the art community here in Utah is and will support that in whatever way they are able, whether that is by buying work from local artists, supporting their children's dreams of becoming an artist, supporting more arts education in our schools, or whatever other form that support might look like. I hope that people will be inspired by the work they see and go home and start painting. My hope is that we will impact people and inspire them in some way.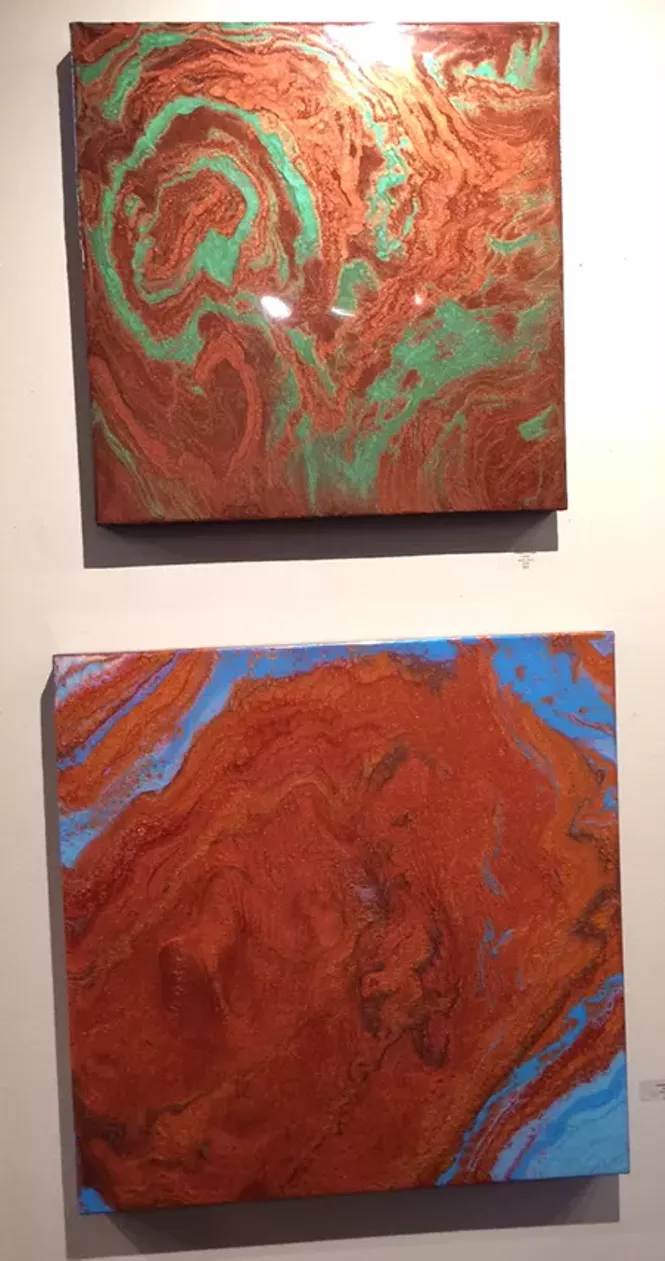 Gavin: What are your current thoughts on the artwork coming out of Utah and the scene in general?

Chauncey:
Our art community is really amazing. There are a lot of really talented artists here, and for the most part everyone is incredibly friendly and helpful, and we have quite a few really fantastic galleries and museums. I see a lot of really diverse work coming out of Utah. Everything from very contemporary, experimental and conceptual work to very traditional styles like portraits, landscapes and still-lifes. I think that the market tends to be fairly conservative, so there are fewer venues for really off the wall or controversial art, but I think that's kind of to be expected given where we live. But overall, I think that Utah is a great place to be an artist because of the wonderful people in the art community.
Gavin: Where do you think the art community is headed over the next couple years?

Chauncey:
I'm terrible at predictions. My hope is that we will see the market get better over the next couple years (I think it already has, but I don't have the numbers to verify that), allowing more artists to spend time making art instead of working other jobs that take away that art making time, and keep our galleries in business. I also hope to see an increased interest in more experimental and contemporary art spaces. CUAC and UMOCA have done an awesome job of making contemporary art more accessible, and I hope that will continue and keep getting better.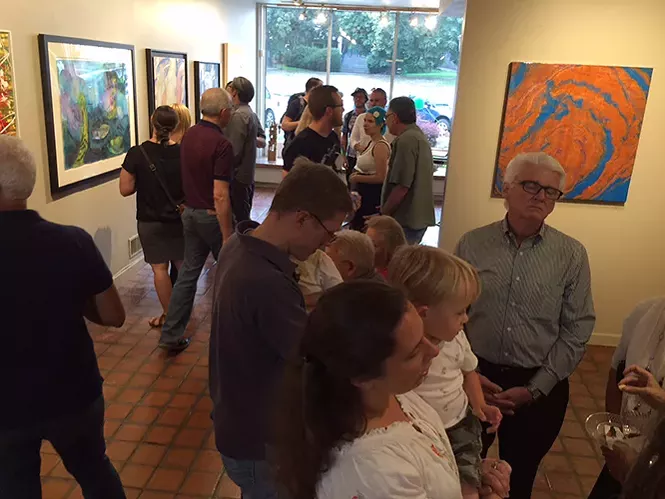 Gavin: What can we expect from you over the rest of the year?

Chauncey:
I am currently represented by the Howa Gallery in Bountiful, so you can expect to see more of my work there. During the rest of the year, I will be working on a new body of work and probably doing some group shows, but I have nothing set in stone yet. I'm currently working on a couple of gallery and museum proposals for both solo and group shows in 2016 and 2017, but it's pretty early on in that process, so I don't want to go into it just yet. I also have a couple more ideas for curated exhibits that I would like to explore, but I've been focused on the abstract show, so those are pretty vague ideas at the moment. Now that
Untitled
is hung, I can start exploring some of them a little more thoroughly.