I have eaten
many
cheesesteaks in the City of Brotherly Love. But making a passable Philly cheesesteak at home has always been daunting. For starters, it's difficult to find the Amoroso rolls that are used for most Philly cheesesteaks. However, I've found hoagie rolls at my local supermarket that work just fine.
The meat is another issue. Most cheesesteaks in Philly are made using boneless rib eye steak. If you have that sort of budget, then fine. But for most of us using rib eye for cheesesteaks is cost prohibitive.
However, I've had very good results with skirt steak. Most of the work for this recipe lies in preparing the meat.
Figure upon about 1 1/2 to 2 lbs. of skirt steak for 4 cheesesteaks. That might sound like a lot, but there'll be some waste in the form of fat to be trimmed.
When I order cheesesteaks in Philly I usually have them with provolone cheese. However, I've found that good old American cheese (yellow or white; it doesn't matter) melts very well and makes for a gooey, cheesy cheesesteak. Many Philly cheesesteaks are made with Cheez Wiz. I find that cooking the cheese right into the meat sort of creates a Wiz like texture without have to use Wiz. It also solves the problem of having partly unmelted cheese on the sandwich.
Ingredients:


1 1/2 to 2 lbs. skirt steak
2 Tbs. canola oil
thin-sliced red onion (optional)
a few slices of American cheese
salt and pepper, to taste
Hoagie or submarine rolls (oven-toasted, if you'd like)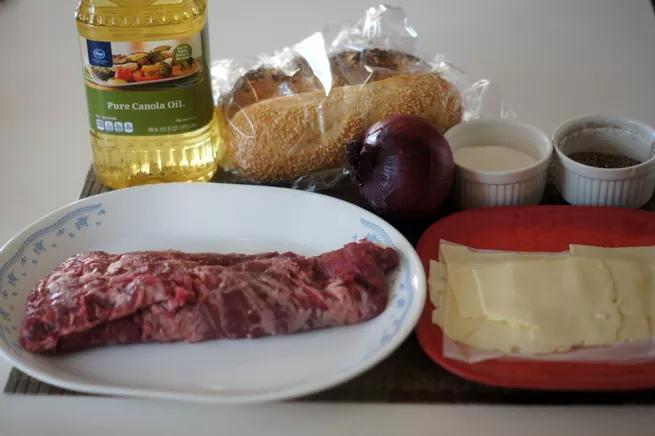 Method:
First, trim the skirt steak of as much visible fat as possible.
Take the rectangular-shaped skirt steak and slice it with the grain into 3 or 4 pieces.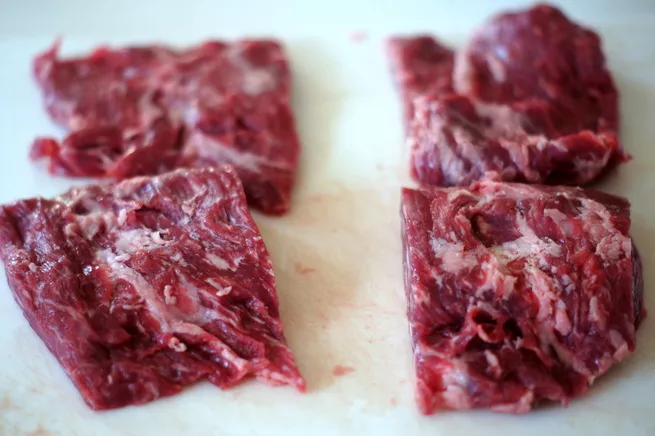 Place the pieces of skirt steak on a tray into the freezer for half an hour or so. This will firm up the meat and make it easier to slice.
Slice the skirt steak pieces against the grain as thinly as possible. I use a deli-style electric slicer but a sharp knife works just fine.
Once you've got all of your skirt steak sliced, chop it into smaller pieces on a cutting board using a chef's or butcher knife. I whack the bejesus out of the meat. It's a good method for relieving anxiety!
Heat a large skillet (preferably non-stick) with the canola oil over medium-high heat until the oil is shimmering.
Add the meat in one layer (cook it in two batches, if necessary). DON'T move the meat. Leave it alone for a couple minutes to let it brown and crisp.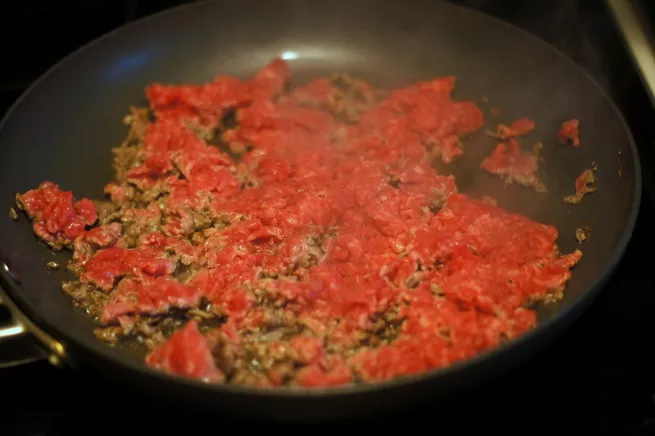 I like to spread a layer of red onion on top of the meat to soften - that's optional.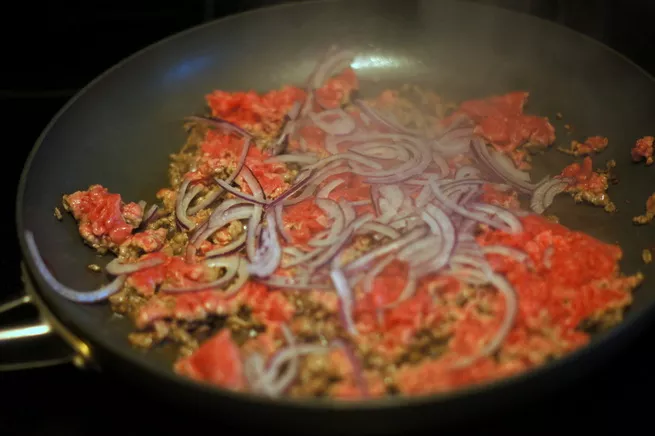 Stir and flip the meat to cook on the other side, another minutes or two.
When the meat is mostly cooked and browned, drain it in a colander or sieve to get ride of the excess oil.
Wipe the skillet clean with a paper towel.
Return the pan to the stove over medium heat and add the cooked meat. Layer cheese slices over the entire top of the meat.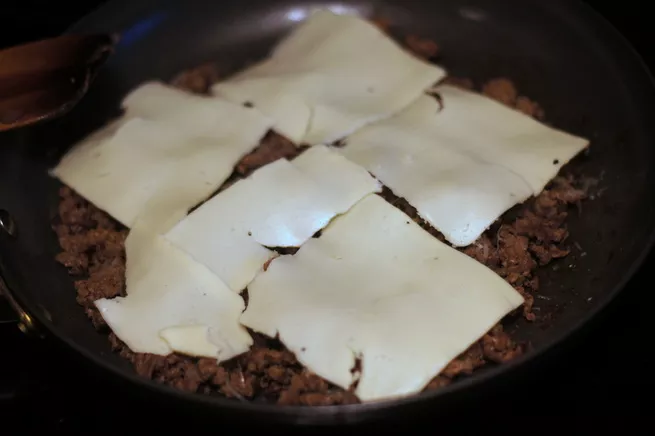 When the cheese is mostly melted, stir it into the meat to distribute evenly. Season with salt and pepper, to taste.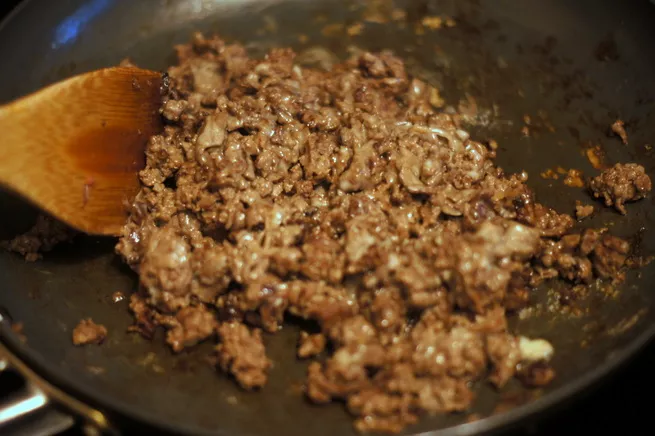 Serve on your favorite roll and enjoy!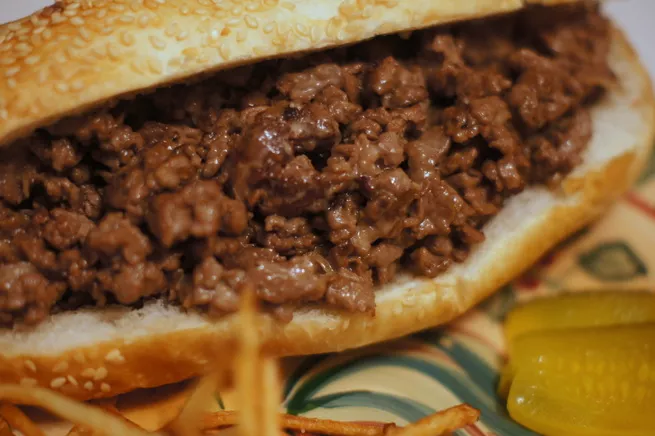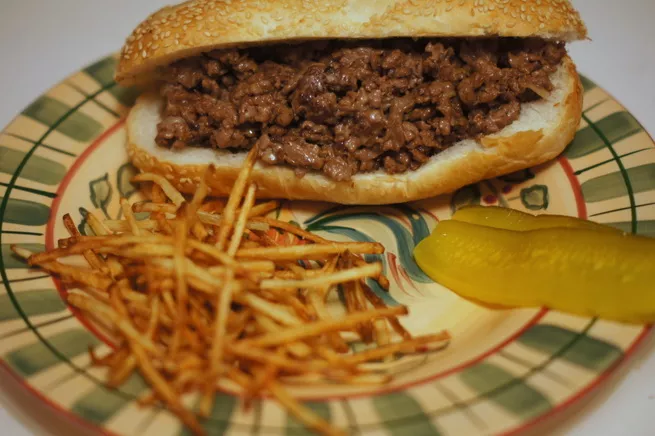 Photos by Ted Scheffler