Some people say I'm a little obsessed with my dogs. OK, I'm a lot obsessed. As in, I have their birthdays tattooed on my forearm. Heaven help me, crazy cat ladies, you are off the hook! Guy is an Old English bulldog with lymphoma, and Cooper is a special-needs English bulldog. Because of their unique health concerns and Guy's inability to get vaccinations due to chemotherapy, I am especially neurotic about what they eat and where they play. Praise be that Salt Lake City is getting on board, and we have some incredible places for you to get your dog shopping/experience on.
Ma & Paw's Bakery (1227 E. 3300 South, 801-487-3838, MaAndPawsBakeryInc.com) is where it's at for housemade dog treats. Everything is made with love, without preservatives, and it's all human-grade. I may or may not have noshed on a few of my kids' treats (OK, I totally did!). The selection is fantastic: tacos, bones, biscuits and iced cookies—and don't forget to order a customized "pizza" for special occasions. The bakery can accommodate your pet's allergies or special dietary needs.
Barley's Canine Recreation Center (2827 S. 2300 East, 801-467-6069, SwimAtBarleys.com) offers a range of services including daycare, massage and acupuncture, as well as toys, treats, gear for your furbabies and much more. But let's talk about the year-round, heated dog pool. That's right, you can take your fur-kids in for private or open-pool swim sessions, assisted or not, all year long! Life jackets, toys, towels and a rinse-off shower are all provided and the sanitation system is top-notch without using chlorine.
Just down the street from Barley's is Dirty Johnson's Wash (2823 S. 2300 East, 801-486-0683, JohnsonsDogWash.com). It's like a self-serve car wash, but for your dog. And finish off with the drive-through at BlueStar Juice Bar and Coffee Café. (2795 S. 2300 East, 801-466-4280, The-BlueStar.com) After all, you deserve a treat, too.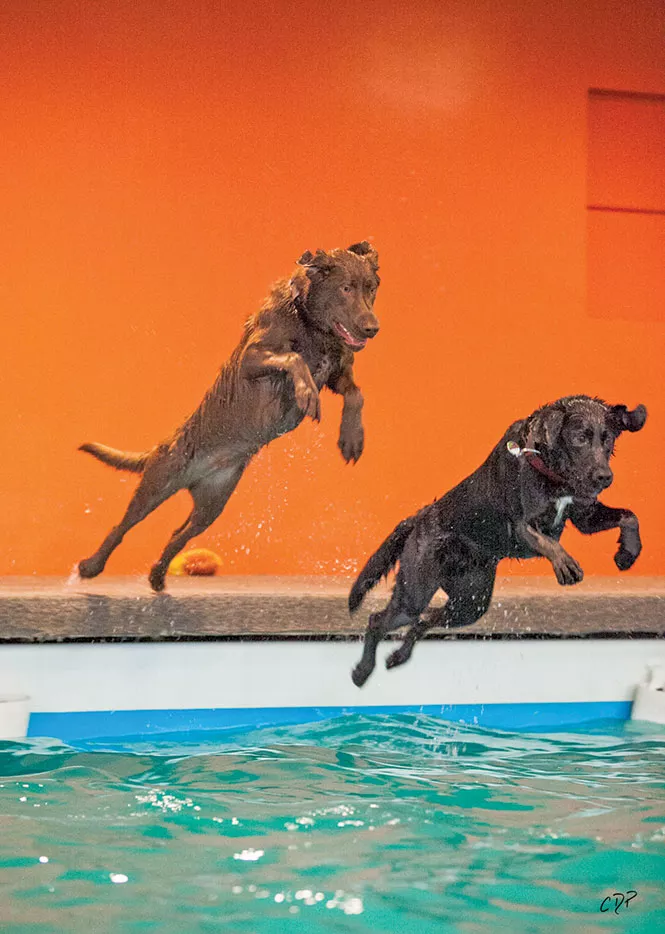 Barley's Canine Recreation Center