While comedy is often looked at as a male-dominated genre, locally we're seen more and more talented women coming through the ranks. And while the diversity may not be 50/50 yet, there's definitely a strong movement toward involving more women comedians as they slowly start to emerge and win over audiences. Today we chat with one of the rising names, Amerah Ames, as we explore her current career and thoughts on local comedy. (
All pictures courtesy of Ames.
)
Amerah Ames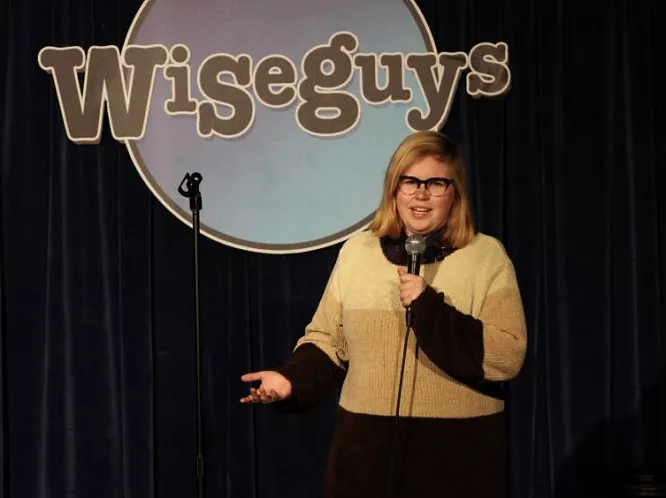 Amerah Ames on Twitter
Gavin: Hi Amerah, first thing, tell us a little bit about yourself.

Amerah:
I'm 20 and a student at the University of Utah where I'm studying film. I made a lot of videos on the internet when I was 12, which is where I think I started having an interest in comedy and stuff like that. I like music, film and television a lot, and I love reading Wikipedia and thinking about boy-band dynamics.
Gavin: When did you first take an interest in comedy, and who influenced you the most?

Amerah:
There was a lot of weird comedy stuff I liked growing up—I think it stemmed from watching
SNL
obsessively as a kid, naturally. I also got really into "Weird Al" Yankovic in sixth grade and finding stuff that he did on television, which was anarchic and awesome really stuck with me, and following that eventually turned me on to a lot of other stuff. When I was a sweet teen angel, television gave me a weird comedy itch that couldn't be scratched, and it corrupted me deeply (at age 15 I had a pretty insane obsession with
Strangers with Candy
and everything else the creators of that show have done). I had an interest in filmmaking growing up and felt like I was in the right place at the right time for a wave of really good comedy television, and that made me really realize that comedy could be cinematic and well-made, which was really interesting to me. I was still making dumb videos on the internet and at school, of course, and over time, I began to realize that comedy was no longer just a thing I liked—it was a thing I depended upon for escapism due to being a huge loser and having no friends. All I did my freshman year of college was watch episodes of
The Chris Gethard Show
alone in my dorm room. I grew to value stuff that was more about interactivity, spontaneity and absurd dark nonsense, and comedy basically encompassed my entire life and guided my every behavior. So that's where it started to feel oddly attainable to me as a thing I could really try to involve myself with.
Gavin: What made you decide to try doing standup comedy?

Amerah:
Once, in middle school, there were auditions for talent shows, and my friend and I improvised a standup set and didn't get into the talent show. In high school I was in a band and played music and everyone loved it, and now I make music in my room and no one loves it. Also, pizza L
unchables
are getting more expensive. All this rage fueled me to live my life in a backwards way; at some point I decided that I was writing a lot of comedy films and making them and putting them on YouTube, but no one really cared—it would be a lot easier to get myself out there if I was just saying jokes to people's faces and they were forced to listen.
Gavin: How was it for you coming up with your first sets and breaking into the local circuit?

Amerah:
Honestly, I don't remember. The last nine months of my life have been an insane blur. All I know is that people have always been really friendly and supportive and receptive to my ideas, and that was kind of a huge incentive to hang around. For some reason, people are cool with me hanging around.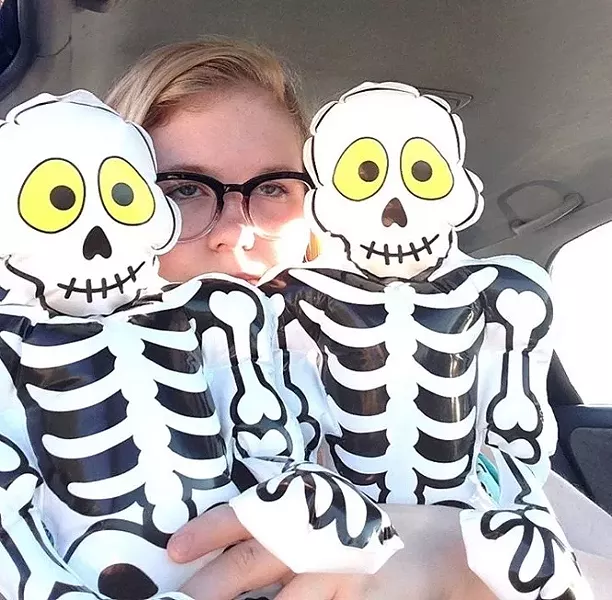 Gavin: What were some of the lessons you learned about performing?

Amerah:
I still don't know anything about performing. When I'm on stage I just wish someone would rescue me. Whisk me away. Save me from myself. Sell me on the black market while my eyes are still blue.
Gavin: What's your process like coming up with new material and deciding what works?

Amerah:
Usually I just tell a joke and stare at everyone there; then people have to laugh at me or I'll cry. Basically, the obligation of people listening is my crutch. Or my life source. I'm a parasite, is what I'm saying. I'm a tapeworm or a leech. Just a comedy strategy, for anyone reading.
Gavin: How is it for you interacting with other local comedians, both as friends and competitors?

Amerah:
Getting to know super-funny, like-minded people is all I've really ever wanted to do in my life. Man, if I have to actually compete with anyone in the scene, I'm just gonna quit and hope they'd let me hang out with them still. I like doing comedy and everything, but I'll always go back to my first love: hangin' out.
Gavin: What's your personal experience been like coming up through the underground and indie comedy scenes?

Amerah:
My experience has ruled hard. I don't really make a huge distinction in my mind about underground and indie aspects of the scenes versus like, mainstream parts of it, but the indie-ness of the scene involves a lot of cool, weird stuff that's up my alley, and to participate in that has been neat.
Gavin: How has it been for you as a woman comedian coming up through what is usually a male-dominated genre?

Amerah:
I may be the wrong person to ask, because I view myself less as a lady comic and more of a soulless robot transforming comedically into a bigger,
more
soulless robot. First off, I want to dispel the myth that boys can't be funny. I know several funny men. I basically only hang out with men now because of the comedy thing. I got together with my female high-school friends recently, and immediately stumbled over my words, didn't understand their nuanced experiences as women, and accidentally touched one of their breasts. "Am I one of you?" I asked them, curiously. "You're so soft." I stroked them, lovingly. Then we went to Costa Vida. Overall, I would say that all the women in the scene are individuals with their own experiences, and in my personal experience, I have generally felt supported as a comic and as a woman person. Of course there are weird moments, but that's no different from life as a
woman
in general, I guess—and these types of things are only going to stop if there's more women doing comedy and putting themselves out there. Also, I wanted to mention that while writing this, I forgot to change my tampon, got toxic shock syndrome, and died.
Gavin: What's your take on the Utah standup scene and the people coming out of it?

Amerah:
There's
a lot of talent and people working really hard, and a lot of my very best friends who drive me places and shower me with compliments and gifts. I hope to die floating atop the Great Salt Lake.
Basically
it's okay.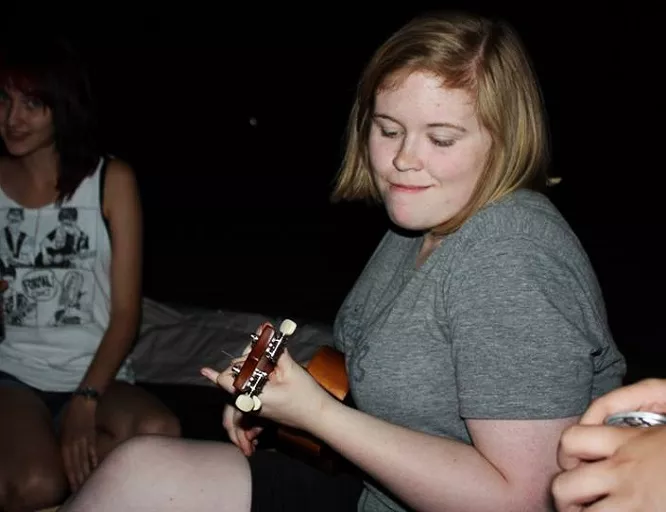 Gavin: Aside from yourself, who are some of your favorites you like to check out around town?

Amerah:
Well, this is a tough one. I would say Amerah Ames—hang on. Sorry. Let's see. Some of my favorites are Jonny Brandin, Sam Poulter, Jackson Banks, Mac Arthur, Natashia Mower, the cashier at Del Taco, Aaron Orlovitz, Andy Gold, Abi Harrison, Nicholas Smith, and Amerah Ames... wait, shit.
Gavin: What are your thoughts on the current club system, both major and indie, and the work they do to promote comedy?

Amerah:
I think that all the promotion of shows in the area is all very supportive and earnest, and that's something I love about it. I think people who enjoy comedy (everyone) should definitely look into local stuff more, because when I did I felt like a real part of something. I guess I wish that there was more available to people under 21 who want to pursue comedy, but people are really cool about it—everyone I know has been really looking out for me and I appreciate them—and of course, in approximately eight months I won't give a shit at all.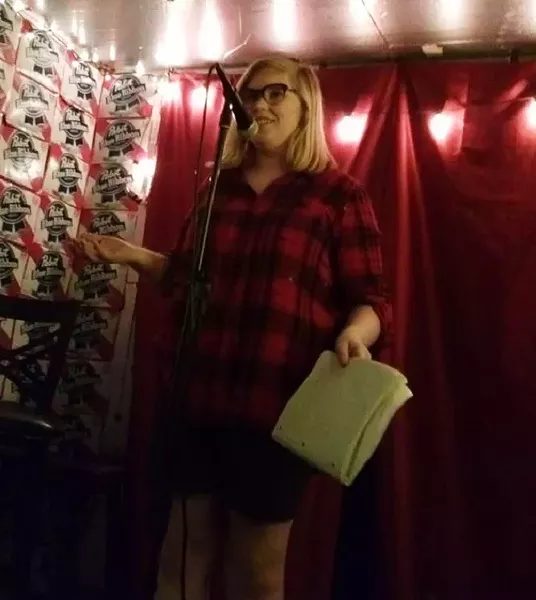 Gavin: What's your opinion of national stand-up comedians coming through town, and what impact do you believe that has on the local scene?

Amerah:
It's awesome. Personally, I like standup comedy a lot, but really don't know too much of it—I've always followed more film/television/improv based comedy. This kind of attitude changes every time I see a comedian who really knows what they're doing live.
Gavin: What would you like to see more of from events like the SLC Comedy Fest and the Comedy Carnivale?

Amerah:
I think the Carnivale was happening just as I was discovering the scene, and I was kind of too scared to go. So I guess what I think would improve these events is if someone alleviated my anxiety! Hey, I've been saving my Ativan for a special occasion. They look like a lot of fun and really great and everyone should go. Can someone tell my doctor I need more Ativan? Can someone buy me more Ativan?
Gavin: What advice do you have for people looking to getting into standup comedy?

Amerah:
Write stuff you're confident in and then do it on some scale (there are lots of different mics that vary in terms of audiences and mood) and work on it, and be patient and observant. Also, hang out and be really friendly and not weird and cool. God, can't you be cool like me? Can you get me more Ativan?
Gavin: What can we expect from you over the rest of the year?

Amerah:
I'll probably be in my room, dreaming of the future, buying soda online. Hope to see you there.