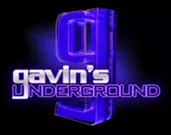 Fall is about to hit, and with it will be the 2015-2016 performing arts season, The usual suspects are preparing for all sorts of awesome fun, but a lot of the smaller and independent companies around the state are gearing up to release their own shows in places you wouldn't likely see them otherwise. Take, for example, Porridge For Goldilocks, an interdisciplinary performance group who mesh together music, dance and other artistic disciplines into fantastic one-off performances. Today, we chat with organization founder Amy Freitas about her career and starting
up
the group, before their latest performance tonight at Sugarmont Plaza. (
All photos courtesy of PFG.
)
Amy Freitas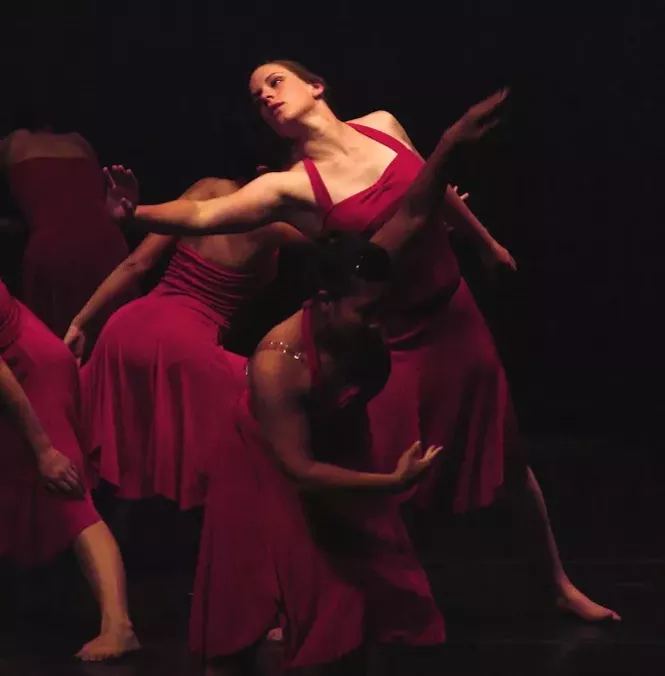 Porridge For Goldilocks
Gavin: Hey Amy, tell us a little bit about yourself.

Amy:
I came to Salt Lake about six years ago from San Jose, where I was born and raised. I love to bicycle, doodle pictures, reorganize things, play on Photoshop, eat food and have conversations.
Gavin: How did you first take an interest in dance?

Amy:
I've loved moving around since I was a tot. Activities of childhood included bicycling, soccer, rollerblading, hula hooping, swimming, jumpin' rope and digging holes. I was also really enthralled with music and the way it made me feel. I had lots of passionate roller blade performances to B*witched and Ace of Base in my backyard. I got to high school and chose dance as my elective with Mrs. Lydia Martinez. She was a huge gift; she encourages all her students to stick with dance forever in whatever capacity suits them, and she is so personally driven that it would be difficult to not be inspired by her. I was in her dance survey class all four years of high school where we studied jazz, modern, hip-hop, ballet, tap, and African in two-week segments. My junior year, I left the nest of public education dance classes and took jazz and modern technique at a local studio. Jazz was with girls half my age and size while modern was with pre-professional ballet dancers. I remember being super uncomfortable, crying, leaving a class or two, loving it, being proud of myself, and realizing nothing else challenged me this much while simultaneously making me ooze joy.
Gavin: Prior to college, what were your major influences and performances you loved?

Amy:
I loved what my peers were doing. In high school I hung out with the breakers and hip hop dancers at school. They would have jams and battles, and I loved witnessing their talent and taking photographs. I loved that they all came together and helped one another get better. True community at work. My friend and I collaborated on this lyrical/ hip-hop piece to "Apologies" by Timbaland. Yay for collaboration! I also watched a lot of ballet videos on YouTube,
So You Think You Can Dance
, and musicals.
Gavin: You earned your BFA from the University Of Utah in Modern Dance. What made you decide on the U and what was your time like there?

Amy:
While I was floating through community college I came to SLC visit my friend from San Jose who was going to the U. She was friends with two gentlemen, Daniel Mont-Eton and Mak McKinlay, who were in the modern department at the time. They danced in public and said a variety of supportive things that sold me on the department. I auditioned the next year and came in as a sophomore transfer student. I had a terrible time initially. The altitude was not sea level, I was seeing this gentleman in San Jose long distance who I missed, and I had never done so much work academically, physically and socially at once. I had a difficult time focusing. We were studying so many aspects of dance that it felt like I was triple majoring. The only class I enjoyed and felt full in was improvisation/workshop. I was walking to my dorm room while on the telephone with this far-away lover and passionately letting thoughts flow, one of them being "wouldn't it be great if there was a performance company where the dance, music and lighting were all improvised? That would be so cool. Everyone would have to be so present and it's so RAAAW." He agreed. College became enjoyable with a goal I felt was attainable. I developed some work ethic and started turning the endless fountain of ideas into actions. Summer before my senior year at the U, I moved in with this rad woman, Lindsey Dolan, who had a traveling couch she called Tapcouch. I took the couch on a trip to Vegas and San Jose, making stops along the way to pull the couch out, turn on some music, and record my improvising self.
Gavin: Rather than be a part of a particular company, you became a freelance performer. What made you decide to go that direction?

Amy:
I fell into freelance performance work naturally. I love change, working with new people on new ideas and setting up my own schedule.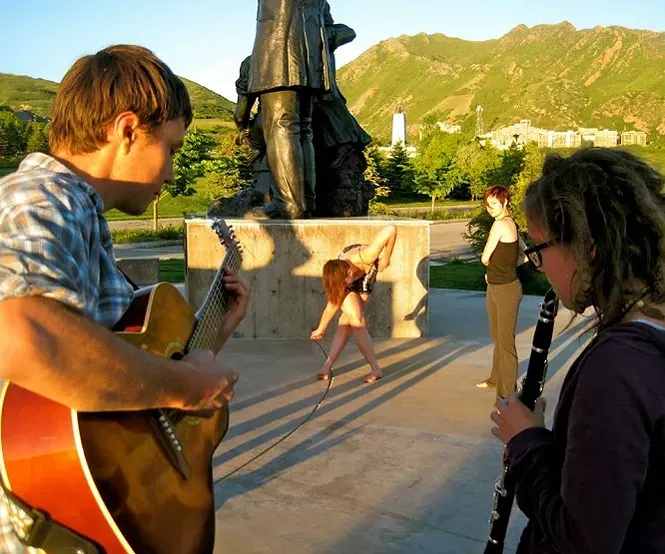 Gavin: Do you feel you learned more being a roaming performer than you would have being at a company, or is there stuff you feel you're missing not being in a solid group all the time?

Amy:
I don't feel like I am missing out on anything besides a paycheck. It's hard to know if I have learned more. I was with Body Logic Dance Company for a season and loved it, but by the end of the season I was ready to explore different ideas with different people. A balance of freedom and structure is important for me. I practice improvisation consistently with a group that will always be fluid as far as attendance but has many familiar faces who are putting in equal effort. It's just the right amount of variety.
Gavin: What made you decide to form Porridge For Goldilocks?

Amy:
The "Porridge pot" was on the stove since that phone conversation. It just needed a name and some more ingredients. As seniors of the U's dance department, we are asked to make a final piece. I took that platform as a way to practice facilitating live, improvisational music and dance in one of the hallways of the dance building. The first person I asked to join the project was Wachira Waigwa-Stone. He was the percussionist for our technique classes at the U, his work is incomparable, he offers this huge world of sound and rhythm for dancers to live in. I then talked to my good friend, Matt Otteson, who played the piano while Keanu Brady, Michael Garber and Breeanne Saxton danced. Katherine Adler was a huge support throughout the whole process, offering her time and wisdom and the lighting of the final piece was improvised by the charming Mckenzie Barkdull. I'm eternally gratefully they all agreed to get the porridge cooking while bringing flavors all their own. To prepare for the show, we got together each Sunday, picked a spot in SLC and jammed. The night after our first jam we went to Park City for Sundance. We got off the bus and walked into the train station on Main Street, our friend John Kovalenko was with us and he played this grand piano that was in the corner while Breeanne, Keanu and Michael danced like angels. They finished, people clapped, and then we went to the bar. My friend Tala Chebib talked to Daniel Radcliffe that night and he said she was beautiful. That night was magical.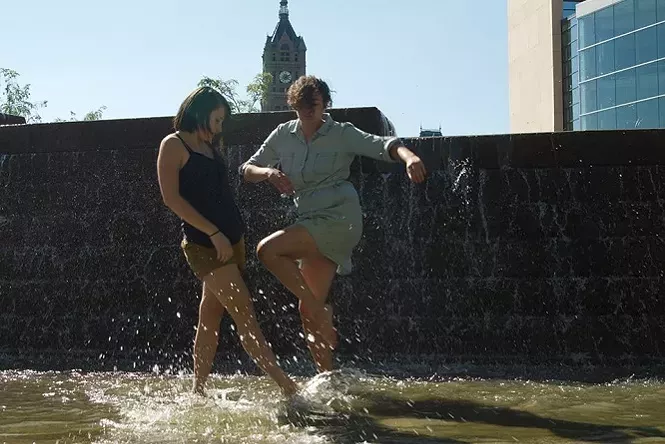 Gavin: The company itself doesn't just incorporate dance, but brings in other performing arts genres together for projects. What made you choose that route rather than focus on a single discipline?

Amy:
A diverse garden grows better! It's necessary to get outside of our boxes and get inspired to practice the art. Porridge hosts weekly jam sessions where people will paint, dance, read poetry, play music, converse, eat, watch, whatever. It is cathartic to be surrounded by different art forms while practicing your chosen form of the day. I feel, live music and dance belong together. They are in this living, healing, magical relationship and they compliment and challenge each other. The musicians are not at the jams to play
for
the dancers, they are playing
with
the dancers. Huge difference. We are all working together to create something, doesn't matter what it is. It's
about
how it feels.
Gavin: How do you go about deciding who you want to work with on any given project?

Amy:
For larger productions, the offer is extended to everyone practicing in the community, and they can decide for themselves if they'd like to take part. Recently, we have been working with two incredible musicians and humans, Davis and Mason Johnson of Creature Double Feature. For those performances, we bring 2-6 dancers to their live music shows at venues like Kilby Court and Mestizo Coffeehouse. Improvisation is a practiced art form, so jamming is always encouraged for anyone wanting to perform.
Gavin: What were some of the first showcases like, and how was it running the group during the first year?

Amy:
They were all experiences with tons of information. This project has always had a life of its own. Too much control from anyone leads to suffocation. I've done it—smothered the Porridge with too much of what
I
want. It doesn't work that way. It leaves a stale taste. With this amount of creative beings being encouraged to speak openly, light curation does the trick. No matter the outcome of a performance, project, or jam, we stay open to growth and keep moving.
Gavin: What advantages do you have working in non-traditional performing spaces that you wouldn't necessarily get from a stage?

Amy:
The group is very adaptable, versatile and brave! These artists are so brave to be vulnerable, and perform right next to audience members. It's like zooming the camera in on everything you thought you could hide. You are RAW! You are exposed. But we are never alone. Someone is always there to let you know they hear you. Whether they're strumming a note, laying down a rhythm, laying down and watching you, drawing your feet, or shaking their hips in a similar motion to yours. We are here to watch, share and listen with one another.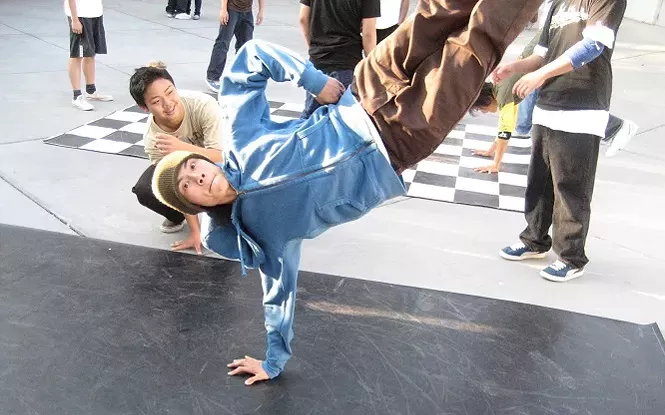 Gavin: How has it been working with events like the Urban Arts Festival and bringing more performing arts to those gatherings?

Amy:
Lots of fun. Our first Jams were at the Urban Arts Gallery and I interned a bit for the Utah Arts Alliance. They are a great organization, very encouraging and helpful.
Gavin: You have a show happening on Sept. 11, tell us what people can expect to see.

Amy:
We have three musical acts playing sets of their own; Baker Street Blues Band, Michele Medina on the Violin, and Creature Double Feature. Everyone who jams with us regularly or expresses a love of the jam has been invited to come dance whenever they would like at the Sugar House Farmers market.
Gavin: What other events are you planning over the next few months?

Amy:
We have jams every Wednesday evening at our studio/my house/"Bear's Den." On Sept. 19, the Speaker's Corner at the Bear's Den. Tanja London, Brooklyn Draper, Monica Remes and Joshua Mora have been facilitating these awesome events where different communities gather and speak about topics relevant to our time and SLC. The first was on the environment, the second on Human Rights, and this one on the 19th will be about how to speak out about things that are important to us as humans and citizens. The last two weekends of October, Porridge For Goldilocks is participating in "The Mists" at Red Butte Garden's "Garden After Dark." It's based off the Mists of Avalon and Porridge will be occupying an area of the Garden and creating a Fae land with drums, magic, guitars, and dancing.
Gavin: For those wishing to get involved, what do they need to do?

Amy:
Like us on Facebook or email me at
porridgeforfreitas@gmail.com
.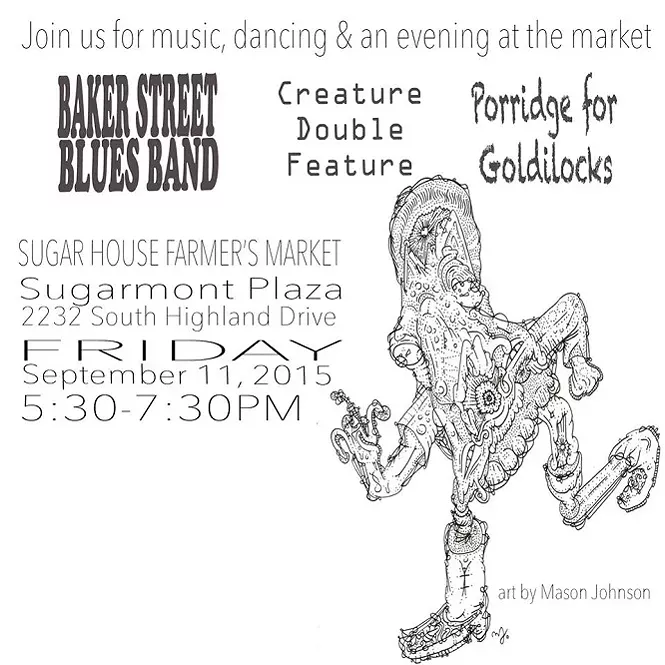 Gavin: What can we expect from you and Porridge For Goldilocks over the rest of 2015?

Amy:
Lots of jamming, continued exploration of improvisational matters, and a wide variety of ever-changing spontaneous endeavors.