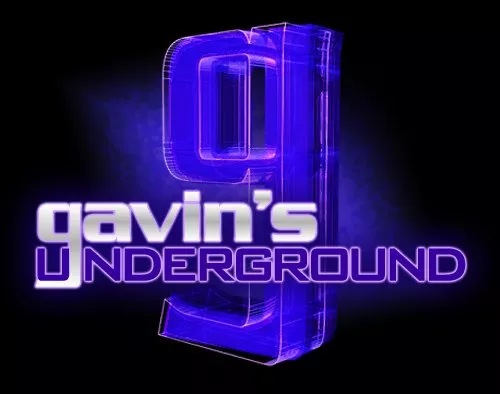 The evening of Sept. 16 saw the launch of
Brine
, a brand new performance created through the Repertory Dance Theatre "LINK Series" that features an all-original showcase from local dancers. Symmer Andrews, Ashley Creek, Sarah Donohue and Sara Pickett have combined their talents to bring a series of works highlighting the talents of themselves and several highly-skilled performers from around the valley across multiple disciplines for an evening of unique works. Today, we chat with three of the four dancers behind the evening to talk about the show, which you can still catch tonight (Sept. 17) at the Rose Wagner. (
All pictures courtesy of Brine.
)
Ashley Creek, Symmer Andrews & Sara Pickett
Brine Arts on Facebook
Gavin: Hey everyone, first thing, tell us a little bit about yourselves.

Ashley:
I never really know what to say to these questions, hahaha. I am a dancer, I am 27 years old, I have a secret love of all things fantasy and science fiction. I am a complete bookworm. I love camping and hiking almost as much as I love to dance. I have two dogs and two cats, I play Dungeons & Dragons, I love musical theater, I wish I was taller. My friends think I was Asian in my previous life. I love playing show and tell. Oh, and my day-job is at a cemetery. Yep.
Symmer:
I am originally from Salt Lake City and have been dancing since I was three. Although dance is my passion, I graduated with a Botany degree from Weber State University, which I think gives me an interesting perspective into both the arts and science.
Sara:
Utah native, I love living in Salt Lake City, great dance community. This is a city so familiar with and knowledgeable about dance, it makes for wonderful audiences. I enjoy the mountains for skiing and the west desert for camping. Received my MFA from the University of Utah, and am currently adjunct faculty at Weber State University.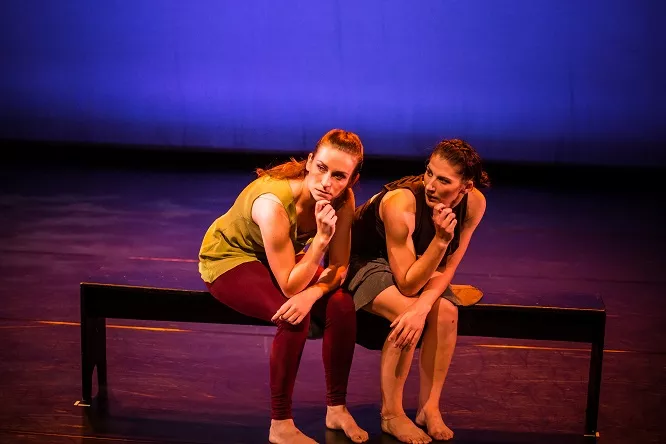 Gavin: How did each of you become involved with dance and learning the art growing up?

Symmer:
As I mentioned before, I have been dancing since I was three, mainly with competition teams but modern avenues as well. I was also involved throughout junior high, high school and most of college. From there I was hooked and haven't stopped since. I only have the desire to find new pathways in which I can pursue my passion, part of the reason for
Brine
.
Sara:
My real first experience dancing was as a breaker/popper. I started dancing professionally at 14 in a teen funk group with Rick Robinson. It was so much fun. I learned that dance has the capacity to entertain and be full of passionate when performing. I think my choreography still holds that kind of underlying sensibility. I have been teaching and choreographing ever since for various things like the Jr. Miss Utah pageant, Lagoon Entertainment division, the Utah Special Olympics, things like that. I like dance that is entertaining and invites the audience in through the sheer joy of dancing.
Ashley:
I started dancing when I was five years old at Miss Margene's Creative Generation dance studio here in Utah. I danced all through school, and was very active in both musical theater and dance. In 2005, I did concurrent enrollment in the University of Utah Modern Dance program. I graduated from the U with a Bachelors of Fine Arts in Modern Dance. I've danced for as long as I can remember.
Gavin: What was it like for you each of you through college and eventually finding your way to your current projects?

Ashley:
College was a very frantic, chaotic, wondrous time with no makeup, schlepping around campus wearing pajamas and living in the dance building from 8 a.m. -10 p.m. most days of the week. Looking back I am extremely grateful to have received such a comprehensive education from one of the best dance programs in the country. During school, I had several opportunities to both perform and choreograph for student concert shows and the senior dance concert. After completing the dance program, I took a few years off from regular dancing. I needed to regain some perspective, and during my break I realized how important dance was to me. I realized that I needed to be moving again, and in September 2014 Symmer and I began talking about and planning on doing a dance concert, which is how I got here to our current project,
Brine
.
Symmer:
Most during college I was involved in the science side of things but always kept a toe in the world of dance. I have always had a passion for both and thus I knew I had to focus my energy on science for a bit. After college, I had the space to start dancing more and ponder the idea of a show, and BAM,
Brine
happened.
Gavin: As you were coming up, what did you think of the SLC dance scene and watching it grow?

Sara:
Because I started dancing outside of the contemporary dance scene, I did not know much about the professional world of dance until I went to University. I felt like there is a connection between hip hop dance and modern dance in the ways that dancers uses self-expression and improvisation or freestyle. The SLC dance scene is phenomenal. There are so many talented dancers and choreographers in this city! It is our hope that
Brine
will be able to provide opportunities for more artists to present work. There are so many creative visions that I think this city should experience. Salt Lake City has been growing and thriving as a place for innovation and creativity. I see new restaurants, gallery spaces, theater and want to be a part of it.
Symmer:
The dance community in SLC has changed so much in the way that it lends more opportunity to other professional beyond the established companies. More and more, you see successful independent projects that give an opportunity to the vast talent of dancers in the Salt Lake area. Thus, seeing this change I wanted to be apart of it and started to figure out how. Before I knew it, we had
Brine
with regular rehearsals and a show ahead.
Ashley:
Growing up here in Salt Lake City, I had the opportunity to attend many performances by Ballet West, Ririe-Woodbury, RDT and Odyssey. I would have to say that as I have gotten older, I have become more and more excited to see the dance scene branch out in Salt Lake. Growing up, it was very traditional. You had classical ballet, jazz, old school modern dance and some more contemporary work, but it was still very much presented in a classic dance scene. Now we have things like Mudson, we just recently had the Fringe Festival. We have Sugar Space, there are several different smaller outlets for artists in Salt Lake to experiment with their work and break away from a traditional dance setting. It is exciting to be a part of the arts as they continue to grow and branch out in our city.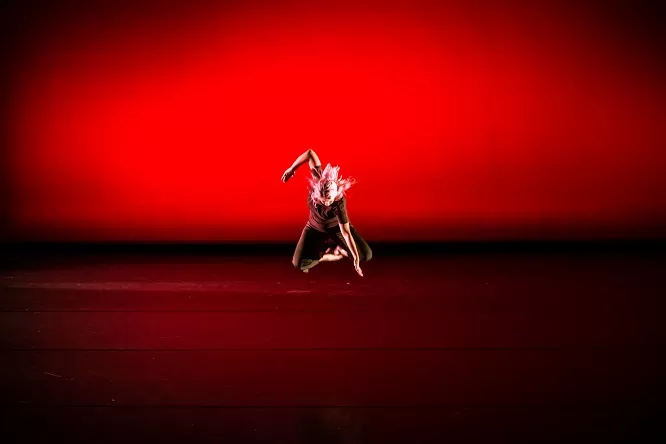 Gavin: When did the three of you first meet each other and become friends?

Ashley:
Symmer and I met in 6th grade when she came up to me and told me that she was sorry that our mutual first boyfriend broke up with me to be with her. We became fast friends after that moment, and have been best friends ever since. I met Sara when she was a graduate student in the dance department at the U of U and I was a freshman. She taught some of my first classes in the college dance world.
Symmer:
Funny, because we all met through separate pathways, but all knew each other. I have known Ashely since I was in elementary school. We not only went to school, but also danced at the same dancing school for a period of time. I met Sara through Weber State, where she was my professor originally but an eventual friend.
Gavin: How did the concept for Brine come about?

Symmer:
Sara was having dance classes over the summer and Ashley and I were interested in having a show. Basically, it took one conversation to realize that we all had a very similar concept for the show. From there we just have kept the punches rolling, and here we are, opening night.
Brine
encompasses the Idea of Salt Lake City in so many ways and the individuality of art. Although this time is mainly a dance show, we would eventually like to have other types of art and artists be involved.
Brine
is about how Salt Lake City gets salty. It's about the hard work that it takes to produce art by giving their heart and sweat to make art happen.
Ashley:
Symmer and I began hatching the plans for a concert in September 2014, and in June of this year those plans began to come to fruition. Symmer attended school at Weber University, and was talking about the possibility of a dance concert and the need for choreographers when Sara expressed interest in participating. From there it just became a whirlwind. We were scoping out performance venues, then locking in contracts. We secured rehearsal space and got dancers from Weber, Salt Lake and Provo involved. We have been going non-stop since July and I still can't quite believe the concert is here. As far as the concept goes I think that for myself in particular I was/am interested in breaking down the elitist feel of dance. I wanted to create an organization that had a stronger sense of community. As an artist, it is extremely difficult to come up with the funds to do your own show in a larger setting so my goal was to work together to be able to present work. I wanted a show that was inexpensive and that had something for everyone. I wanted a shorter show with a lot of variety. I mean, even I as a dancer/performer/choreographer can get bored quite easily when watching dance so I really worked towards changing that feeling especially for audience members that aren't as familiar with dance. In the future, I really hope to see
Brine
grow to include collaborations between many different art forms as I really feel there is a lot of potential in artistic cross-over.
Gavin: What pre-planning did you end up doing prior to making each performance?

Ashley:
There is so much planning involved in a concert. I had forgotten just how much work there was involved behind the scenes before a performance. Here are hopefully most of the steps that we took in order to make
Brine
happen: 1. Solidly commit to doing a show; 2. Find a suitable/affordable performance venue and lock it in a contract; 3. Applied for RDT's LINK program; 4. Secure dancers for your piece; 5. Secure rehearsal space; 6. Find a time that works with all of your dancers for rehearsals; 7. Rehearse (a lot); 8. Decide on a name for the show; 9. Have a logo created and come up with marketing concepts for Facebook, Instagram, etc.; 10. Design posters and programs and have them printed; 11. Hire a lighting designer; 12. Hire a videographer/photographer; 12. Get your music organized; 13. Coordinate technical and dress rehearsals. I mean I could probably keep going, but I think you get the gist.
Symmer:
This is our first performance and so we have learned an enormous amount. Basically, we had to plan for a budget, space to rehearse and to perform, PR, marketing, photography, and videography. There were several emails and meetings. Not to mention countless hours of rehearsal time. Putting on a show is a ton of work and more than I could have expected. However, the whole experience has been lovely and I am excited to see how people react.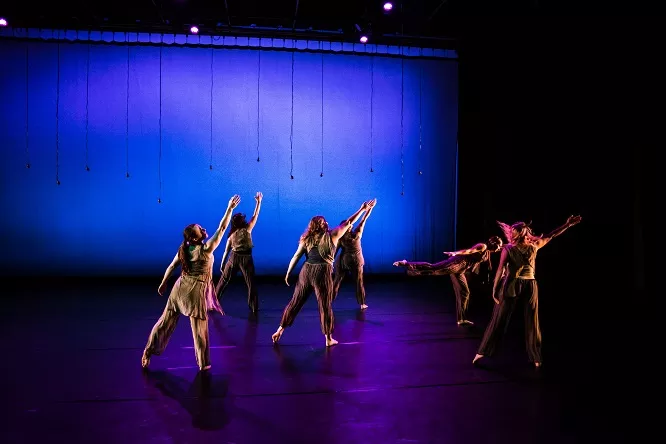 Gavin: What was the process you each took to making your particular piece for this show?

Symmer:
Verve is a piece that originated from a solo I did in college and since expanded it to a group of six with some re-working. I was inspired because of the relevance of the speech, given by Neil Degrasse Tyson, not only to me and my life in the sciences but on a very basic human level. Cognizant Regression is a duet performed by Ashley and I about the deaths of our fathers. However, it is only a glimpse into our experience we felt it valid and something worth expressing.
Ashley:
I first got the idea for my piece when the Transportation Security Administration or TSA made changes to their policy on security checks for flying. It made me angry and sad that our right to privacy we being exchanged for a little security. From there it just snowballed into several events until I felt like I had enough dislike built up to create a piece. I wanted to say something and comment on the changes I saw happening around me that I did not agree with. I created my dance to inspire people to question their own beliefs and what liberties they are willing to give up in exchange for almost nothing. My duet with Symmer was created out of our mutual experience of losing our dads. We wanted our dance to show a very small facet of what we went through. Our duet is meant to be a vulnerable look into grief and how we helped each other through those times.
Gavin: What's your experience been like working together on this particular show?

Ashley:
My experience has been nothing short of phenomenal. The dancers in the show are amazing, working with Sara and Symmer has been so easy. I have cried and been frustrated, stressed, very happy and now I am just pumped to be actually doing a show. Working on this project has made me feel alive in many ways. I am extremely grateful to have this opportunity and I can't wait to see what we continue to do with
Brine
.
Symmer:
Honestly the three of us work extremely well together and plan on doing future work together in the future. Besides minor miscommunications, we really are all on the same page and laid back about a lot of details. Not to say lazy, but open to change and suggestion.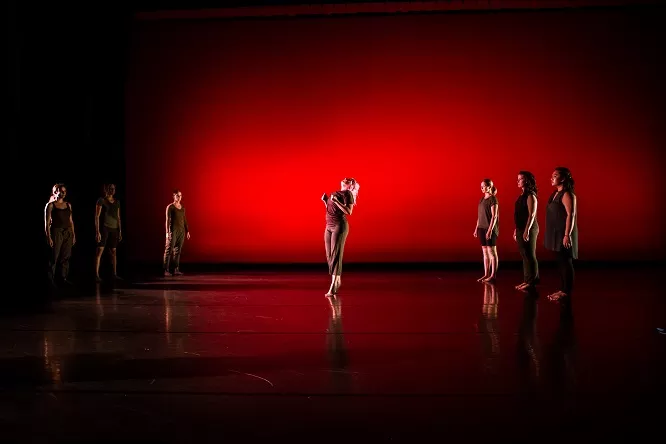 Gavin: What has it been like working with RDT as part of their LINK Series?

Sara:
RDT has been incredibly generous with their support through the LINK Series. We cannot thank Linda Smith and all the staff at the Rose enough.
Symmer:
It has been fabulous, such a great opportunity for us. The fact that RDT provides such an amazing opportunity is really quite unique and I am honestly surprised that more people don't take advantage.
Ashley:
RDT has been absolutely amazing. They have been accommodating with all of our requests, even last minute ones. They have helped us with the performance space. They have been timely in their responses. I hope to work with RDT in the future. Again, I am extremely grateful that they agreed to support our performance and have helped us make this dream a reality.
Gavin: What are your thoughts going into opening night?

Ashley:
My thoughts are ... WTF am I doing? I can't seriously be putting on a show right now. And then the other half of my thoughts are, my stomach is in knots because I can't even contain my excitement. Last night was our dress rehearsal and I went home with the biggest smile because at the end of the day I realized that most of the other things don't even matter. I am putting myself out there and doing work and performing again which is enough for me.
Symmer:
I am very nervous but more excited. We have a great show with lots of variety that will hopefully have a little bit for every audience member to enjoy.
Sara:
Nervous, but mostly honored by the dedicated dancers that have put in the time and effort to make it happen. My cast is full of working adults and mothers that have given of themselves so graciously for this project.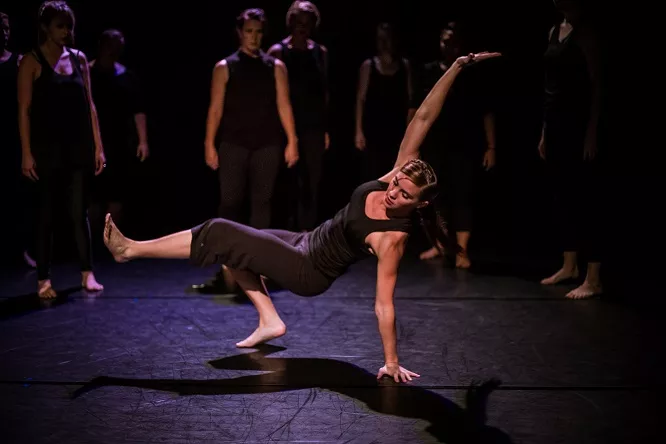 Gavin: What can we expect from all of you over the rest of the year?

Symmer:
We hope to do a bi-annual performance consisting of dance and other types of art forms.
Brine
is about how the entirety of SLC gets salty.
Ashley:
After a resting period from our concert we will be working towards building
Brine
into exactly the vehicle we would like. We will be working on building relationships with other artists. We will be building a website. We will begin planning our next show and seeing what else is out there. At this point, the possibilities are endless, and who knows, we might have something up our sleeves before the year is out.