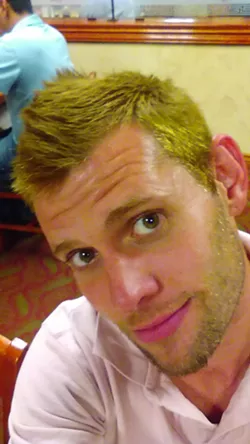 Shawn Reid will be speaking at "Empowering Gingers" on Sept. 26
Shawn Reid kept having nervous breakdowns but refused to believe he was bipolar, clinging to the idea that it was his ADHD that was undermining his existence.
This year, the 29-year-old found a psychiatrist who told him that he believed that—theoretically at least—the same chromosome that is responsible for Reid's auburn hair can also be responsible for him being bipolar.
On Saturday, Sept. 26, at 2 p.m, Reid has scheduled a gathering of "gingers" at Liberty Park on the hillside by the paddle boats.
The event, which is both for people who are bipolar and for those who love them, is called "Empowering Gingers," and the rationale for organizing it is that "everyone deserves love," according to Reid's flier.
Reid says he accepted he was bipolar in March 2015, after "living in misery" for years. He was so tired, he says, of wanting his life to start.
Rather than seeing having a bipolar condition as a disability, he says it's an ability, that there's a reason "we are born with it. We are able to do anything we want."
He's close, he says, to getting his medications adjusted properly so that he can more easily cope with his condition.