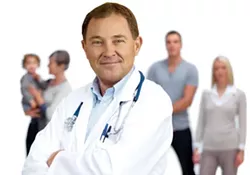 Photo Illustration of Utah Gov. Gary Herbert
Saying that Utah Gov. Gary Herbert's decision to stop funding the state's branch of Planned Parenthood is "unconstitutional," the reproductive health-care organization on Monday announced that it is suing the state.
On Aug. 14, Herbert ordered all state agencies that funnel federal grant money to Planned Parenthood to cease acting as an intermediary. In a news release announcing his decision,
the total amount of money in play is $222,000
in fiscal year 2015.
"While we have always known that playing politics with the lives of Utahns is wrong and short-sighted, we have learned that Governor Herbert's actions are also unconstitutional," said Karrie Galloway, CEO of Utah's Planned Parenthood Association.
Planned Parenthood operates nine clinics across Utah and serves 45,000 patients per year. The organization also provides education programs to an additional 10,000 Utahns.
Herbert's decision to withdraw state support for the organization came on the heels of a nationwide controversy surrounding a video purporting to show national Planned Parenthood employees discuss compensation for the sale of fetal tissue for research.
Planned Parenthood officials say the video was misleading, but it nevertheless sparked widespread outrage from conservative groups, and politicians like Herbert, who in a news release on Aug. 14, called the allegations against Planned Parenthood "deeply troubling."
Noting that it is prohibited to use state and federal funding for abortions, Herbert said, "In light of ongoing concerns about the organization, I have instructed state agencies to cease acting as an intermediary for pass-through federal funds to Planned Parenthood."
Planned Parenthood has hired Peggy Tomsic, of the law firm Magleby & Greenwood, to take the case. Tomsic's recent constitutional law record against the state of Utah falls heavily in her favor. She and her colleagues represented the plaintiffs in the Kitchen v. Herbert case, which claimed that the state's ban on same-sex marriage was unconstitutional. Tomsic beat the state in federal district court and again at the 10th Circuit Court of Appeals—rulings that paved the way for the U.S. Supreme Court's decision to grant marriage equality across the land.
"Governor Herbert is targeting access to critical, lifesaving health care and education for women, men and teens in Utah—including STD tests for rape survivors," said Cecile Richards, president of the Planned Parenthood Federation of America, in a news release. "It's unconscionable—and based on totally false and discredited claims from anti-abortion extremists who are far outside the mainstream. The public and the facts are on our side, and Planned Parenthood will fight this everything we've got."