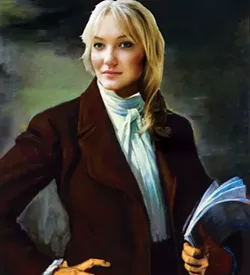 So it's General Conference once again, that time of the year—be it spring or fall—when Temple Square becomes inundated with well-dressed Mormons heading to the Conference Center to hear the good word from their leaders.
That also means Ordain Women will once more take to the streets, and specifically to Temple Square, to demonstrate for gender equality for women and girls.
On Saturday, Oct. 3, at 4 p.m. men and women of Ordain Women will be conducting a unique protest in their continuing bid to see women's ordination in The Church of Jesus Christ of Latter-Day Saints.
OW members will "engage in artistic depictions of moments in Mormon history when women exercised spiritual authority to perform blessings and other priesthood functions," according to a press release.
The depictions will be on view around Temple Square at 4 p.m. with a procession then going onto a devotional at City Creek Park.
This devotional includes the opportunity to interact with an art installation by Ginny Huo, where participants attach a key to a gate, a symbolic reference to sharing the keys to the priesthood as equals with male Mormons.
Ordain Women spokesperson Debra Jenson says, "This is a chance to show people what the rites of priesthood have looked like in the past and to honor the women who bravely accepted the privilege and responsibility of priesthood duty. We hope this will help people envision a future in which the promise of the 9th Article of Faith is fulfilled and revelation expands priesthood to all worthy members."
For more information, go
here
.