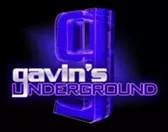 In what will probably be the last warm Gallery Stroll of the year, everyone seemed to be out in force. There were lots of group exhibitions to give people the full experience of a multiple-artist showcase, as well as bonus features along the way for those looking for a little something extra to fill their night. One of the places that went the extra mile was Art Access, who on top of having Kendra Fehr on display in their main gallery, also showcased members of the Utah Opera's In-Residence program performing live on their doorstep. Today, we chat with Fehr about her artwork inside the gallery, along with pictures from the evening in case you missed the exhibit that continues through November.
Kindra Fehr
Gavin: Hey Kindra first off, tell us a little bit about yourself.

Kindra:
I was born in Salt Lake City, spent my elementary years in Arvada, Colorado then returned to Utah. I've lived here ever since, with extended visits to France, Norway, Asia, Prague, Nepal, and the east coast. I earned a BFA in drawing/painting from the University of Utah in 1990, studied at the Lacoste School of the Arts in France, and have exhibited work nationally and internationally. I've worn many different career hats throughout my life. I've worked as a contact lens technician for my father's business, a flight attendant, a bookseller at Golden Braid Books, a waitress, and in the vocation of teaching art to both adults and children. Since 1994, I've taught children at the Visual Art Institute, The Salt Lake Art Center (now known as UMOCA), the Children's Museum, and various schools across the valley. I'm currently the art specialist at Montessori Community School while teaching adult and children classes out of my Sugar House studio. In 2002, I married the love of my life, John Hancock, in Florence, Italy. Then, at what the medical field calls "advanced maternal age" I became a mom and a student of my daughter, Aria. With this newfound calling, I began writing the
Catalyst
column "Babying the Buddha," which ran from 2003-2008. At an even more advanced maternal age, my son, Azur, was born.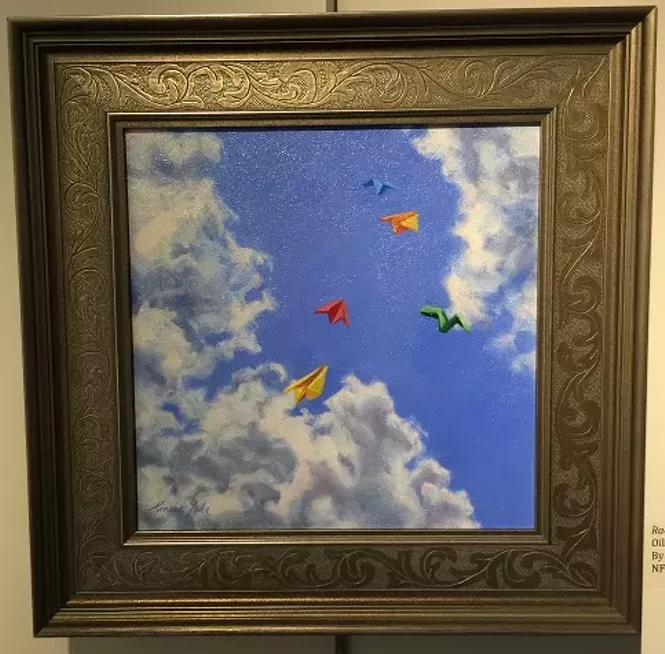 Gavin: How did you first take an interest in art, and what were your major influences?

Kindra:
I've always done art, specifically drawing and painting. From the time I was a little girl, it was the only thing I wanted to do. Growing up, my best friend's mom was Bonnie Posselli, a well-known Utah artist. I began taking lessons from her as a pre-teen. I really loved figure and portraiture and she referred me the late Dan Baxter where I began painting figures from a live model. I spent many years studying under the two of them before going to the University of Utah. So initially, it was Bonnie and Dan who were my biggest influences. I've always loved the work of John Singer Sargent, Marc Chagall, and Wayne Thiebaud. Although I would call them influences, I wouldn't say that I've ever tried to paint like them.
Gavin: What specifically drew you toward painting as your medium?

Kindra:
I prefer painting because of the ability to cover large spaces quickly. I like the texture of it, the fluidity of it. I like color and the ability to vary color. I like working with big brushes and big spaces. Drawing takes so long to shade in areas and the tip of the pencil seems so small in comparison to the size of the paper. Through teaching, I feel very fortunate to get to experiment with many mediums such as sculpture, stained glass, installation, assemblage and ceramics. But my real love is painting.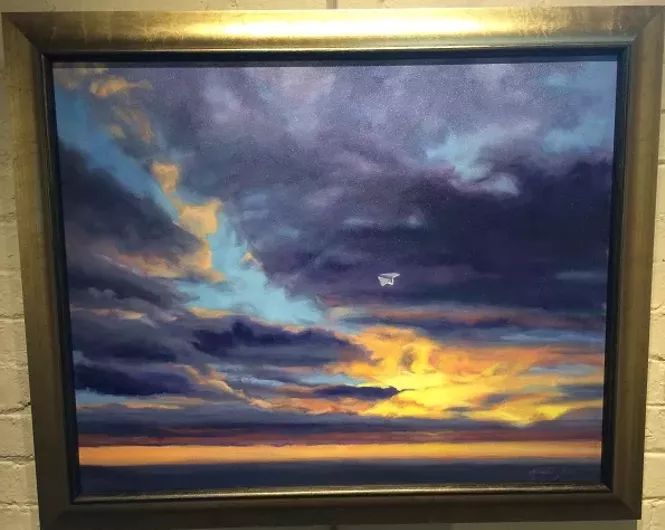 Gavin: What was your time like studying at the University of Utah?

Kindra:
It was the late '80s. I was able to study under many of Utah's great artists; Tony Smith, Doug Snow, Sam Wilson, Paul Davis, George Dibble and Bob Kleinschmidt to name a few. Willamarie Huelskamp and I would go to the printmaking studio at 8 p.m. and work through the night because it was the only time a printing press was guaranteed to be free. We'd work till the sun came up drinking international cafe coffees out of the machine in the hall. I was a member of the Student Advisory Committee (SAC). It was a fun busy time of my life.
Gavin: How did things go for you when you first broke out onto the local art scene?

Kindra:
Once I graduated, I simply began putting pieces in every show, doing the arts festivals, and fumbling my way through. I don't feel like I was ever taught "how to get a gallery and what steps to take to be an artist". They really should offer such a class. I managed to keep myself afloat many years this way supplemented by teaching. When I had my children, I naively thought that I could take the baby to the studio and paint while she slept quietly in the swing next to me. I tried it once, and quickly learned that it doesn't really work that way. I feel like I'm starting over again after taking a sabbatical for the past seven years. I have a renewed drive, and am tackling being an artist in the digital age.
Gavin: Where do you find inspiration for each set of works that you do?

Kindra:
I've always loved figure, and it seems to find its way into the work that I do. I often have a title come to me which creates the inspiration for the painting. There's definitely a gestation period where paintings brew in my head for awhile before coming to life.
Gavin: What's the process like for you when choosing a new subject to create?

Kindra:
There's a lot of thinking about it and visualizing it and sometimes it takes me quite awhile to actually start painting it. I get the concept and then stage models or scenes to photo for reference. There's a lot of putting things together in my head before I paint. Once I start painting it's been so thought out that the actual painting moves pretty quickly. Once I'm on a roll, it seems to keep going. Painting begets more painting.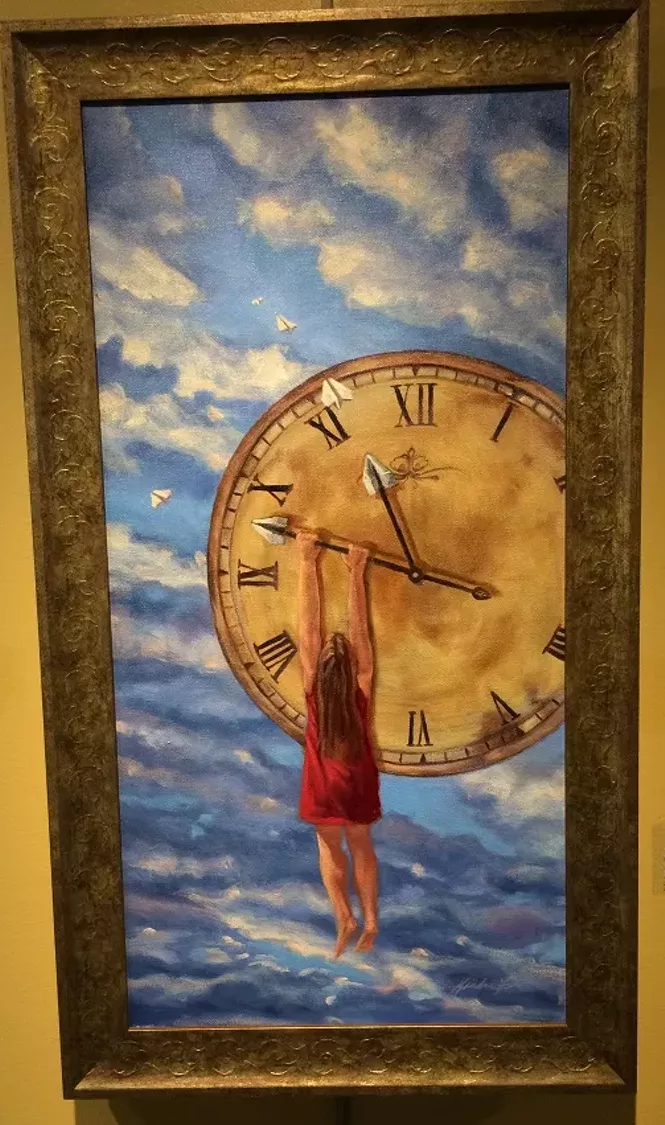 Gavin: Do you stick to the original plan, or do you improvise as you go?

Kindra:
I start with the original plan, but it definitely grows and morphs as I go. And isn't this what the beauty of art (or life for that matter) is?

Gavin: What have been some of your most rewarding exhibits to date?

Kindra:
During college, I had gallery representation in Denmark and had an exhibit in Goteborg, Sweden. The art dealer paid me a stipend to quit other work and paint for the exhibit. Youth is wasted on the young. I had no idea that this was a fortunate and unique opportunity. In retrospect, I'm in awe. So yes, that was one of the most rewarding exhibits. In the U.S., this current exhibit is very rewarding. It is a tribute to my dad, to healing and loss and hope. It's by far the most heartfelt personal work I've ever done.
Gavin: Tell us about what you have on display for this Stroll.

Kindra:
My current exhibit is titled, "Taking Flight." My dad made paper airplanes for us as kids and for his grandkids. The paper airplane theme weaves its way through the artwork. Even the paintings without the plane represent that "what is essential is invisible to the eye" as Antoine Saint-Expurey wrote. It's a body of work based on the iconic experience of hurting and healing, spirituality and hope, grieving and mending and taking flight into the process of it.
Gavin: How has it been working with Art Access and displaying in their gallery?

Kindra:
I love Art Access! I love everyone who works there and what they provide for our community. It's been an honor to work with them in a multifaceted way. I've been a mentor in their Partners Program three times and in each case I feel that I was the one who received the gift of learning. I've taught teen and youth workshops and participated in holiday and 300 Plates shows. This is my first solo show with them, and everyone has been so gracious in supporting the changed concept for the work and for being willing to hang so many paper airplanes from the ceiling!
Gavin: What's your take on the local art scene these days?

Kindra:
I hate to admit it, but the truth is, I haven't kept up as much on the scene as I should these past few years. Now that my children are a little older I'm recommitting to being a part of it, making it out on Gallery Stroll, and exposing myself to new works.

Gavin: Who are some artists you believe people should be checking out (aside yourself)?

Kindra:
There are so many wonderful artists in this state! Those who have been around for awhile and the new and upcoming ones. A brief list of those who come to mind: Bonnie Posselli, Willamarie Huelskamp, Pilar Pobil, Brad Slaugh, Craig Cleveland, Erin Berrett, Steve Sheffield, Nate Florence, Caitlynn Connolly, Trent Call, Lenke Konopasek, Bruce Robertson, Tessa Lindsey, Cordell Taylor, Justin Wheatley, Ruby Chacon, oh and so many more!!!
Gavin: What do you think of the galleries we have in SLC and the work coming out of them?

Kindra:
It has been my experience that Utah has some of the best artists and artwork that I've ever seen (and I travel a lot!) It keeps the bar high to be surrounded by great work.
Gavin: What can we expect from you going into 2016?

Kindra:
I'm recommitted. You can expect to find me entering paintings in shows again and reconnecting with gallery representation. I feel like the artist in me has been reborn and I'm really excited to see where that will take me.