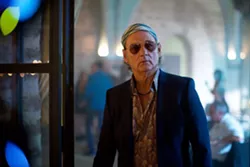 A full slate of new releases includes two unconventional biographies and Halloween season scares.
Rock the Kasbah
(pictured) attempts to make use of Bill Murray's beloved huckster persona, but tangles it in a preposterous story that takes a real-life tale of an Afghan woman risking her life and makes it all about a white American dude's professional pride.
Jafar Panahi's Taxi
finds the Iranian filmmaker again violating his government's ban on his filmmaking, in a story that brilliantly blurs the lines between fiction and documentary.
Eric D. Snider laments the live-action adaptation of the 1980s cartoon
Jem & the Holograms
failing to provide either a vaguely real story
or
silly fun, while celebrating
Experimenter
's third-wall-breaking theatricality in telling the story of pioneering social psychologist Stanley Milgram.
Andrew Wright finds Vin Diesel's impenetrable conviction in his own rad-ness elevating the goofy supernatural thriller
The Last Witch Hunter
.
MaryAnn Johanson watches
Paranormal Activity: The Ghost Dimension
continue the series' diminishing returns to the point where it's now more real-estate porn than horror. And in this week's feature review, she gives
Steve Jobs
high marks for employing an unconventional structure to tell an insightful, entertaining story of a genius-jerk.
Also opening this week as pre-Halloween treats (but not reviewed): Young people depend on their knowledge of vintage horror movies to survive in
The Final Girls
, while a pair of teen boys accidentally summon a demon in
Deathgasm.