There are few foods I enjoy more than oven-roasted chicken. Except, that is, when it's overcooked and dry. This easy method of cooking the bird in the oven in a tightly covered pot is virtually idiot-proof. It's almost impossible to mess this recipe up, and trust me, you'll wind up with some of the juiciest, tenderest chicken you've ever eaten. Try it!
Ingredients:
1 roasting chicken — 3 1/2 to 4 1/2 pounds
1/2 tsp. cracked black pepper
2 tsp. kosher salt
1 1/2 Tbs. olive oil
1 celery stalk, roughly chopped
1 small carrot, roughly chopped
1 small onion, roughly chopped
5-6 garlic cloves, peeled and lightly mashed
a couple of fresh rosemary sprigs
2 bay leafs
Method:


First, remove the giblets (if any) from the chicken. Pat dry with paper towels and tuck the wings under the back. Season the chicken all over with the salt and pepper.
Move an oven rack to its lowest position and heat the oven to 250 degrees F. This temperature might sound low, but the "slow & low" cooking temperature insures that the bird won't dry out.
Heat the olive oil in a large Dutch oven over medium heat just until it begins to smoke. Add the chicken to the pot, breast-side down and scatter the chopped onion, carrot, celery, garlic, bay leaves and rosemary around the chicken.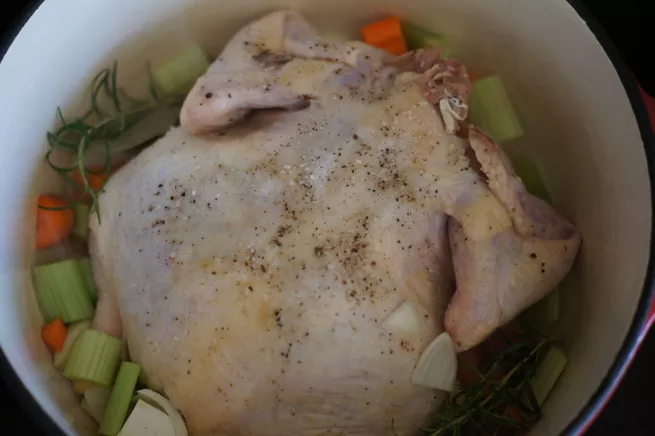 Cook until the breast is lightly browned, about 5-6 minutes. Then, flip the bird onto its back. (I use a wooden spoon inserted into the chicken cavity for this.) Continue cooking the chicken until nicely browned, another 6-8 minutes.
Now, here's an essential step: Remove the pot from the heat. Then, place a large piece of tin foil over the pot.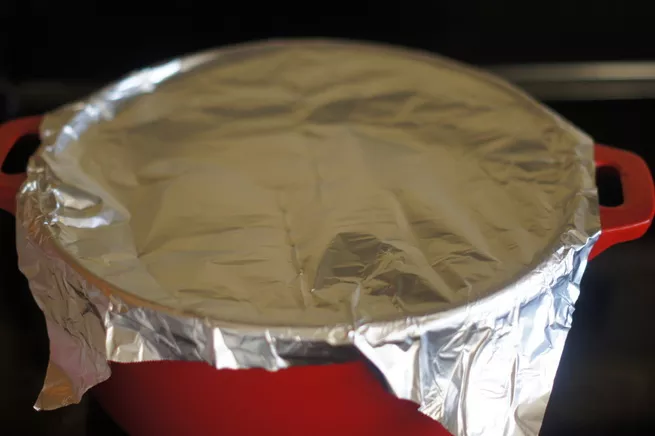 Cover tightly with the lid. This will insure that valuable juices won't escape and the chicken won't dry out.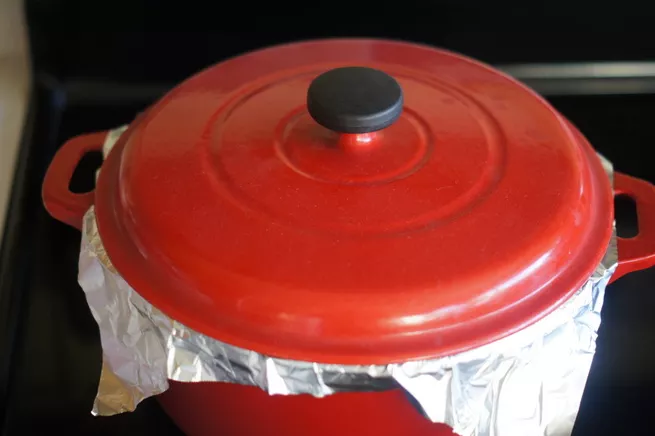 Put the covered pot in the oven and cook until done — time dependent on the size of the chicken. You'll want the thickest part of the breast to read about 160 degrees F. and the thigh to reach 175 F. It will take anywhere from about an hour for a small (3 1/2 lb.) chicken to as much as 90 minutes for a larger bird.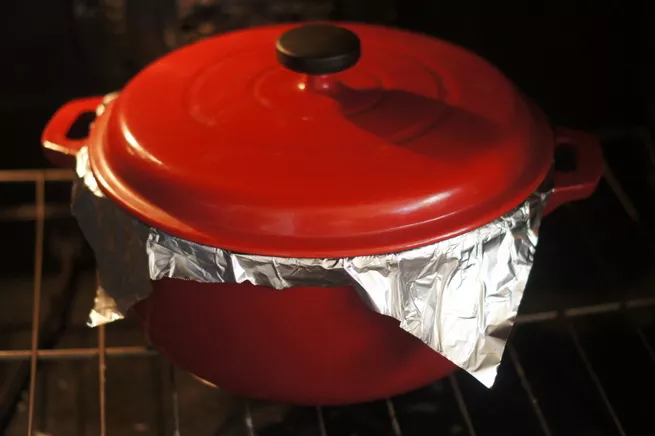 When the chicken is done cooking, transfer it to a cutting board and cover loosely with foil. Let the chicken rest for at least 10, and up to, 20 minutes.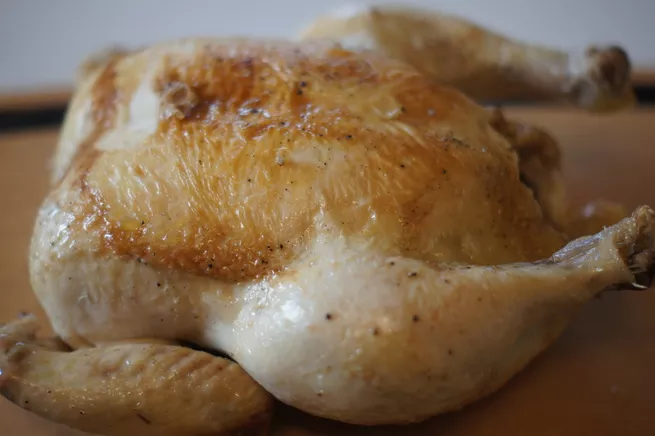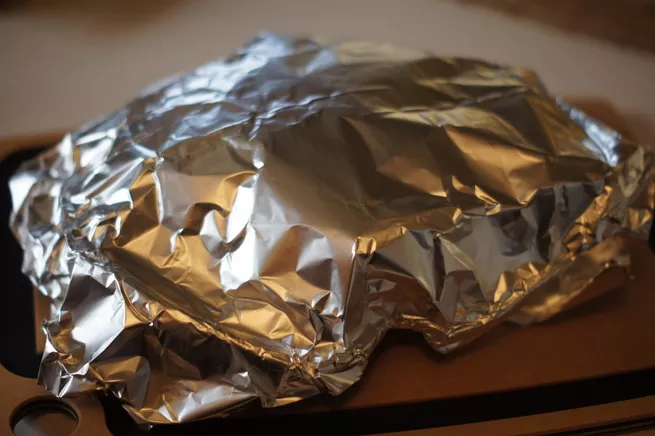 While the chicken is resting, you can make a simple natural
jus
. Just strain the juices from the Dutch oven into a fat separator, discarding the solids. Let the juice settle for 5-10 minutes to allow the fat to separate.
Then, pour the juice into a small saucepan, leaving the fat behind in the separator. Heat the natural jus on the stove over medium-low heat.
Carve the chicken and serve with the natural
jus
.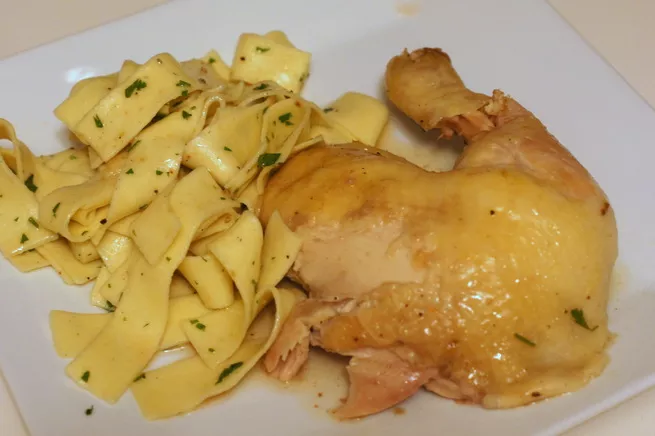 Photos by Ted Scheffler