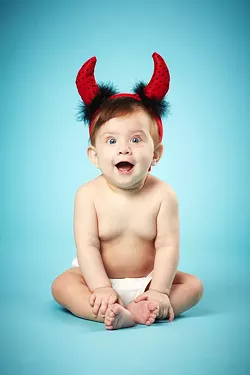 If you are LDS and have young children, just how do you negotiate the news last week that your church has decided to ban children of same-sex couples from being baptized or blessed?
I've been following for some time one formerly devout Mormon's struggles with his church's doctrine in the wake of one of his sibling's been outed as gay to his family. Chris requested anonymity to discuss his criticism of the new position in the LDS Church
Handbook
, as other members of his family remain deeply committed.
While this is but one man's take on the situation, his fundamental concern is one that has been repeated much in online forums and in news stories. Namely that the new policy is forcing liberal Mormons, whether gay or straight, to recognize that an 8-year-old child does not have "capacity to exercise their agency," he says, over whether they should be baptized or not. If the church's new policy is meant to protect children of gay couples from such confusion, then it must also apply to the children of heterosexual church members whose parents teach the same values that are taught in a gay household. The end result, Chris predicts, will be a decline in membership.
When Chris' parents learned a year ago that their daughter was gay, having been told by another ward member that she was seen holding hands with a woman, they turned their back on their child. Since then, she and her partner have not been invited to attend family gatherings. This has led to a deep schism in the family; not only did Chris and his wife stop attending services at the ward, they also began to question whether they want to baptize their young children into the LDS faith—or if they could without being hypocrites, .
Last week's leaking on social media about a new policy regarding the children of gay couples was the last straw, Chris says. "For many Mormons who consider themselves progressive, who want to reconcile with all of these different communities, that [announcement] was a major blow," he says. "They're pitting families against families. These kids can't be baptized unless they condemn their parents. For those of us who continue to try to reconcile [our faith with our values], keep one foot in, one foot out, we have to think that this is pushing people out."
His sister was distraught by the news and Chris pleaded with her via text messages to not take her name off the church records. Yet to some degree he sympathizes with that very desire, even as its tearing apart his family.
Chris' greatest struggle, he says, is believing he is complicit in what he views as a deeply harmful policy if he continues to support his church. "I think a lot of members are being driven out emotionally, mentally and spiritually because these policies are so incompatible with modern standards of morality and ethics."
The night the news broke about the new policy, Chris came home to find his wife in tears. "She was always adamant that we should baptize our children in the church, and hope and pray it gets better by the time they are adults."
But that night, Chris says, they decided that 18 years old was the appropriate age for their children to decide whether they themselves wished to be baptized or not in to the LDS faith. That decision, he predicts, is one that many Mormons will take. "By conceding to the brethren's argument that 8 years old is too young to make this moral calculation [of the morality or immorality of homosexuality], I think you're going to push people to not baptize their kids until 18." That is the sad part of this, he adds. "I think you're going to have a membership crisis."
He worries that their decision will impact his and his wife's relationship with their parents, since his father already baptized his eldest in to the LDS faith, in part because of Chris' struggles over the way his sister was being treated by their church and their family. But now, he says, he and his wife cannot allow either of their fathers to baptize the remaining three boys into the faith, at least not until they are 18.
Chris' parents, meanwhile, he says, are not budging on this issue. "They believe it's our false understanding of marriage that is the problem."
But Chris and his wife remain equally determined. No parent, he says, wants to teach their children one thing at home, only for their church to teach another. "For those of us who teach marital equality in our homes, this is simply a deal breaker."