Whatever you do, if you're planning to see
Love the Coopers
this weekend at the movies, don't accidentally go to a showing of
Love
. Or vice-versa, for that matter.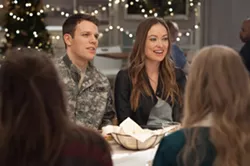 The ensemble comedy-drama
Love the Coopers
tries to pull a dysfunctional family together for Christmas Eve, but proves insufferable except for the charming segment featuring Jake Lacy and Olivia Wilde (pictured). Gaspar Noé's
Love
, on the other hand, is a sexually-explicit attempt to portray a tumultuous relationship, but it's far better at exposing genitals than at exposing hearts. Far more wholesome, corny and surprisingly lump-in-the-throat effective is
My All American
, a true-story underdog sports drama from the writer behind vintage underdog sports dramas like
Hoosiers
and
Rudy
.
In this week's feature review,
The 33
takes the potentially inspirational true story of trapped Chilean miners and blunders through a trite, sloppily structured and poorly acted mess.