If you still have some turkey from Thanksgiving and you're tired of sandwiches, here's an easy way to make use of those leftovers—a recipe that even the little ones love: Turkey Tetrazzini. In fact, you can even get the kids involved in assembling the tetrazzini.
Ingredients:
12 oz. spaghetti or other pasta
5 Tbs. unsalted butter, plus a little more for the casserole pan
10 oz. white mushrooms
1/4 cup flour
1 14-oz can chicken broth (or homemade)
1/3 cup dry white wine
1 3/4 cups milk
1/2 cup peas, fresh or frozen
3 cups cooked turkey meat, diced
1/3 cup fresh bread crumbs
2/3 cup grated Parmigiano-Reggiano, divided in half
Salt and pepper to taste
Method:
Preheat the oven to 375 degrees F.
In a small bowl, mix together 1/3 cup Parmigiano-Reggiano with the bread crumbs and set aside to use later.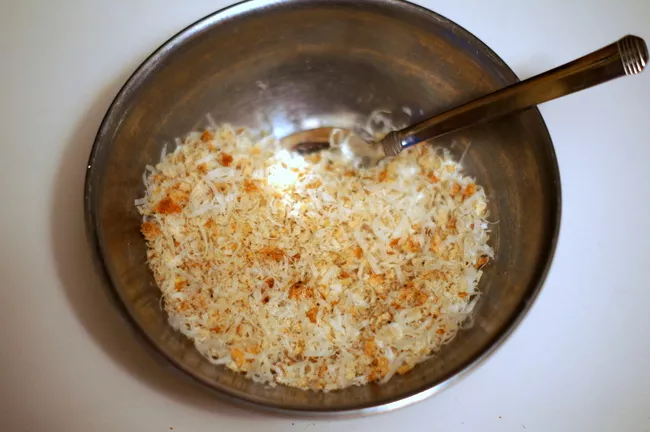 Bring a large pot of salted water to the boil and cook the pasta just to al dente, according to package directions. Drain the pasta and set aside.
While the pasta is cooking, thinly slice the mushrooms.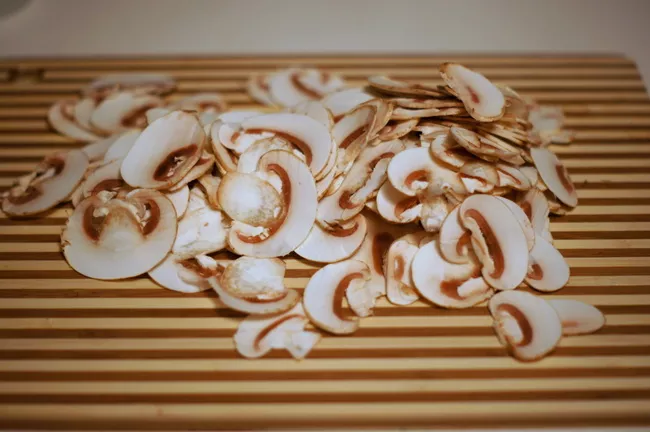 Over medium heat, melt 4 Tbs. of the butter in a large skillet or saucepan. Add the mushrooms and cook, stirring frequently, until they've given off most of their liquid—about 5 minutes. The mushrooms will reduce considerably in size.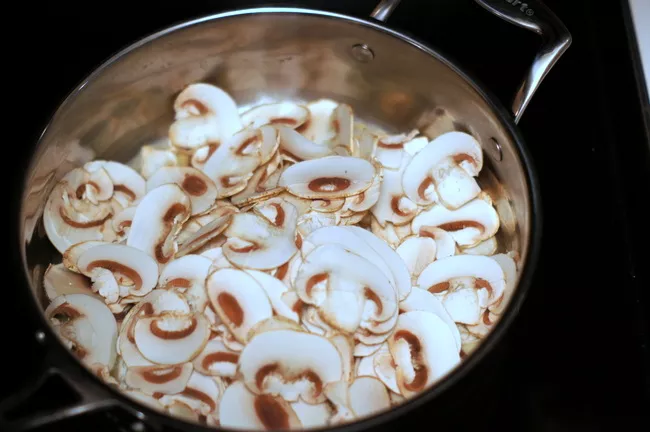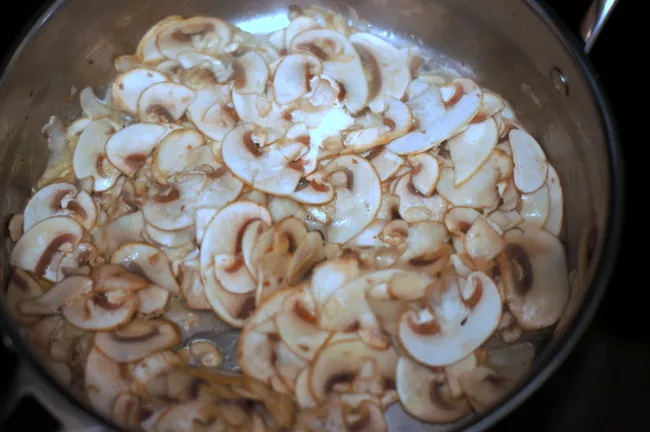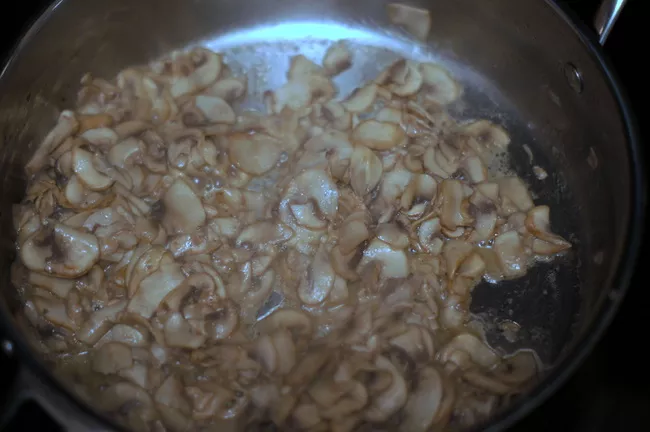 Reduce the heat to low and add the flour to the mushrooms. Stir, scraping the bottom of the pan, about 3 minutes.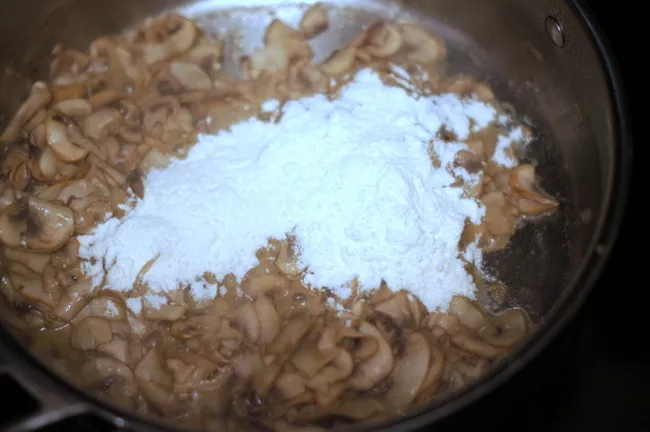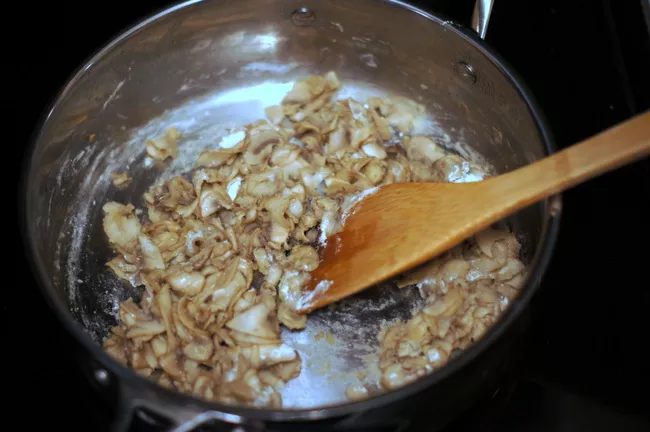 Add the chicken broth, wine, and milk to the mushroom mixture. Bring to a boil, stirring, and simmer the sauce for about 5 minutes, until it thickens a little.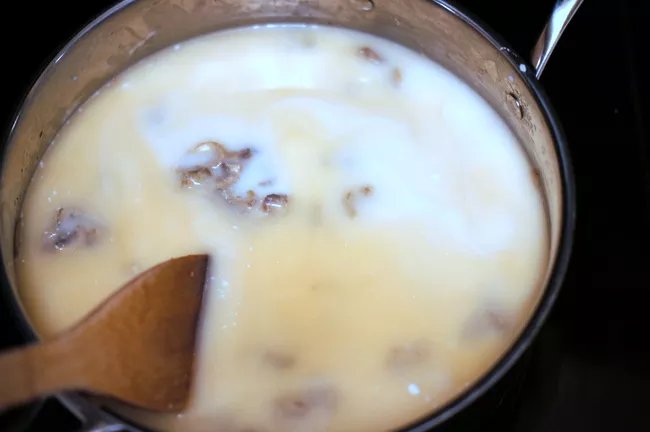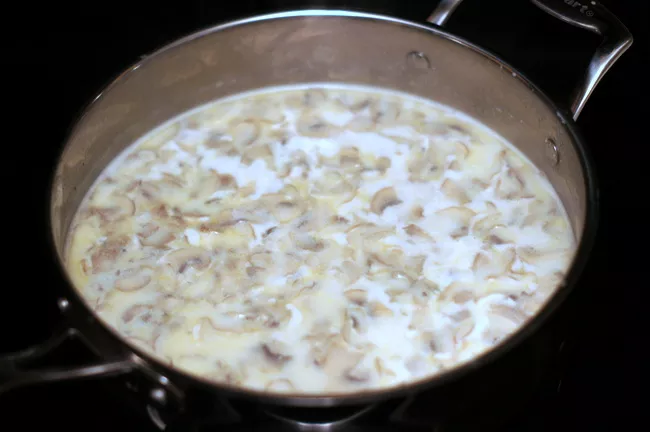 Here's where you can get the kids involved in the kitchen. In a large bowl, combine the cooked spaghetti, the turkey, the mushroom sauce, the peas, and 1/3 cup Parmigiano-Reggiano. Stir to mix well. The kids can help out with the stirring and mixing. Season with salt and pepper, to taste. I like LOTS of black pepper in my tetrazzini.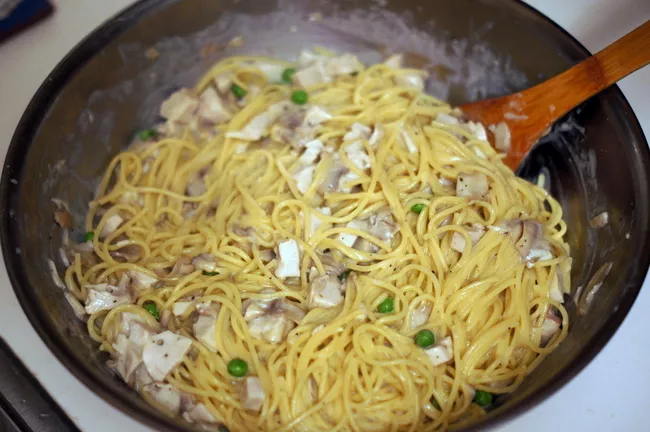 Transfer the mixture to a buttered 3-qt. casserole.
Sprinkle the Parmigiano-bread crumb mixture over the top of the tetrazzini and dot with 1 Tbs. butter, cut into little pieces.
Cook in the preheated oven for about 40 minutes, or until the tetrazzini is bubbly and the top is golden and crunchy.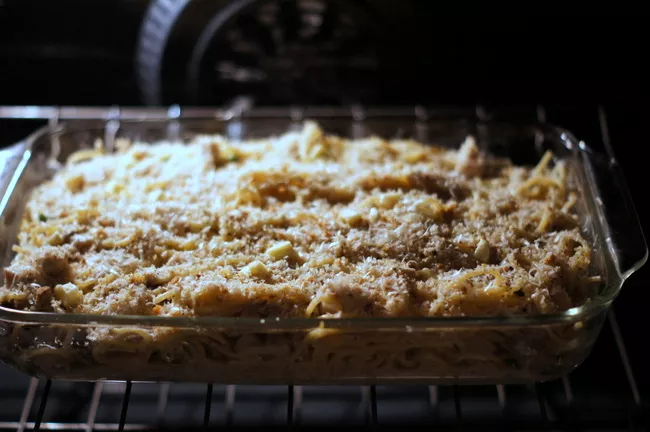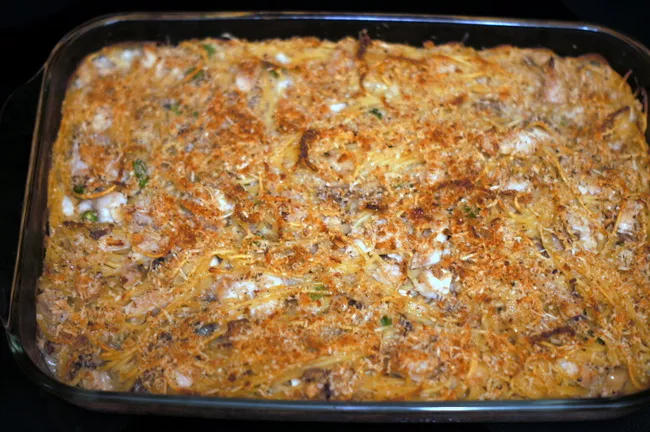 Serve with a nice green salad or some cooked veggies.
Photos by Ted Scheffler