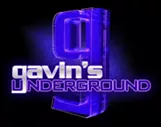 When I'm out browsing the city or going off to Gallery Stroll, there's often artwork I see on the walls of galleries I don't get a chance to talk about. It's primarily material I'll see in group exhibitions, where said artist has added one or two works from their collection to be displayed, helping add to the ambiance of the evening. But that's usually all you see, and it's hard to focus on a couple of works in a gallery with dozens of artists. So when something catches my eye, I do my best to circle back around and highlight that artist down the road. One such artist is Dania Darling, whose paintings can currently be found in Mod A
Go Go
as part of their collection. Today we chat with Darling about her style and the career she's had so far. (
All pictures courtesy of Darling.
)
Dania Darling
DaniaDarlingArt.com
Gavin: Hey Dania, first off, tell us a little bit about yourself.

Dania:
I was born and raised in Utah, and have not traveled very much outside of Utah. I have four boys in my life that keep me busy and amused; my man-boy who is my husband, my two kid boys, and my baby boy. You can describe me best as an introvert with shy tendencies, although I hide it well. I enjoy cooking, time outdoors, animals, entomology, listening to music and studying people, although I am easily annoyed by humans. I enjoy looking at anything that is visually stimulating that does not include words, as they are not my strength, which you may or may not have detected by now.
Gavin: What first got you interested in art, and what were the biggest influences on you?

Dania:
From a very early age I had an interest in art, and in my earlier years of schooling, my teachers spoke of how it was my strongest subject. I do not recall doing many art projects other than in school, so you could say my teachers throughout schooling were one of my biggest influences.
Gavin: What drew you more toward painting as your primary genre, and why oils and acrylics?

Dania:
Painting with oils came as an experiment in my senior year of high school. I didn't know the first thing when it came to oil painting. My teacher at the time was Mrs. Hess, who I am so grateful for. She was a guide, and had she not suggested this experiment to me, I may not have ever tried oil painting. She set me up in a storage-type area and told me what steps to follow to create the painting. I painted my first painting which is titled "The Gift." Discovering oil painting was like finding a missing part of my soul. I started working with acrylics later in life, basically in the last couple years. I wanted to expand my abilities, and felt it was important to know how to use acrylic paint. I enjoy working with oils more than acrylics, and felt the oils came to me easier than the acrylic. I work on an ongoing series in acrylic—called "working on my weakness," which are moths and butterflies—to strengthen this challenge.
Gavin: Rather than seeking out college, you are primarily self-taught. What motivated you to start teaching yourself?

Dania:
I wanted to go to college; however, economically it was not an option for me, and life seemed to be more about survival than being able to enjoy a college education. After high school, I did not paint again until after the birth of my first son [when I was] 25. I painted a portrait-style painting of a woman who is the color of turquoise. It is titled "The Hermit." I realized there was so much more to the properties of oil paint, and decided to start an abstract project that would both teach me to mix color and better understand the behavior of paint as it is applied. The painting is basically a large pallet. I began with white in the center and transitioned the colors to the edge of the painting ending in cadmium red.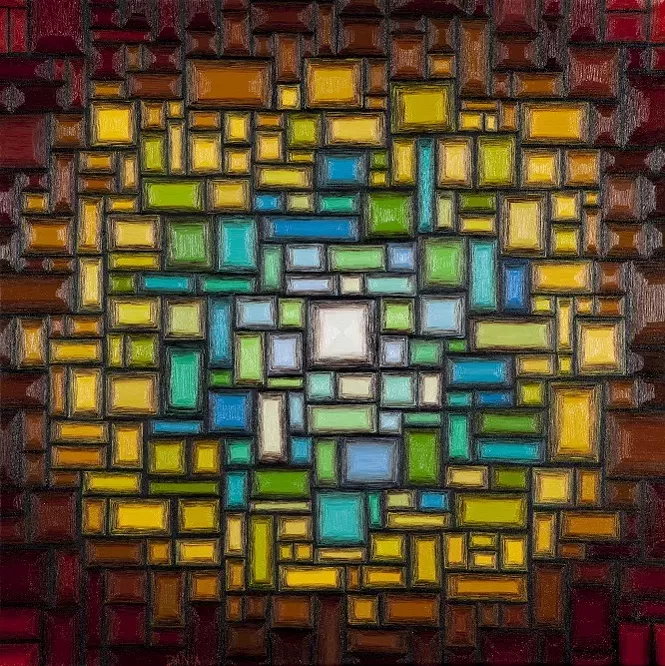 Gavin: What would you say was the hardest hurdle for you to overcome as you were learning?

Dania:
Learning how to work with layers was tricky. I would study the works of master artists like Dali, Bruegel, and Bosch to gain a better understanding of the technique. For many of my early works, I realized throughout the process the steps that would have worked better, and would apply that to the next project. Another hurdle was, and still is, finding time to work on the art itself. Juggling family, work, life's dramas, and art is not an easy thing.
Gavin: How did you end up developing an interest in animals and other creatures as a muse for your work?

Dania:
I find animals fascinating, and have found I am usually pleased with the finished outcome even after feeling intimidated to paint a new creature. Nature is a strong influence for my work, and in my opinion animals are a perfect muse to work with. Although time-consuming and meticulous, I enjoy creating fur, scales, and feathers.
Gavin: You also have a strong body of work with patterns. What drew you toward that kind of work?

Dania:
I have always been drawn to patterns and am compelled to include patterns in many of my paintings. Some of the paintings have turned into daunting projects that never seemed to end. I am not certain why, but I find it enjoyable to create paintings with the repetitive movements that produce a pattern even on a large scale level. Patterns draw the eye and with nature being an influence to my art I have a tendency to favor patterns for backgrounds.
Gavin: What's your process like when creating a new piece, from the first idea to final painting?

Dania:
Usually I will begin with repeated visualizations and will research the subject. The beginning part of the project can vary depending on if I have stretched the canvas or have purchased the canvas or wood panel ready to paint. Once I am working on a surface that is ready to paint, I will begin with an initial layer to establish a background color to work with. I will then draw usually in light chalk a basic sketch of the painting. Depending on the painting, the next layer may be the background only or with some I will start the layer with a background and a subject. I usually paint the first layer of the subject in a gray tone aka "dead layer." I will then build up layers and end the painting in detail work.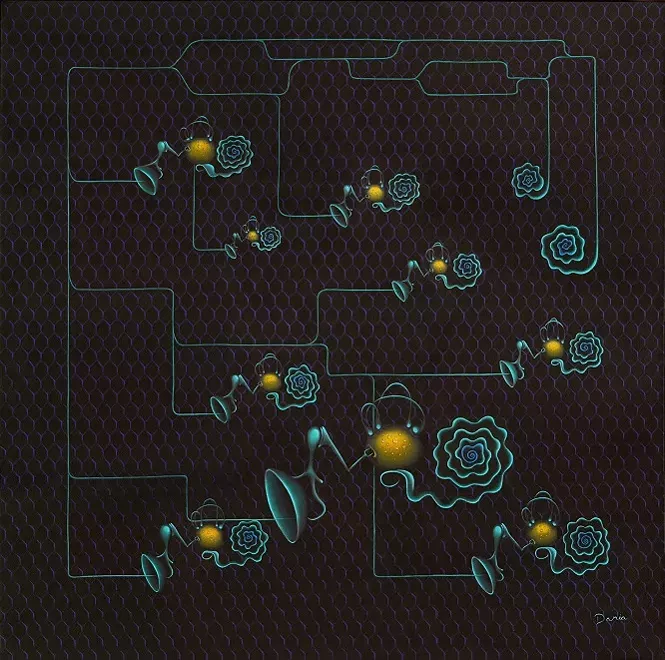 Gavin: Do you find yourself changing things as you go, or do you stick with something once you're set on it?

Dania:
Usually I have a specific idea in mind. However, at times as I proceed with the project, each session may turn out differently than what I had anticipated. Because oil painting requires dry time between each layer, I will at times think of new ideas for the detail work that will enhance the painting. Other times I simplify the painting and decide not to use all of the ideas I had originally planned. I have had projects that do not feel pleasing to me as I work, and will sometimes add colors that I had not anticipated using, which at the time feels risky, but I have found most of the time when I do this it is what "makes" the painting.
Gavin: What was it like for you breaking into the local art scene and taking part in exhibitions?

Dania:
I have met and worked with so many great people here locally. I have had my share of ups and downs in the local scene but, for the most part, I have had some positive experiences.
Gavin: So far your work has primarily been a part of group shows. How is it for you being a part of those, and are there any plans to do a solo show?

Dania:
It has been an honor to be included in shows with so many fantastic and talented artists here in the valley. The group shows are fun and draw large crowds of so many interesting people. I can see a solo show in my future, and look forward to opportunities that knock on my door.
Gavin: What's your take on the local art scene and the work coming out of it?

Dania:
I feel like the Utah art scene is very active; people seem to enjoy viewing art and partaking in the scene. Utah has some amazingly talented artists as well as a vast variety of different types of art. I do not feel I have seen as much art out of the local scene as I probably should, being that I am very much a homebody. From what I hear from other artists, collectors and what I have experienced for myself, the local art scene can be difficult economically compared to other demographics.
Gavin: Who are some local artists you enjoy and believe people should be checking out?

Dania:
There is a bundle that I admire, here is a random list in no particular order; Sri Whipple, Daniel Overstreet, Trevin Prince, Marcus Gibby, Holly Cobb, Adrian Prazen (House of Tenebris), Gabriel Garcia, Max Dyan, Heather Ackley, Darrell Driver, Jared Knight, Chris Madsen and more…
Gavin: Where can people currently find your work and purchase both originals and prints?

Dania:
My art can be viewed at
my website
, I have both originals and prints available at
Mod A Go Go
. I do commission work; people can contact me by email at
morleydania@gmail.com
.
Gavin: What can we expect from you going into 2016?

Dania:
Ideas in the pipeline: anatomy, bones, figures, creatures,
bumbles
, patterns, and scenes from dreams.