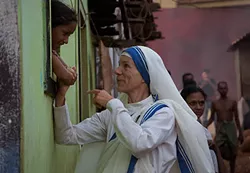 After the busy Thanksgiving weekend, things cool down in theaters with a bunch of limited release offerings.
The Letters
(pictured) begins with a compelling premise—about correspondence revealing a profound crisis of faith for Mother Teresa of Calcutta—but turns into a plodding hagiography of the devoted nun.
Christmas Eve
throws together several stories of people trapped in elevators on Christmas Eve, with no apparent plan besides one-note character transformations. The documentary
Peggy Guggenheim: Art Addict
profiles the socialite art patron with plenty of juicy details about the famous notches on her bedpost, but not as much concern about who she was as what she did (or
whom
she did).
In this week's feature review, Spike Lee takes Aristophanes'
Lysistrata
and hammers out a powerful, justifiably un-subtle satire in
Chi-Raq
.
Also opening this week, but not screened for press: A family gathering is wrecked by the summoning of a Christmas demon in the horror-comedy
Krampus
, and director Jared Hess (
Napoleon Dynamite
) tells the story of a celebrity archaeologist trying to fake a huge discovery in
Don Verdean
.