We've seen a lot of new podcasts over the past year or so. Many of them are just barely finding their footing, others have been dropping off, as you usually expect to see with shows that are unsure of where they're going. Ultimately, it means we're seeing a lot of new audio content emerging throughout the state, which can only be a good thing for those seeking more localized voices to tune into. Today we're going to be exploring
The Happy Valley Podcast
, a show setup between three comedians who utilize Skype to record their shows and talk about whatever may be on their minds that week. We speak with all three members of the show about their careers and forming the podcast, as well as where they're going with the show. (
All pictures courtesy of The Happy Valley Podcast.
)
Bryan Mortensen, Jordan Makin & Alex Velluto
The Happy Valley Podcast on Facebook
Gavin: Hey everyone, first off, tell us a little bit about yourselves.

Jordan:
Born and raised in Pleasant Grove, I got married this past September to my wonderful wife, Bridget. My parents love and support me too much. I've had a hard life.
Bryan:
I grew up in Bountiful and I went to BYU, where I studied advertising. Me and my wife, Sarah, moved to Richmond, Virginia so I could attend the VCU Brandcenter, where I currently am about to finish a two year master's program in experience design. I am the least funny person on the podcast.
Alex:
I'm a carbon based life form and I'm told I'm comprised of about 70% water. The other 30% likes to do stand-up comedy. I've done a
City Weekly
interview before, this is the same answer I gave then and I'm sticking with it.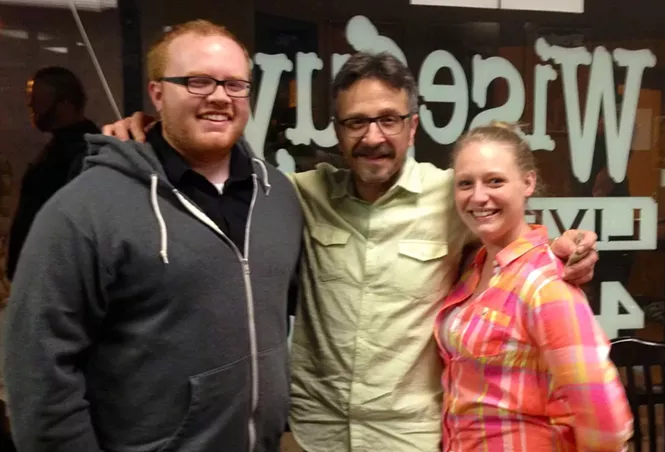 Gavin: When did each of you first start listening to podcasts, and what are some of your current favorites?

Jordan:
I first got into podcasts a few years ago after I heard there was a really good interview with Louis CK on this podcast called
WTF with Marc Maron
. I sought it out, and now listen to
WTF
religiously. I feel that I am a close personal friend to Marc. (I'm not. I met him once. His voice is just in my head always; not in a schizophrenic way, just in my headphones.) I also listen to
The Indoor Kids
,
The X-Files Files
,
The Canon
, and
Serial
made me feel really weird for a long time—in a good way.
Bryan:
I got into podcasts in 2011, mostly listening to the Apple Indie Podcast scene, like
The Talk Show
and
Hypercritical
. My current favorites are
The Accidental Tech Podcast
and
The Incomparable
.
Alex:
The first podcast I listened to were actually economics podcasts. Then eventually I lost interest in economics and got more interested in comedy and would listen to interviews of comedians that I liked. I started listening to
WTF
,
You Made It Weird
,
The Monday Morning Podcast
,
Come to Papa
,
The Nerdist
, and
The Todd Barry Podcast
. I opened for Todd Barry and tried to talk to him for a little bit. I found it's hard talking to people when you've been stalking them on their podcast. I felt creepy.
Gavin: What do each of you do in your regular jobs beyond the show?

Jordan:
Right now I teach public speaking at Utah Valley University and also work at a hotel once a week. The only thing more fulfilling than molding the minds of our future is checking people into their hotel rooms.
Bryan:
Being in grad school means I don't really have time for a job, but before I started my program I taught classes at the Apple Store and worked at an ad agency in Utah.
Alex:
I make Excel spreadsheets for a startup in Draper. That's about as much as I can say about my job before people get bored of me talking about Excel.
Gavin: A couple of you are involved with the standup comedy circuit. How have things been going for you lately?

Jordan:
I am always just a little less successful than Alex, but things are going well. I headlined my first show back in August (hopefully not my last). Alex and I tried to do a duo act once, and it was probably the last time we will do that.
Bryan:
I'm not a comedian, but I love talking with my co-hosts about their material. I've always tried to set up Jordan to be funny on the podcast, which was the original schtick (Jordan making fun of me). When Alex joined the show, the two of them took the comedy aspect of the show to another level. The comedy angle overlaps with a lot of the way we approach our "Utah Valley" topics.
Alex:
I try and stay at least just a little more successful than Jordan. This year has been great. I've been able to open for some of my stand up heroes like Dwayne Perkins, Dan Cummins, Ryan Hamilton and Todd Barry. But most of all, my main dream of hosting a Wiseguys open mic with Jordan came true. Like Jordan said, our burgeoning duo act needs some polishing. However, Jordan created another duo act with Tanner Nicholson called "Pale and Tan" they've only performed once. But that performance has become local legend. So I think Jordan will probably leave our duo act for bigger and Tanner things.
Gavin: When did the three of you meet each other and become friends?

Jordan:
I met Bryan during our LDS mission in Texas in 2008. We were companions for quite a while—around six months, we survived together. When you're forced to sleep in the same room as someone for that long, you either become the best of friends or the worst of enemies. I met Alex while doing stand up comedy. Alex had already had some success, so I was generally too scared to talk to him. But one night, he came and sat next to me! We've been friends since. I think he had recently broken up with his girlfriend and was feeling lonely that night.
Bryan:
Jordan's humor was a way for a lot of the missionaries to blow off steam and get through the week. The podcast started as a way to share some of those stories and Jordan's humor will others. He's always been good at making people laugh. I think Alex gets how powerful a podcast can be as a way to communicate his humor to the community as well, and he joined the show when he and Jordan got close on the comedy scene.
Alex:
I'll corroborate the story Jordan told, it is all true. I met Bryan through the podcast. Jordan and Bryan are both good people. I like them.
Gavin: How did the idea come about to start up your own podcast?

Jordan:
Bryan has to be given credit for always pushing to do a podcast. We have had a couple failed podcasts together—I think you can still find those on iTunes. The main motivation for Bryan and I to do a podcast was just to have an excuse to hang out and talk about things. When Alex joined, he really wanted to do episodes to help work out his stand up material. As you can see, the motivations were very self-serving (even for a podcast). Luckily, we have some loyal listeners and I think we put out a product that has some merit outside of just hanging out with friends.
Bryan:
Jordan and I would find a lot of conversations were interesting to other people when it came to movies, sports, and being a Mormon in Utah. We tried recording our conversations (
The Makin UV Better Podcast
), but that was
too
informal and scattered. We joined a BYU Broadcasting show (
The Y Cast
) but I think we were a little too controversial for that forum. This show is more focused version of both of those shows, and its popularity really has to do with our audience knowing our personalities and our dynamic. Adding Alex helped add another dimension to the show, but I still think people listen to hear how the three of us will interact.
Alex:
I started listening to
The Happy Valley Podcast
and really liked the episodes where they would work out Jordan's stand up material and I wanted to get in on that. After my first episode of doing that, I liked it so much that I bought the aforementioned Blue Microphone. Since I invested a solid $50, I figured I better become a recurring guest. I redesigned the logo for the podcast just for fun, and Jordan and Bryan decided to let me on as a full time co-host. I really like doing the podcast. I feel like I get to be funny in a different way than I do on stage. It just goes to show, if you apply yourself, buy a Blue Microphone, and redesign someone's logo, you can accomplish anything.
Gavin: Aside from the location, is there anything specific that made you want to focus on what we tend to call Happy Valley?

Jordan:
It really was a location thing—Bryan and I would record it in the attic of my parents' house in Pleasant Grove when we started it. We also thought
The Happy Valley Podcast
sounded cool. We do sometimes focus on things happening in happy valley or Utah, but it isn't necessarily the goal of the podcast. It's kind of like how you can look at pictures of apples on Apple computers, but that's not why Steve Jobs called his company "Apple."
Bryan:
The "Happy Valley" description is supposed to appeal to people in/outside of Utah that want to hear a perspective that acknowledges the Utah Mormon perspective about topics, especially topics we as hosts are really interested in. Sometimes that's movies, sometimes that's Apple, and sometimes it's comedy. Usually it's a mixture of all of it.
Alex:
And we talk about Apple a lot.
Gavin: What was it like gathering up all the equipment needed to record?

Jordan:
Again, Bryan deserves credit for being proactive with the podcast. He bought a couple of Blue microphones and hooked them up to Garage Band and we were good to go.
Bryan:
We've gotten more serious about recording equipment over time. Jordan and I got spoiled with the setup at BYU Broadcasting, and the easiest way to get good audio without going down a rabbit hole is to get a Blue Yeti or a Snowball. They aren't professional setups, but they are much, much better than earbuds. Each of us record from our end and then get onto skype, and then Jordan edits each recording together.
Alex:
Amazon Prime was very helpful in getting my Blue Microphone. They don't sponsor our podcast, but they really should. We're all big fans.
Gavin: What were your initial thoughts on the first few episode and what was the listener reaction like?

Jordan:
I remember having fun recording the first few and was surprised that some people enjoyed listening! Sometimes, I'm still surprised.
Bryan:
I knew that if we could get Jordan talking like he does to his friends and family, people would want to listen. He is a maven for those who know him, and showing his informal side on the show made people care about his opinions. I mostly try to contrast or amplify Jordan's opinions, and people seemed to like the dynamic between us.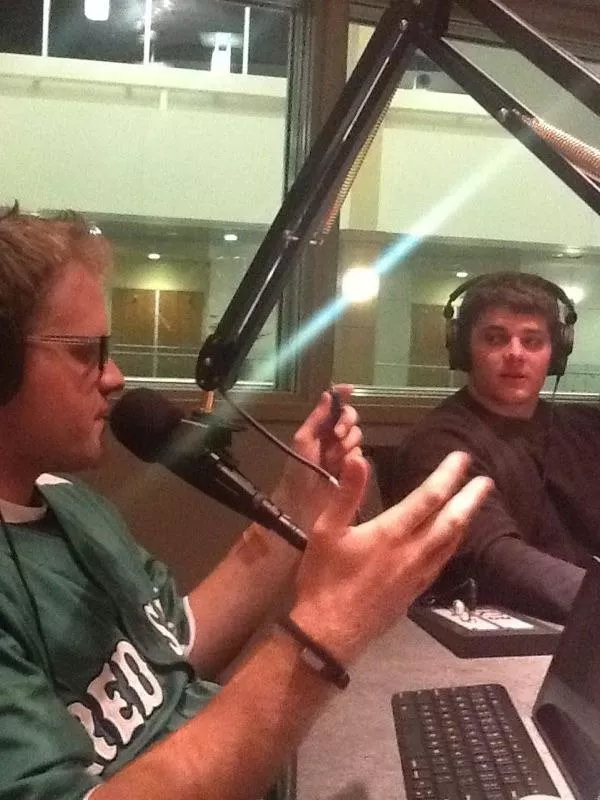 Gavin: How did you go about choosing topics for each episode? And is it planned or more impromptu?

Jordan:
Sometimes we have a topic that we know we want to talk about. Other than that—and this is going to surprise our listeners—very little preparation is done before we turn on the mics.
Bryan:
A lot of times, Jordan and I won't small talk before we started recording so we wouldn't waste material, which made for mostly silent setup. He never wanted to talk about the topics beforehand so the audience would be hearing our opinions about it for the first time. Since I moved away, we usually just text each other when we know we have something to talk about.
Alex:
I'll sometimes write down a "set list" of things to talk about, but mostly it's off the cuff. This might be weird to say, but Jordan and I have a really good comedic chemistry. I feel like we both come up with really funny stuff when we're around each other. Jordan and Bryan have a really good chemistry too. Bryan and I are working on our chemistry. But that's only because every time I've talked to Bryan on the podcast, Jordan has also been there. We're planning on doing an episode with just me and Bryan. (Sorry, Jordan.)
Gavin: What do you like best about working as a team and bouncing off each other during the recordings?

Jordan:
It's fun to have serious conversations with Bryan and silly conversations with Alex. At first I was annoyed when Alex joined the podcast because he was so much funnier than me, but now I have eased into my role as the happy medium between Bryan's seriousness and Alex's goofiness. When the three of us do episodes together, the differences in our personalities make for some high octane entertainment.
Bryan:
Both guys are much quicker on their feet than I am, so usually their reactions to me are funny and off the cuff. Jordan will usually respond in cutting way and Alex will take it a comedy direction. So when Jordan and Alex do shows together, it's usually more comedy centric, and when me and Jordan do shows they are usually more conversational. When we all do a show, it's comedy about our conversations. I think it works.
Alex:
And as you can see, Jordan is a master of the insult-compliment or "insultliment" as I like to call it. "At first I was annoyed when Alex joined the podcast because he was so much funnier than me" Thanks Jordan. I guess.
Gavin: Are you looking to do more guests or interviews down the road, or are you comfortable with the way things are in the show's format now?

Jordan:
We always say we want to have more guests, but it rarely happens. The problem is we usually record spontaneously. Somebody will send a text saying, "Hey wanna podcast?" and then it happens, which makes it hard to coordinate with guests we want on. It's like a podcast booty call. But yes, we are looking to do more interviews. President Obama, if you're reading this, you have an open invitation. We know you did Marc's podcast and we think you'd have an equally good time with us.
Bryan:
Guests are hard because podcasting is not as easy as you'd think it'd be. You'd think "it's just talking, right?" But getting a good podcast flow is hard. You tend to misread where the conversations are going and interrupt at bad moments unless you've trained yourself to step back and watch for it. When you have guests on, they usually have a lot to say, but get overwhelmed with how the podcast flow works. We are always open to have guests, but it's harder than you'd expect.
Alex:
We've mostly had other local comedians on the po
dcast
for our "Joke Therapy" episodes. It's not therapy for people using jokes, rather we perform therapy for the jokes in order to fix them. At one point we had a supposed "touring comedian" contact us saying that his manager told us to be on the podcast in order to promote some shows. We checked out his Twitter handle and saw that he mainly focused on hack sexist and racist shock "comedy." We didn't have him on; Jordan will still send me his tweets and we will both "hate read" them and bond over how bad a person and comedian he is. It's brought Jordan and I closer together as friends. But, it is kind of cool that we're big enough to turn people down. Even if it's because they're an awful awful person.
Gavin: You've got just over two years of doing the show so far, what do you think of the episodes you've created and the content of the show as a whole as you move forward?

Jordan:
Even though I've joked about being surprised that we have some people that actually listen, I think we've had some great episodes. While our episodes are by no means "tight," I feel like we are better at keeping the episodes entertaining throughout now.
Bryan:
The cool thing about our show is that it rewards you for going back and listening to the catalog, but it would never expect you to actually go back and listen. I think there is a lot of stuff to be proud of in our catalog, but it's not "required reading" for our audience to enjoy our show
Alex:
Our podcast is probably pretty niche. Like maybe only 10-20 people will understand or be interested in what we're saying. But I feel that for those 20 people, we do a really good job.
Gavin: Where do you see the podcast going in the next few years and what do you hope to achieve with it?

Jordan:
If we haven't interviewed President Obama within the next few years then I will have to consider this entire venture a failure. Regardless, we will still continue to put out episodes. Hopefully, we can pick up some new listeners—maybe even some sponsors. Because if there's one thing I know attracts listeners, it's advertisements!
Bryan:
We should probably get a better schedule for recording, but I'm not sure it would be as good of a show if it wasn't a rarity to do another episode. I think for Alex and Jordan the show is a great way to get their comedy material out to a wider audience and they are into building more dynamic content for Happy Valley. For me, the show just needs to keep being honest, and I'd see it as a success.
Alex:
We've been trying to get our YouTube channel, The Happy Valley Broadcast, off the ground. We've got a couple stand-up clips and an animated series of Utah Jazz power forward, Derrick Favors, hosting a talk show about his favorite things called "Fave's Faves." There's only two episodes so far. I'm not sure if anyone else likes it, but it makes Jordan and I laugh really hard. We're planning on shooting some short sketches too. We wanted to YouTube channel to be kind of like the Utah version of
Portlandia
.
Gavin: What can we expect from all of you and the show going into next year?

Jordan:
I'll just be hanging out in Happy Valley, finishing my graduate degree, doing comedy, and calling the white house daily to try and get ahold of Barrack.
Bryan:
I hope we see more video content from Jordan and Alex, but you can probably just expect me to talk about the LDS church, BYU, Apple, and movies like I always have.
Alex:
We'll try and get some celebrity guests, some live action sketches, and a few more episodes of the fan favorite "Fave's Faves" Hopefully, that show will catch on and Derrick Favors will be forced to come on our podcast to clear the air. It will be our version of Marc Maron v. Lorne Michaels.