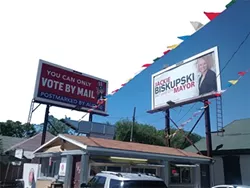 A billboard provided to Mayor-elect Jackie Biskupski paid for by a "super PAC" drew fire leading up to the 2015 mayoral primary.
On the heels of a mayoral election that saw a pair of Salt Lake City candidates blow through $1.6 million, the Salt Lake City Council on Tuesday chopped the amount of money donors can give to city campaigns.
But the changes, which halved the total amount that can be given by single donors to city council candidates from $1,500 to $750, and sliced the total available to mayoral candidates from $7,500 to $3,500, fell short of instituting the tough reforms that many hoped to see.
One key provision that fell by the wayside involved a proposal to ban corporate contributions. But it was noted by District 5 Councilwoman Erin Mendenhall that a ban on corporate contributions would also prohibit nonprofits and unions from contributing.
Additionally, Mendenhall says prohibiting corporations from donating could inadvertently lead to a spike in the formation of "super PACs"—independent political committees that support a candidate with unlimited, often anonymous, donations from companies, unions or individuals. Super PACs emerged for the first time in city campaign history during the 2015 election cycle.
"Our frustration in this discussion was that if we eliminate corporations' ability to donate to campaigns " Mendenhall said, " ... we would in all probability be funneling those contributions by necessity into super PAC formation where they would not be inhibited in any way from making giant contributions to campaigns, and that is exactly what we're trying to avoid."
Although the council didn't take any action on the regulation of super PACs, Council Chairman Luke Garrott, who served his final night behind the council dais after failing to win his mayoral bid earlier this summer, said he believes a future council will pick up where this council left off and continue to retool the city's campaign finance laws.
The council also declined to eliminate the use of so-called "war chests," or campaign contributions that are left over at the conclusion of a race. After his first two mayoral runs, Becker's campaign had more than $200,000 remaining—nearly all of which was spent as he ran, and lost, to Biskupski in 2015.
Overall, the council's efforts fell far short of the reforms advocated by the group Move to Amend, a coalition of grassroots organizations across the country determined to topple the U.S. Supreme Court's Citizen's United ruling, which allows corporations to make unlimited contributions to campaigns.
Elise Lazar, a Move to Amend organizer, said the group hoped Salt Lake City's ordinance would become a model for other cities in the state to follow. "I'm so disappointed that, for whatever reason, they're not providing that leadership that we had hoped they would,"Lazar said.
While Becker's campaign wielded its war chest during the 2015 campaigns, Biskupski benefited from free billboards erected by a super PAC formed by Reagan Outdoor Advertising. The Reagan PAC donated $7,500—the maximum amount allowed in in-kind contributions—to Biskupski's campaign, then funneled much more, without her campaign's consent, into additional free billboards. The PAC also provided free billboards to other candidates running against Becker, who has long been a critic of the outdoor billboard industry.
During the primary, Becker and Garrott both said the tactics used by Reagan amounted to an overt attempt to circumvent campaign finance limits.
Even with the lower contribution maximum, Lazar says Salt Lake City will continue to allow much larger contributions than comparable-sized municipalities. Lazar says Move to Amends' research shows that cities similar to Salt Lake City have a median donation limit around $500.
But four years from now, it will take far more individual donations—at $3,500 for mayor's races—for mayoral candidates to amass the sums raised this year, which saw Becker spend $924,000 and Biskupski drop $717,000.